Advice on leaf blowers
The leaves are falling from the trees and covering your lawn, patio, and driveway. The parks, streets, and parking lots are full of leaves too. Wherever you want to get rid of them, a leaf blower will be a big help. There are a number of properties to keep in mind when choosing a leaf blower. We'll discuss those here.
---
1. Which power source do you prefer?
The first choice you have to make when picking your leaf blower, is its power source. The power source is what powers the leaf blower's motor or engine. You can choose a leaf blower that works on AC power, gasoline, or a battery. Each power source has its own pros and cons.
Types of power sources
Electric
You use an electric leaf blower in a garden that's not too big. After all, you're dependent on the length of the cord. In addition, it's useful if you don't have too many obstacles in your garden. Of course, the cord can restrict you if you have to zigzag around a lot of trees. Electric leaf blowers require little maintenance.
You have a continuous power supply.
The leaf blowers are usually lightweight.
You always need an extension cord.
Battery
A cordless leaf blower gives you a lot of freedom of movement compared to an electric leaf blower. In addition, they're a lot less loud than gasoline leaf blowers. Cordless leaf blower usually are slower than gasoline ones, but are suitable for most jobs around your house.
You work wirelessly.
The leaf blowers are quieter and more environmentally-friendly.
You depend on the usage time of your battery.
Gasoline
Gasoline leaf blowers are suitable for more demanding jobs. They offer you a lot of freedom of movement and a lot of power. A disadvantage is that a gasoline leaf blower is very loud. Gasoline leaf blowers also require relatively much maintenance.
You work cordlessly.
The leaf blowers are robust and powerful.
The engine requires maintenance and fuel.
2. Do you want a suitcase model or a backpack model?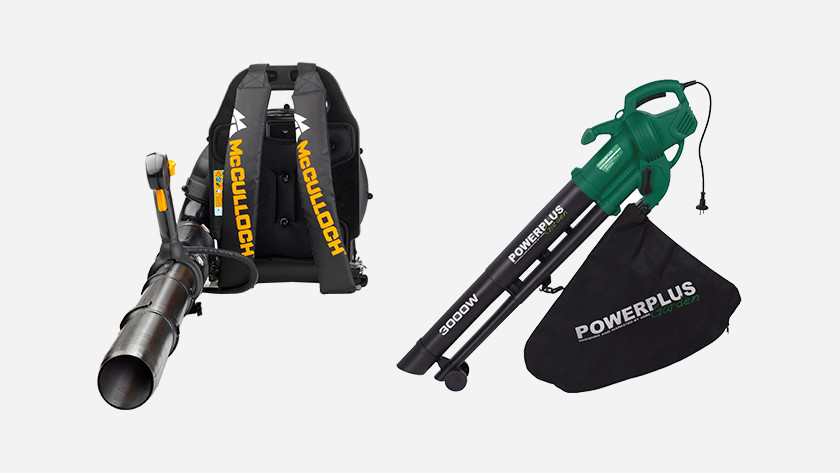 Most leaf blowers have a weight that's easy to handle so you can easily carry them in you hand. Those are the suitcase models. The truly heavy models – around 5 kilograms – can't be carried comfortably in your hand for a long time. Usually, these are suitcase-model leaf blowers. While you carry the leaf blower as backpack, you control it using the button on the nozzle.
3. Vacuum and shredding function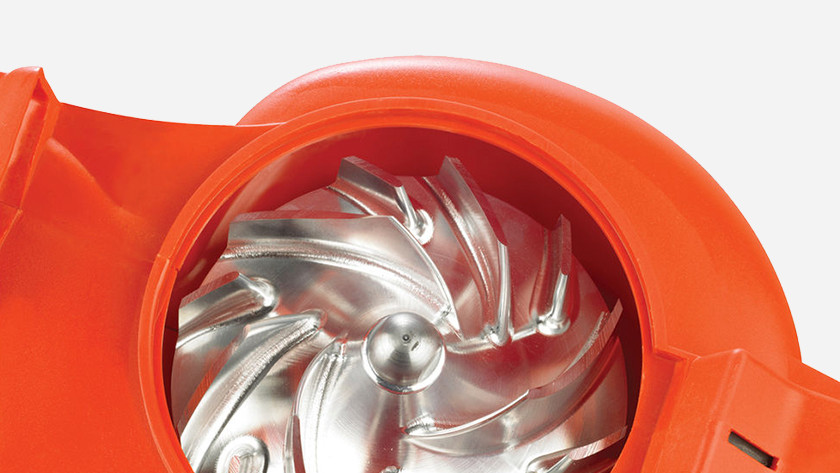 In addition to blowing, there are leaf blowers that also vacuum and shred leaves. You vacuum the leaves and they are then blown through the rotor. It spins at high speed and shreds the leaves. A metal rotor is more durable than a plastic rotor. The shredding ratio indicates how small the leaf shreds are. The shreds are then collected in a bag. The bigger the shredding ratio, the smaller the shreds will be and the more will fit in the collection bag. Keep the size of the tube in mind. Large leaves can get stuck and cause a blockage.
4. Want extra user-friendliness?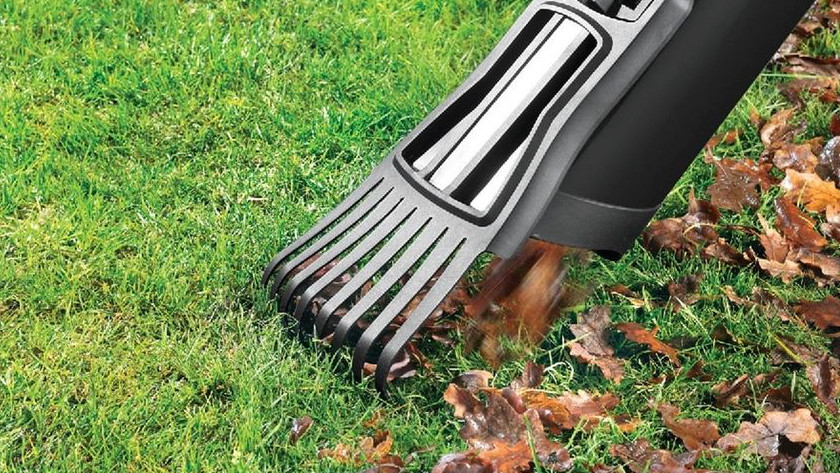 In addition to standard leaf blowers, there are also models with extra options. An extra handle offers more grip, makes it easier to control the leaf blower, and more comfortable to hold. A jockey wheel ensures that you don't have to lift the entire machine. You simply roll the leaf blower over your lawn or patio. A carrying strap applies to suitcase models and allows you to carry the weight on your shoulders or back if you want. If the leaves are stuck together or to the ground, it's a good idea to scrape them loose first using a rake attachment on the nozzle. Want to increase or decrease the air flow? Choose a leaf blower with adjustable RPM.
Did this help you?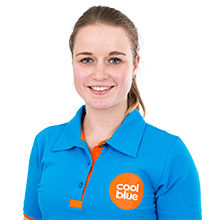 Article by:
Julie
Garden Equipment Expert.