How do I link my Omron blood pressure monitor to the Omron Connect app?
With the M7 Intelli and the Evolv, Omron has developed two of the most advanced blood pressure monitors of the moment. By using Bluetooth connectivity, it now becomes very easy to get insight into your readings and to keep track of them. An additional advantage is that you can easily share the measurements via the app with your doctor or medical specialist. In this article, I'll explain how you can connect a smart blood pressure monitor from Omron to the app.
---
Smartphone or tablet?
You can pair the blood pressure monitor with a smartphone or tablet. 2 users can be set per blood pressure monitor, though the 2 users must both use their own app and smartphone or tablet. Use the following step-by-step plan to link the app and the blood pressure monitor.
Step 1: Install the app
Install the Omron Connect app via the App Store or Google Play store:
Step 2: Turn on Bluetooth
Go to the settings screen of your tablet or smartphone and turn on the Bluetooth connection.
Step 3: Complete the installation
Select "Netherlands".
Accept the terms of use.
Indicate that you want to connect an Omron device.
Select your model from the list and press "ok".
Press and hold the "connect" button on the blood pressure monitor for 2 seconds.
The "P" should flash in the display of your blood pressure monitor.
Press "Next" when the "P" is flashing.
If your Bluetooth is on, your smartphone or tablet will now try to find the blood pressure monitor. On your screen, you'll see "searching".
Press "Pair" as soon as the blood pressure monitor appears.
Wait for the "setup complete" message.
Step 4: Take a reading
Take a reading with your blood pressure monitor. Keep your smartphone or tablet nearby and keep the Omron Connect app open. Once the blood pressure monitor has completed the reading, swipe down on the screen of your smartphone or tablet. The reading data is now synchronized with the Omron Connect app.
Did this help you?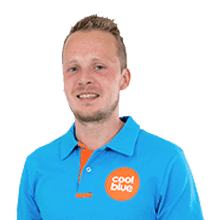 Article by:
Patrick
Blood Pressure Monitor Expert.