Memory cards: what should I keep in mind?
In order to store your photos and recordings, you'll need a memory card. These cards come in different shapes and sizes. In this article, you can read what's important to know before you buy a memory card and which card will work best for you. Check out Coolblue's Choice if you want to know which memory cards we recommend.
What type of memory cards are there?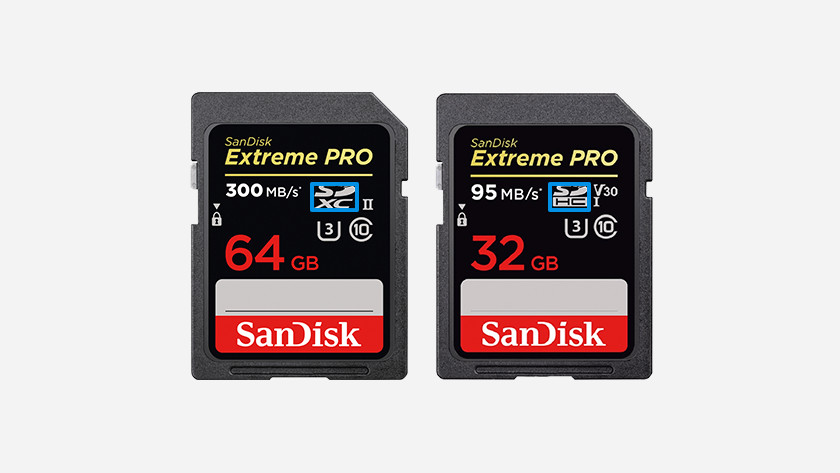 There are 3 sizes of memory cards: SD cards, microSD cards, and CF cards. These cards have different dimensions. Your camera will only fit 1 kind of memory card. Usually, it's an SD card. Do you have an action camera? In that case, you'll need a microSD card. It's smaller than the others and is used in compact devices. In the past, CF cards were used a lot in professional cameras because of their sturdier design. Nowadays, SD cards are just as solid.
What can I do with the different storage capacities?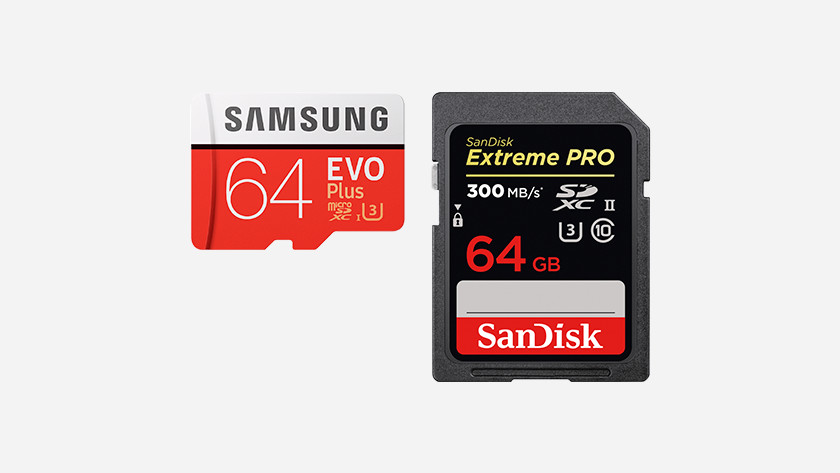 During shooting or filming, you do not want to be seated with a full memory card. Below you can see how many photos and minutes of film you can save. This average is based on photos in JPEG format and a camera with 10 megapixels. For film this average is based on a recording speed of 13 MB / s in the Full HD format.
1GB - 286 photos or 10 minutes of film
2GB - 572 photos or 20 minutes of film
4GB - 1.144 photos or 40 minutes of film
8GB - 2,288 photos or 80 minutes of film
16GB - 4,577 pictures or 160 minutes of film
32GB - 9,155 pictures or 320 minutes of film
64GB - 18,310 pictures or 640 minutes of film
128GB - 36,620 photos or 1,280 minutes of film
256GB - 73,240 pictures or 2,560 minutes of film
What do the abbreviations on my memory card mean?
SD stands for Secure Digital. There's also SDHC and SDXC; Secure Digital High Capacity and Secure Digital eXtended Capacity. Standard SD cards have a capacity of up to 4GB. The SDHC and SDXC cards have a maximum capacity of 32GB and 2,048GB respectively. A microSD card has a capacity of up to 2GB. The microSDHC and microSDXC card have capacity of up to 32GB and 256GB respectively. CF stands for CompactFlash and comes in capacities of up to 512GB.
What do the numbers mean?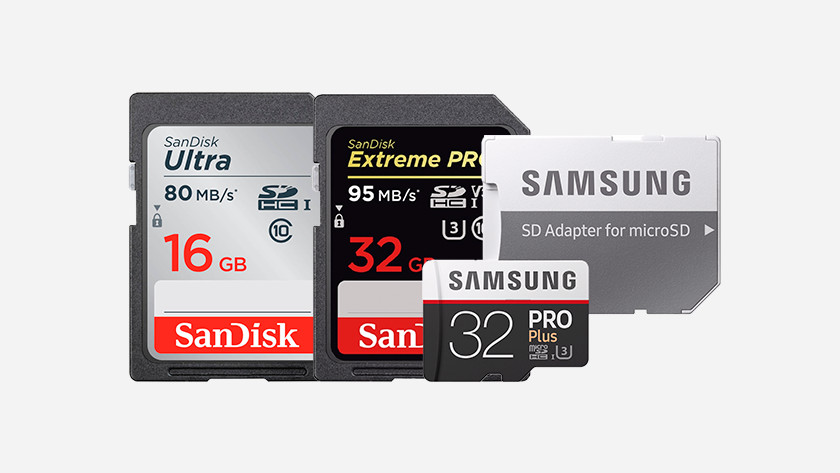 In addition to the number of GBs, a memory card also has other numbers on it. This is important information if you work with large files or take lots of photos one after the other. The most common cards have the notation Class 10 on them. This means that the card can process at least 10MB/s, or megabyte per second. There's also the UHS certification, which stands for Ultra High Speed. For instance, UHS3 stands for 30MB/s.
Which memory card should you choose?
| | Product | SD card | MicroSD card |
| --- | --- | --- | --- |
| | SLR, mirrorless, and compact camera | Yes | No |
| | Drone | No | Yes |
| | Action camera | No | Yes |
| | Dash cam | No | Yes |
| | Smartphone | No | Yes |
| | Tablet | No | Yes |