How do you repair a garden hose?
Your garden hose is leaking. All that comes to mind is to throw it away and buy a new one, but have you thought about repairing it? That is just as easy. Here you can read how to repair the garden hose within 10 minutes.
---
What do you need?
| | |
| --- | --- |
| For a tiny hole | Sandpaper with a fine grit and a tire repair kit |
| For a big crack | Stanley knife and possibly a connector |
Fixing a tiny hole
When a tiny hole appears in the garden hose, you can easily repair it with a tire repair kit.
Lightly sand the garden hose around the hole.
Apply the glue from the tire repair kit on and around the hole. Don't use too much, you just need a thin layer.
Place a piece of rubber from the set on the hole and let it dry well.
After about 30 minutes, the garden hose is ready for use.
Did you accidentally use more glue? No problem. Just make sure the glue is completely dry before using the garden hose.
Repairing a larger crack
Unfortunately, you can't seal a larger crack in the garden hose. When the crack is at one of the ends of the hose, cut the hose right below the crack and simply place the connector for your faucet or spray nozzle back on the hose.
If there is a crack in the middle of the hose, cut the hose right below and above the crack and connect the good parts of the hose with a connector.
Note: a crack in a garden hose often occurs because there is too much pressure on the hose. Check the hose for blockages before using it again.
Did this help you?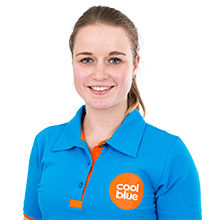 Article by:
Julie
Garden Tools Expert.