How do I receive WiFi in the garden?
WiFi coverage is often spotty in the garden. That's because your house's walls and outer door partially block the WiFi signal. The fact that the router is usually located at the front of your house, because that's where the internet connection is, doesn't help. On this page, I'll explain how you can get WiFi in your garden house or in the back of your garden.
---
Up to 15 meters: WiFi in the back of an average garden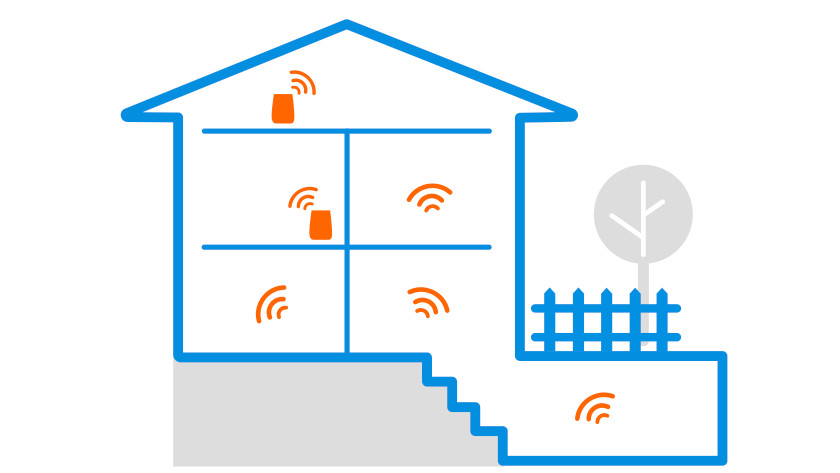 With Multi-room WiFi, you can easily get WiFi all throughout your house, from the attic to the back of the garden. Because the WiFi network consists of multiple stations, the WiFi is equally strong everywhere. For example, place a station in your kitchen or even in your shed and you'll have WiFi outside the house.
You could say that a multi-room WiFi set is in fact an outside router. Since multi-room WiFi always switches to the strongest signal, you won't lose WiFi. You'll also have WiFi in the garden and you won't lose your reception if you walk into the kitchen.
The stations are wirelessly connected, so you don't have to lay network cables.
Multi-room WiFi systems will automatically – without you even noticing – connect you to the strongest WiFi signal.
The range in the garden is about 15 meters.
Up to 30 meters: Internet in the back of a large garden or garden house
Do you want a WiFi connection between your house and shed, or do you want WiFi in the garden house? Use a powerline adapter to boost the Internet signal via the AC power. This way, you create a hotspot in the garden house. You'll enhance the WiFi signal outside and create a WiFi spot in the back of the garden at the same time.
Because a powerline adapter sends the Internet via electrical wiring, you don't need to use network cables.
A powerline adapter doesn't get interference from other radio signals because it uses the powerlines.
Powerline adapters don't work well in power strips, always plug them into a socket.
Extend powerline network
Do you already have a powerline network in your home? Choose an extension for your powerline to boost the signal outside.
Up to 5 meters: In the front of your garden or on your balcony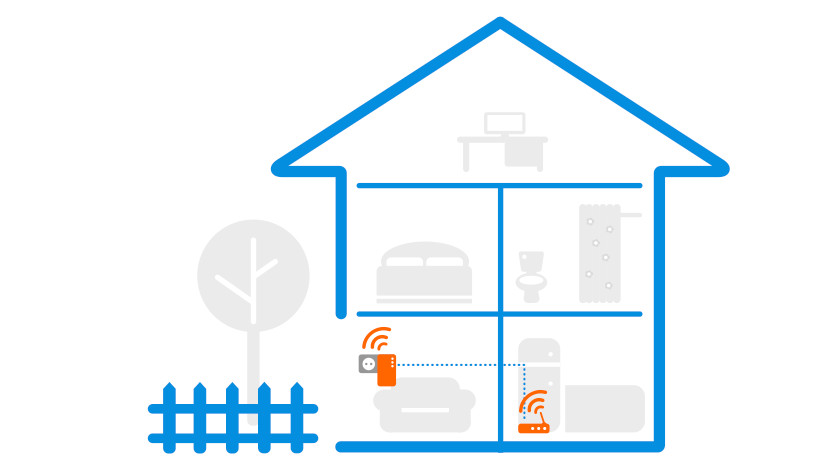 The wireless range of a router is about 10 to 15 meters. It has to travel some distance indoors, meaning the signal has already lost some of its strength when it reaches your backdoor. To increase the WiFi range outside, you can install a powerline adapter. This allows you to set up an extra WiFi point. For example for WiFi in the garden or on the balcony.
You plug a WiFi repeater into the socket and connect it to your router with one press of a button. You don't need to know anything about networks.
A powerline isn't affected by other radio signals since it transfers the signal through a cable.
Over 30 meters: Bring a MiFi router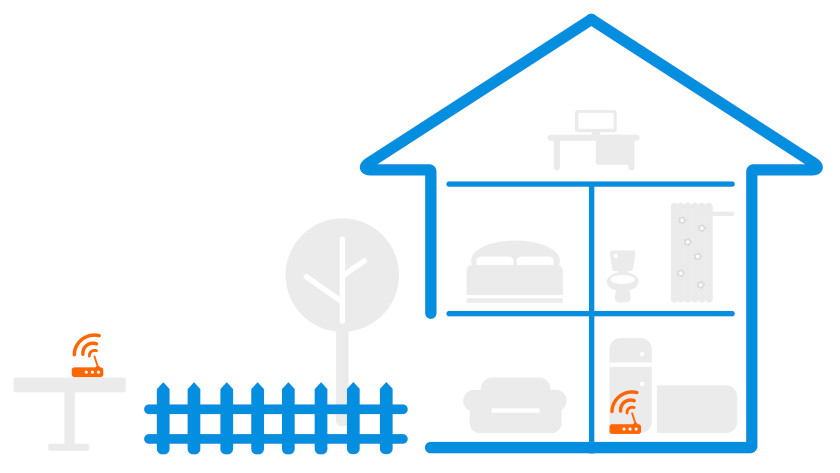 Is your garden so huge you might actually get lost on it, but do you still want to be online in the back of the garden? In that case, opt for a portable WiFi hotspot, also called a MiFi router. It's a portable device that runs on a battery. You can take it with you anywhere, even to the patio. Internet access comes via 4G, which means you need a SIM card and sufficient data credit.
Because you don't need a power cable, you can also use the router in your garden.
A MiFi router works using a data SIM card from your provider, which means you pay for use of cellular internet.