Eurom Alutherm 1500 WiFi
---
Related products
Alternatives
Current product

Price

88,

99

99,

99

79,

95

89,

99

79,

99

Maximum power (W)
1500 W
2000 W
425 W
2200 W
2000 W
Model electric heater
Panel
Panel
Panel
Radiator
Radiator
Placement (heating)
Freestanding, Wall mount
Freestanding, Wall mount
Wall mount
Freestanding
Freestanding
Related products
---
Product information
Coolblue's Choice
This product is our choice for a convection heater with WiFi for smaller spaces.
---
Key specs
| | |
| --- | --- |
| | Convection heater |
| | 1500 W |
| | Panel |
| Suitable for the bathroom | |
| | Freestanding, Wall mount |
Type of electric heater

Convection heater
Maximum power (W)

1500 W
Model electric heater

Panel
Suitable for the bathroom

No
Placement (heating)

Freestanding, Wall mount
---
Pros and cons
According to our electric heater expert
You can place this heater on the floor, with the included leg stands, or mount it on the wall.

Via the Eurom Smart app (Android/iOS), you can operate the electric heater on your smartphone or tablet.

A convection heater hardly makes any noise when it's on.

The heater isn't waterproof, which means it's not suitable for use in the bathroom.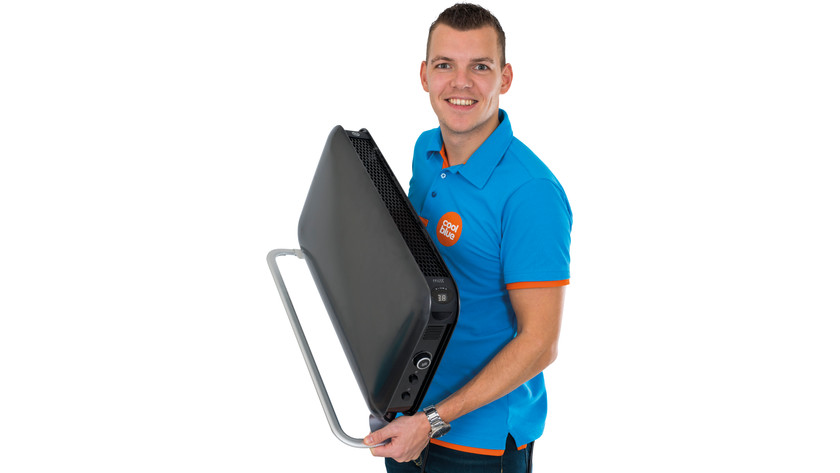 ---
Product description
The Eurom Alutherm 1500 WiFi is a user-friendly heater for a room up to 15 square meters. There are 3 ways to operate the convection heater. You can operate it via the thermostat on the heater, the included remote, or the app on your smartphone. With the included leg stands and mounting brackets, you can use the heater standing or on the wall. If the heater is too hot or falls over, there's no reason to panic. The heater switches off automatically thanks to the fall and overheating protection. Do you want to use the heater in the bathroom? Check the manual to see where you can place the heater.
---
Key specs
| | |
| --- | --- |
| | Convection heater |
| | 1500 W |
| | Panel |
| Suitable for the bathroom | |
| | Freestanding, Wall mount |
Type of electric heater

Convection heater
Maximum power (W)

1500 W
Model electric heater

Panel
Suitable for the bathroom

No
Placement (heating)

Freestanding, Wall mount
---
Recommended combinations
Recommended by our expert
recommended by our expert
Select your second heater with a discount below:
2x Eurom Alutherm 1500 WiFi

€ 177,98
€ 173,53
5% discount
on the accessory
3x Eurom Alutherm 1500 WiFi

€ 266,97
€ 252,73
8% discount
on the accessories
Recommended combinations
Recommended by our expert

recommended by our expert

Select your second heater with a discount below:

2x Eurom Alutherm 1500 WiFi

€ 177,98

€ 173,53 5% discount
on the accessory