Logitech G432 7.1 Surround Sound Wired Gaming Headset
---
---
Alternatives
Current product

Logitech G432 7.1 Surround Sound Wired Gaming Headset

Price

59,

99

59,

99

84,

99

69,

99

65,

99

Computer platform
Mac, Nintendo Switch, PC (Windows), PlayStation 4, Playstation 5, Xbox One, Xbox Series S, Xbox Series X
Android, Mac, Nintendo Switch, Nintendo Wii U, PC (Windows), PlayStation 4, Playstation 5, Xbox One, Xbox Series S, Xbox Series X, iOS
Android, Mac, Nintendo Switch, PC (Windows), PlayStation 4, Playstation 5, Xbox One, Xbox Series S, Xbox Series X, iOS
Android, Mac, Nintendo Switch, PC (Windows), PlayStation 4, Playstation 5, Xbox One, Xbox Series S, Xbox Series X, iOS
Android, Mac, Nintendo Switch, PC (Windows), PlayStation 4, Playstation 5, Xbox One, Xbox Series S, Xbox Series X, iOS
Sound reproduction for platform
Nintendo Switch - Stereo, PC - Surround, PS4 - Stereo, PS5 - Stereo, Xbox One - Stereo, Xbox Series X - Stereo
Nintendo Switch - Stereo, PC - Stereo, PS4 - Stereo, PS5 - Stereo, Xbox One - Stereo, Xbox Series X - Stereo
Nintendo Switch - Stereo, PC - Stereo, PC - Surround, PS4 - Stereo, PS5 - Stereo, Xbox One - Stereo, Xbox Series X - Stereo
Nintendo Switch - Mono, Nintendo Switch - Stereo, PC - Mono, PC - Stereo, PC - Surround, PS4 - Mono, PS4 - Stereo, PS5 - Stereo, Xbox One - Mono, Xbox One - Stereo, Xbox Series X - Stereo
Nintendo Switch - Stereo, PC - Stereo, PC - Surround, PS4 - Stereo, PS5 - Stereo, Xbox One - Stereo, Xbox Series X - Stereo
Microphone noise suppression
Yes
No
Yes
No
No
---
Product information
---
Key specs
Computer platform

Mac, Nintendo Switch, PC (Windows), PlayStation 4, Playstation 5, Xbox One, Xbox Series S, Xbox Series X
Connection type for platform

Nintendo Switch - Wired, PC - Wired, PS4 - Wired, PS5 - Wired, Xbox One - Wired, Xbox Series X - Wired
Sound reproduction for platform

Nintendo Switch - Stereo, PC - Surround, PS4 - Stereo, PS5 - Stereo, Xbox One - Stereo, Xbox Series X - Stereo
Microphone noise suppression
Surround sound

Virtual surround sound
| | |
| --- | --- |
| | Mac, Nintendo Switch, PC (Windows), PlayStation 4, Playstation 5, Xbox One, Xbox Series S, Xbox Series X |
| Connection type for platform | Nintendo Switch - Wired, PC - Wired, PS4 - Wired, PS5 - Wired, Xbox One - Wired, Xbox Series X - Wired |
| Sound reproduction for platform | Nintendo Switch - Stereo, PC - Surround, PS4 - Stereo, PS5 - Stereo, Xbox One - Stereo, Xbox Series X - Stereo |
| Microphone noise suppression | |
| | Virtual surround sound |
| | 50 mm |
| | |
---
Pros and cons
According to our gaming headset expert
The headband is reinforced with aluminum, so that it is also loss-resistant.

The volume and the flip-to-mute function are easy to operate during gaming.

For gamers with a larger head, the headset may become less comfortable during long playing sessions.

Virtual surround sound is only available on PC, on PS4, PS5, Xbox One, and the Xbox Series X/S, the headset will only provide stereo sound.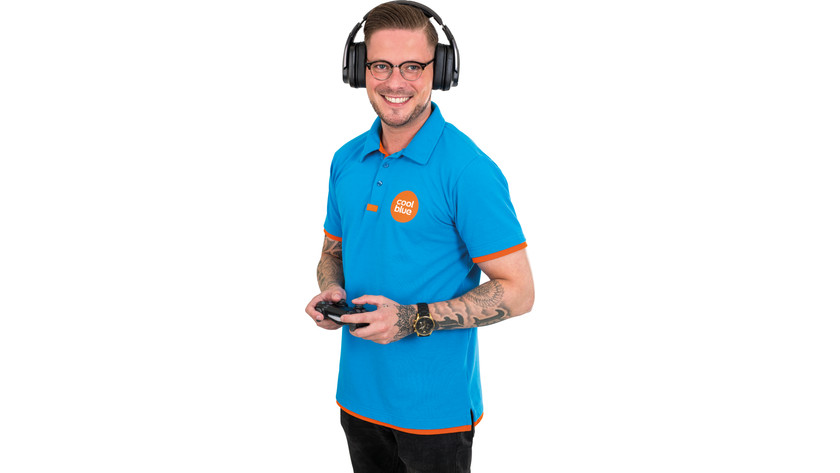 ---
Description
The Logitech G432 7.1. Virtual Surround Sound Gaming Headset is for gamers who are looking for more depth in game sound. Thanks to the virtual surround sound you can hear on PC even better where shots, footsteps and other important sounds come from. The fabric ear cups and headband of this lightweight gaming headset let you play through the entire evening without bothering you. The ear cups also rotate, so that your headset also fits nicely when you, for example, play with 1 ear cup. With the flip-to-mute microphone you stay in touch with your teammates and close it if you have nothing to say. The volume is also easy to control, via the dial on the left earcup. Note: The 7.1 Surround Sound only works on the PC
The Logitech G432 7.1. Virtual Surround Sound Gaming Headset is for gamers who are looking for more depth in game sound. Thanks to the virtual surround sound you can hear on PC even better where shots, footsteps and other important sounds come from. The fabric ear cups and headband of this lightweight gaming headset let you play through the entire evening without bothering you. The ear cups also rotate, so that your headset also fits nicely when you, for example, play with 1 ear cup. With the flip-to-mute microphone you stay in touch with your teammates and close it if you have nothing to say. The volume is also easy to control, via the dial on the left earcup. Note: The 7.1 Surround Sound only works on the PC
---
Key specs
Computer platform

Mac, Nintendo Switch, PC (Windows), PlayStation 4, Playstation 5, Xbox One, Xbox Series S, Xbox Series X
Connection type for platform

Nintendo Switch - Wired, PC - Wired, PS4 - Wired, PS5 - Wired, Xbox One - Wired, Xbox Series X - Wired
Sound reproduction for platform

Nintendo Switch - Stereo, PC - Surround, PS4 - Stereo, PS5 - Stereo, Xbox One - Stereo, Xbox Series X - Stereo
Microphone noise suppression
Surround sound

Virtual surround sound
| | |
| --- | --- |
| | Mac, Nintendo Switch, PC (Windows), PlayStation 4, Playstation 5, Xbox One, Xbox Series S, Xbox Series X |
| Connection type for platform | Nintendo Switch - Wired, PC - Wired, PS4 - Wired, PS5 - Wired, Xbox One - Wired, Xbox Series X - Wired |
| Sound reproduction for platform | Nintendo Switch - Stereo, PC - Surround, PS4 - Stereo, PS5 - Stereo, Xbox One - Stereo, Xbox Series X - Stereo |
| Microphone noise suppression | |
| | Virtual surround sound |
| | 50 mm |
| | |
---
Most helpful reviews
Buy it, it's good.

Mike Van der bijl | 13 January 2021

I have used the headset for a limited time now and it's the best I have had so far.

Mike Van der bijl | 13 January 2021

Good product. Bit heavy and Tight.

Ela Bambust | 26 November 2020

Weight and tension on the headband can cause a painful scalp

I ultimately like it, but it's less than ideal for extended use because it needs readjustment to keep from being too painful to wear.

Ela Bambust | 26 November 2020