Indoor surveillance package - Synology DS218play with 8TB
---
Product information
Pros and cons
According to our NAS expert
Thanks to the Quad-Core processor, the NAS can handle multiple demanding tasks, such as streaming HD surveillance videos and making backups.

The NAS supports multiple RAID setups, allowing you to safely store your files.

The Foscam C1 has a viewing angle of 100 degrees, so you can monitor an entire room.

You can't rotate, tilt, or zoom the camera remotely.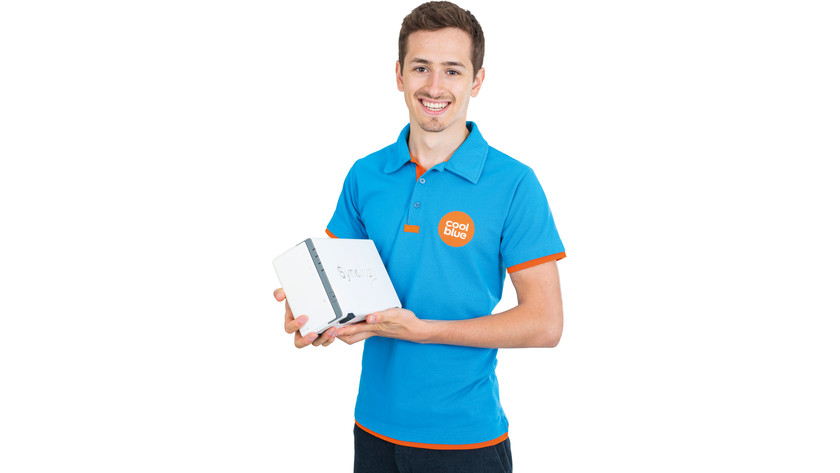 ---
Product description
Protect your home from intruders with the indoor surveillance package - Synology DS218play with 8TB. With a Synology DS218play NAS, a Foscam C1 IP camera, and 2 Seagate IronWolf 4TB hard drives (8TB in total), you'll have all you need for 8 years of low-resolution 30fps footage. The DS218play is an entry level NAS with room for 2 hard drives and it comes with a quad core processor and 1 gigabyte of RAM. Thanks to this processor, you can even use the NAS while it's storing surveillance images. The Foscam C1 wirelessly sends the 30fps HD ready surveillance images to your NAS. With this IP camera, you can see what's happening in your house via your smartphone. You can place the IP camera at the front or back door for example, or point it at an area that you want to protect extra well.
Included by default
Foscam C1 Black
Manual

(5.08 MB)

Power cable
Power adapter
Seagate IronWolf ST4000VN008 4TB
Manual
3 years of Seagate Rescue Services
Synology DS218play
Manual
Accessory pack
Power cord
Network cable
Tips for using this product
Read our tips and find out all about how to set up your product and use it the right way.

---
Reviews
| | | | |
| --- | --- | --- | --- |
| 5 stars | | | |
| 4 stars | | | |
| 3 stars | | | |
| 2 stars | | | |
| 1 star | | | |
Most helpful reviews
great device, good value for money

Paul Van Tiggelen | 3 April 2018 | In the version: NAS with no hard drives | Automatically translated from Dutch

haven't been able to discover yet

After years of separate hard drives to back up my files, I now bought my first NAS, along with 2 x the WD Red WD20EFRX 2 TB hard drive. I had 3 goals:
- backup of all my home videos (0.7 TB)
- play my home videos and DVDs on TV (I don't have a DVD player anymore)
- own extra storage space for me and my family, especially photos they want to backup from their phone.

Installation was easy and the device is now purring (silently) in the meter cupboard). I am very satisfied with it, although I cannot compare it with other brands or types. With the Apps I can access the NAS from my phone and that works very well. Finally, I can download the Start-to-run MPs from the NAS to the iPhone without further ado.

I first have to transfer DVDs in Mp4 format (with Handbrake) and that was disappointing. The fact that the NAS cannot handle the DVD files is not due to the NAS, but to the outdated DVD-video format, I have been told.

Creating different accounts and allocating rights will be quite an exploration, but the software doesn't seem complicated to me.

Paul Van Tiggelen | 3 April 2018 | In the version: NAS with no hard drives | Automatically translated from Dutch

Great product!

Marietje | 10 May 2018 | In the version: NAS with no hard drives | Automatically translated from Dutch

I haven't found a flaw yet, I love it. It can now function as a backup so that my family and I can safely store our files. I've had to make the choice, but I'm glad I persevered. Also happy CoolBlue Den Haag I received excellent help in purchasing the product. I opted for 2 x 4TB drives from Seagate. RAID 1 gives me 2TB for storage. I think I can go ahead with that. Installation went well, very easy. What is striking is that Synology would like to contact your NAS online, I have unchecked all those check boxes.

Marietje | 10 May 2018 | In the version: NAS with no hard drives | Automatically translated from Dutch

don't hesitate about other brands, Synology rocks!

Mark uit Utrecht | 8 January 2018 | In the version: NAS with no hard drives | Automatically translated from Dutch

Super clear instructions for installation

enough apps for valuable functionalities

Good knowledge base and forums to solve problems

wonderfully fast processor

Resonates in the meter box, must use foam rubber

Installed quickly, many relevant options, clear overview of status, good Help function, available on Youtube for help videos. All this is really a must for such a (for consumers) complex product.

Mark uit Utrecht | 8 January 2018 | In the version: NAS with no hard drives | Automatically translated from Dutch

Good NAS for home use with plenty of options

Fan makes a slight rattle

Product is good. If I stream 4K movies from my NAS, it goes very fast. The speed to access your NAS outside your own network is also not that bad. The only drawback is that the fan gives a slight rattle. You can hear him in a quiet room.

Leon | 10 April 2020 | In the version: NAS with no hard drives | Automatically translated from Dutch

Nice compatible file server with extras

Low noise, also adjustable fan

data traffic smooth enough

software not always useful

The installation I found difficult, the detour via synology.com was not clear to me. I hate websites that will find devices on my internal network. Handy, but where is the leak? I still don't feel like I have security in place because I don't know what Synology is up to with the software.
Some applications I find not useful, some are very old. The 2 most used apps are the file manager and control panel.
I do not use the Synology applications for streaming sound and video.
Sound goes through my Bluesound app on my iPhone where I can also register network shares, the folder layout of the NAS (album, genre, artist, etc.) neatly takes over this app, great! Thanks to DLNA compatibility, I watch videos of my own DVDs ripped with handbrake using the app of the TV itself. He can't do Plex, but I don't miss that either (?) The NAS was there without me having to set anything up with the DLNA devices.
I use it in RAID1 config. It is in the meter cupboard near the modem, connected with an Ethernet cable. You can adjust the cooling, I set it a bit higher than the default silent setting and then you still barely hear it. The temperature of the HD, which can be read via an application, will indeed drop.

Erik | 30 August 2018 | In the version: NAS with no hard drives | Automatically translated from Dutch

Fast NAS with extensive capabilities

Extensive possibilities, many software packages available

Requires some (self) study to use all possibilities

When setting up for multiple users, some knowledge is required (access rights)

Hardware
A compact and fast NAS. The internal RAM is not expandable (1GB). If internal RAM expansion is a wish in the future, the DS218+ is a more suitable model (it has 2GB as standard and can be expanded to 6GB through 4GB).

A maximum of 2 times 12TB can be used (so without RAID (without data protection) you have 24 TB of space.......that's a lot of (media) files. I recommend that you always choose the option of data protection when installing so that if 1 of the disks in the NAS breaks, you can always continue working, have the data automatically restored by placing a new hard disk of the same size (or larger) in it (the software takes care of that). 12TB (24 TB) you then have 12TB at your disposal in the case of data protection.

Under load (i.e. intensive use of the NAS) you only occasionally hear the disks, the NAS/fan of the NAS is not audible (certainly a plus, you don't want a vacuum cleaner in your living room or bedroom).
Under prolonged load (i.e. intensive use of the NAS), the temperature of the NAS remains well within limits (so the plastic cabinet of the NAS simply remains "cool").

Software
A lot is possible with Synology's software / packages. Therein lies both the power and a possible danger ...... it does take some time to discover and master all possibilities.

But once read in and with some testing, a lot is possible with the Synology software.

Erik V | 16 July 2018 | In the version: NAS with no hard drives | Automatically translated from Dutch

Well-performing and reliable NAS for a decent price.

USB connections for external (backup) write now on the back of the device

Regular free software updates

External power supply not useful

After years of loyal service from my old synology NAS, I bought another Synology. Installing is a breeze with the user-friendly Disk Station Manager (DSM) software. This software is also regularly provided with updates! I can move forward again!

Martin | 23 November 2017 | In the version: NAS with no hard drives | Automatically translated from Dutch

super device

Works perfectly via Digibox from Telenet or Smart TV

Still some setting that are not easy for a layman

A fast NAS server that is operational in no time.
This is sufficient for normal home use.

Luc Van der Donckt | 17 November 2017 | In the version: NAS with no hard drives | Automatically translated from Dutch

Good device

Pretty easy to set up even for a layman

Lots of options and possibilities

My first nas and I had it set up the way I wanted within half an hour

Patrick van Mastrigt | 7 January 2018 | In the version: NAS with no hard drives | Automatically translated from Dutch

good device

some searching for some settings

works well, some settings requires some searching

Johan | 5 January 2018 | In the version: NAS with no hard drives | Automatically translated from Dutch
Specifications
Product
Product number

597497
Manufacturer code

C1-B
Brand

Foscam
Warranty

2 years
Warranty type

Carry-in warranty
Old product returned for free
Image properties
Video resolution width

1280 pixels
Video resolution height

720 pixels
Type of image definition support

HD ready (720p)
Image quality according to customers

Standard
Pan
Tilt
ePTZ
Zoom (IPcam)
Digital zoom

0
Vertical viewing angle

115 °
Horizontal viewing angle

100 °
Fisheye
Frames per second

23 fps
Lens diameter

12 mm
Camera options
Number of cameras

1
IP camera type

HD camera, Indoor camera, Night camera, WiFi camera
Usage location

Indoor
Alarm system needed for use
Subscription needed for full use
Motion detection sensor
Infrared lighting
Infrared light range

8 m
Infrared motion sensor
Suitable for placement behind glass
Dynamic DNS client
Talkback function
Integrated microphone
Review happening
Number of seconds to review happening

0 s
Streaming
Other properties
Battery (power source)
Storage options

Cloud, NAS, SD card
SD card slot
Type of SD card

microSD
Number of days you can view for free

0 d
Installation ease according to customers

Simple
Integrated WiFi
PoE support
UPnP AV support
ONVIF certified
PSIA certified
Compatible with operating system

Android, iOS
Physical properties
Width

7 cm
Depth

7 cm
Height

12 cm
Color

Black
Weight

134 g
Mounting possible
Water-resistant
Smart Home options
Controlled via app
Controlled via Android app
Controlled via Apple app
Controlled via Windows app
Compatible with smartphone / apps
Smart home platform

Homey
Introduction year and updates
Guaranteed support with updates

24 months after release date
Year introduced

2015
Introduction month

January
Product
Product number

750006
Manufacturer code

ST4000VN008
Brand

Seagate
Warranty

3 years
Warranty type

Carry-in warranty
Old product returned for free
Memory properties
Total storage capacity

4 TB
Hard drive type

3.5 inches
Cache memory

64 MB
Compatible with product type

NAS
HDD's RPM

5900 rpm
Speed class

Basic
Physical properties
Width

10,2 cm
Height

2,6 cm
Depth

14,7 cm
SATA connector type

S-ATA (III)
Product
Product number

797869
Manufacturer code

DS218play
Brand

Synology
Warranty

2 years
Warranty type

Carry-in warranty
Old product returned for free
Memory properties
Number of hard drive bays

2
Internal RAM

1 GB
Total number of RAM slots

1
Integrated hard drive
Suitable for hard drive size

2,5 inch HDD, 2,5 inch SSD, 3.5-inch HDD
Cache memory

0 MB
SATA connector type

S-ATA (III)
RAID

JBOD, RAID 0, RAID 1, Synology Hybrid RAID
Functions
NAS functions

Backup server, Download server, FTP server, Media server, Photo server, Surveillance station, VPN server, Web server
NAS application center
DLNA
UPnP AV support
FTP server
On/off switch
Kensington lock
Apple Time Machine support
Chromecast support
Maximum number of simultaneous users

Less than 10
Number of IP camera licenses included

2
Plex support
Plex support type

HD Ready (720p)
Automatic switch on/off
Suitable for IFTTT
Recommended for use

Making a backup, Save photos and videos
Connectors and connections
LACP Link aggregation
iSCSI support
Thunderbolt connector
Number of female standard USB-A ports

2
Female standard USB-A port version

3.0
Connection type

Wired
Ethernet speed

Gigabit Ethernet (1000Mbps)
Number of ethernet ports

1
Processor properties
Processor

RealTek
Processor brand

RealTek
Processor family

RealTek
Processor code name

RealTek
Processor cores

Quad-Core (4)
Clock speed

1,4 GHz
Turbo speed

1,4 GHz
Physical properties
Depth

22,25 cm
Width

10 cm
Height

16,5 cm
Type NAS

Upright
Color

Black
Weight

870 g
---