Samsung Galaxy S20 FE 128GB Blue 4G + Clear View Book Case Blue
Version
: Blue
|
4G
|
Phone case
Available for pickup even sooner
---
Product information
Pros and cons
According to our mobile phone expert
Thanks to the transparent strip on the included cover, you can see notifications without opening the case.

The screen refreshes 120 times per second, making movements during scrolling and games look smooth.

You won't be bothered by tangled up cables, as this smartphone is wirelessly rechargeable

The large 6.5-inch screen is hard to operate with one hand.

Because this device isn't suitable for 5G, you won't get the maximum internet speed in the future.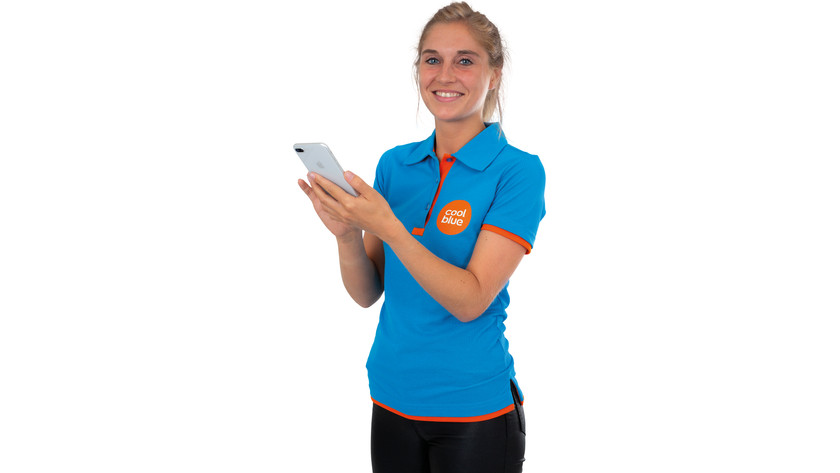 ---
Product description
You can protect your new Samsung Galaxy S20 FE 128GB Blue 4G from scratches, dents, and dirt with the Samsung S20 FE Clear View Book Case Blue bundle. This case has a front flap, so it protects both the casing and the screen of your smartphone. Thanks to the transparent strip, you can see the time, battery status, and notifications without opening the cover. The Samsung S20 FE has a large 6.5-inch Full HD screen, which makes it difficult to operate this large device with one hand. The large 4500mAh battery lasts longer than a day with normal use without recharging. With the powerful Exynos 990 processor and 6GB RAM, the device can easily handle demanding tasks like 3D games. In addition to the 12-megapixel standard lens, the S20 FE also has a 12-megapixel wide-angle lens and an 8-megapixel telephoto lens. With this third camera, you can zoom in up to 3 times while your photo remains just as sharp.
Included by default
Samsung Galaxy S20 FE 128GB Blue 4G
Charger (15W)
USB-C cable
SIM needle
Tips for using this product
Read our tips and find out all about how to set up your product and use it the right way.

---
Reviews
| | | | |
| --- | --- | --- | --- |
| 5 stars | | | |
| 4 stars | | | |
| 3 stars | | | |
| 2 stars | | | |
| 1 star | | | |
Most helpful reviews
Good value

Qbert | 30 December 2020 | In the version: Blue | 4G | No accessories

Screen: big and beautiful

A bit big to carry around

I didn't see the silent notification

Water resistant, everything runs smooth, the Samsung launcher is cool. With some effort you can tune out most of the bloatware and notifications. You can even use your phone to call people. I don't think I will miss 5G.

Qbert | 30 December 2020 | In the version: Blue | 4G | No accessories

I fully recommend it

Reza Amini | 1 June 2021 | In the version: Blue | 4G | No accessories

gets hot while charging or watching movies for a long time

The only disadvantage is that it gets too hot when I watch movies for a long time, or when it is charging and I am working with it. In total, it worth buying.

Reza Amini | 1 June 2021 | In the version: Blue | 4G | No accessories

The phone would be even better if it was smaller! Something

Zeljko Dogasevic | 29 June 2021 | In the version: Blue | 4G | No accessories

30x zoom is there but makes horrible photos

Just got my hand on it so nothing to comment yet.

Zeljko Dogasevic | 29 June 2021 | In the version: Blue | 4G | No accessories

I can recommend it with this price

12MP Camera (Could be better)

I moved from S7 to this monster and I love it, 120Hz screen, Snapdragon 865 with 6GB RAM onboard is totally enough. Battery holds 1 - 2 days depends on use. Consider also S21 FE is you want a good phone, Snapdragon 888 on S21 FE

nightcom | 30 August 2021 | In the version: Blue | 4G and 5G

Good balance cost-benefit

It is great for connecting with all the tech products like galaxy watch, electric monowheel, drone, etc...

Marcelo Chehayeb | 16 March 2021 | In the version: Blue | 4G | No accessories

Absoluut top toestel in zijn segment!

Makkelijk gegevens overzetten door Smart Switch

Camera is uitstekend veel opties en maakt prachtige foto's

Prijs kwaliteit is uitstekend veel premium opties uit het duurdere segment beschikbaar

Clearview hoesje bijgeleverd is erg mooi en functioneel

Exynos processor is niet de snelste. Voor de gemiddelde consument prima!

Geen 3,5mm poort voor de liefhebbers

Prachtig scherm en camera met ontzettend veel opties. Deze telefoon biedt enorm veel waar voor zijn geld door de meest gewilde premium opties beschikbaar te stellen.

Wirish | 28 June 2021 | In the version: Blue | 4G | No accessories

I recommend this product

I like this product because of performance and quality.

Im very to have this phone samsung galaxy s20 fe | 14 January 2021 | In the version: Blue | 4G | No accessories

Good phone, but don't buy it

Battery doesn't hold a day

The lack of headphone jack turns to be super frustrating - you can get a usb c adapter, but then you can't charge you phone - which you need to, because the battery is not big enough

Avraham Yonatan | 4 February 2021 | In the version: Blue | 4G | No accessories