Which KitchenAid stand mixer suits me?
So you're looking for a KitchenAid stand mixer, but you're not quite sure about the model. Is a KitchenAid Artisan the right choice for your situation, or does the KitchenAid Classic better fit your needs, for example? Here, we explain the differences and help you make the right choice.
---
Quickly compare specifications
| | Content of mixing bowl | Power | Suitable for you? |
| --- | --- | --- | --- |
| KitchenAid Mini | 3.3 liters | 250 watts | Compact and powerful for the smaller kitchen |
| KitchenAid Classic | 4.3 liters | 275 watts | Low-priced, basic model |
| KitchenAid Artisan | 4.8 liters | 300 watts | Great ease of use, available in many colors |
| KitchenAid Heavy Duty | 4.7 liters | 315 watts | Extra powerful, suitable for heavy kneading work |
| KitchenAid Professional | 6.9 liters | 325 watts | For heavy kneading work in large quantities, suitable for long-term use |
The benefits of a KitchenAid
Each model comes with a wire whisk, kneading hook, and flat mixing hook.
You use the same attachments with each model.
A KitchenAid is extra powerful thanks to the direct drive, without the need for a lot of power.
Compared to other brands, KitchenAid requires little power to give a lot of power. Thanks to the unique direct drive, no power is lost during mixing and kneading.
Artisan or the Classic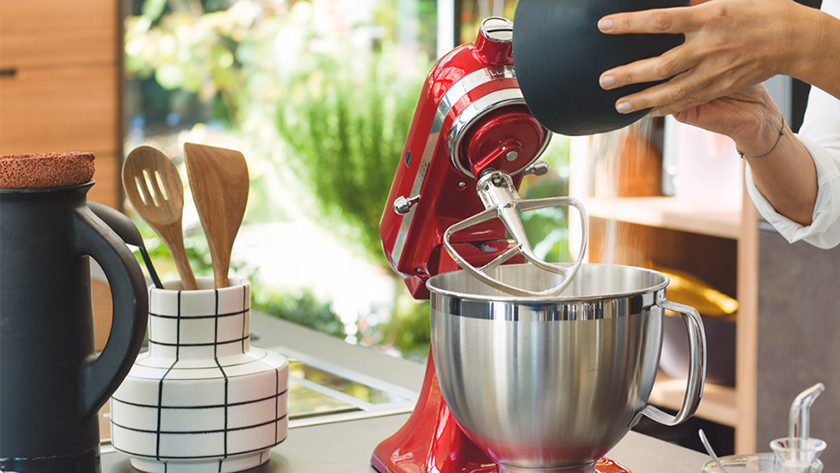 KitchenAid Artisan
One of the most popular models is the KitchenAid Artisan. This kitchen machine comes in more than 20 color options. The stainless steel mixing bowl has a handle, so you can move it easily. The pouring shield prevents any rogue splatters during mixing. You receive an extra mixing bowl, so you can make different preparations without having to wash off in between. The Artisan is suitable for kneading bread dough. But if you want to use it for a longer period of time for this, we recommend a heavier model.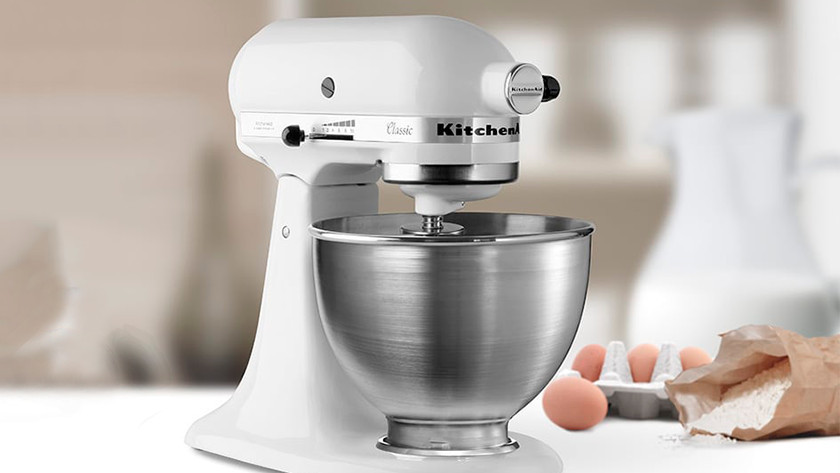 KitchenAid Classic
The KitchenAid Classic is the most basic model and also the most affordable KitchenAid. This starter model is mostly suitable for mixing and whisking ingredients. You can also use it to knead less dense types of dough, such as cookie dough. This mixer has less power than other KitchenAid models. That makes it unsuitable for kneading dough for a longer period of time, like you'd need to do for bread dough or pizza dough. The KitchenAid Classic come in a white and a black color option.
Heavy Duty vs Mini vs Professional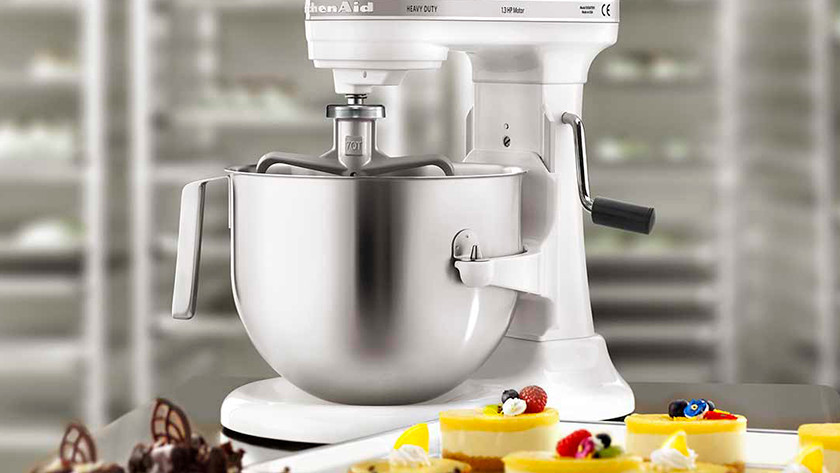 KitchenAid Heavy Duty
With the Heavy Duty stand mixer, you're bringing in the heavy artillery. Thanks to the extra powerful motor, you can use it to knead dense types of dough in one go, such as bread or pizza dough. If you want to bake several fresh loaves of bread one after the other, this KitchenAid would be a good choice.
KitchenAid Mini
For the smaller kitchen, there is the KitchenAid Artisan Mini mixer. Despite its compact size, this mixer has just as much power as its bigger brother. The mixing bowl is a one step smaller though. You can work with smaller amounts of ingredients because of this. That makes this stand mixer mainly suitable for smaller households.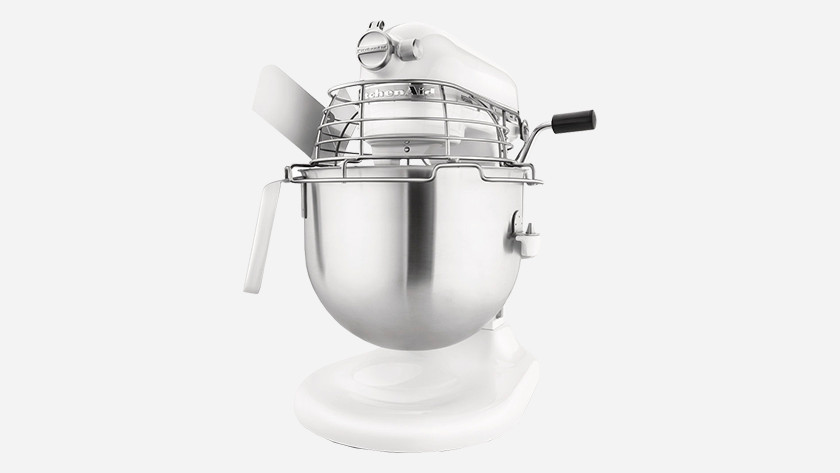 KitchenAid Professional
The KitchenAid Professional mixer has lot of power, just like the Heavy Duty. But goes one step further by adding an extra large mixing bowl of 6.9 liters. This lets you work with large amounts of ingredients at the same time, so you can make large dishes. Convenient, if you're cooking for big groups. The protective grid covers the drive mechanism, so you don't get your fingers hurt. With the stop switch, you interrupt the mixing in a flash.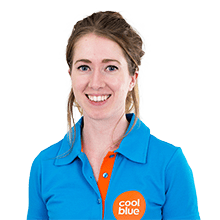 Article by: