KitchenAid vs Kenwood stand mixers
KitchenAid and Kenwood are two big brands when it comes to stand mixers. Both brands have been marketing high-quality stand mixers for years. This doesn't make choosing between a KitchenAid or Kenwood kitchen machine any easier. To help you choose, we've listed the most important differences.
---
Comparing KitchenAid and Kenwood stand mixers
| | kitchenAid | Kenwood |
| --- | --- | --- |
| Propulsion type | Direct | Indirect |
| Available colors | 15 colors | 2 colors |
| Design | Sophisticated and classic | Robust and rugged |
| Models sizes | 3.3 liters, 4.6 liters, 6.9 liters | 4.6 liters, 6.7 liters |
| Expansion options | Chopping, cutting, grating, and making pasta | Chopping, cutting, grating, and making pasta |
Powerful engine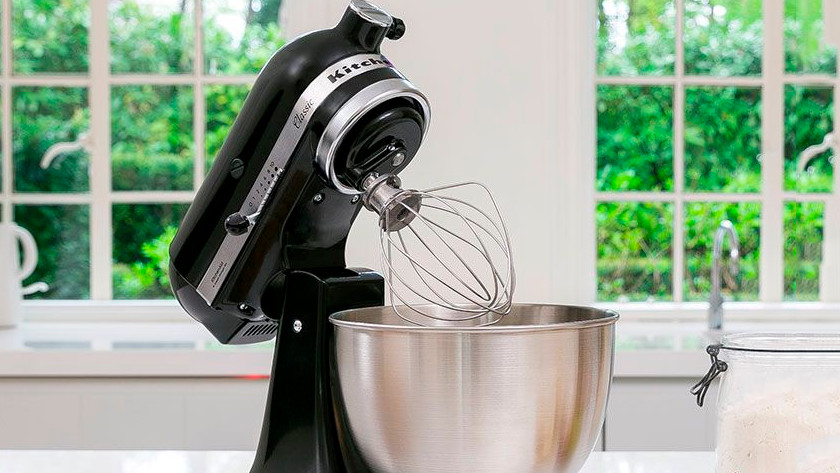 The power of a KitchenAid
A KitchenAid kitchen mixer needs less power to give a lot of power. This is because the motor drives the attachments directly, without loss of force. Are you looking for an extra powerful KitchenAid with which you want to know heavy dough types, such as bread dough? Then with a KitchenAid of 300 watts, you're already in a good position.* Direct drive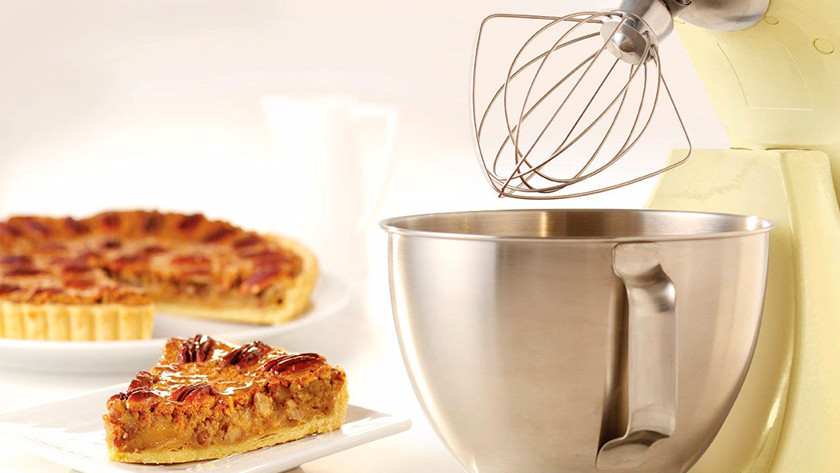 The power of a Kenwood
Kenwood kitchen mixers have a powerful engine just like KitchenAid kitchen mixers. The engine drives the attachments indirectly, so the kitchen mixer will need more power to provide a lot of power. Are you looking for a Kenwood with a lot of power, then you choose a model with at least 1000 watts of power.* Indirect drive
Choice of models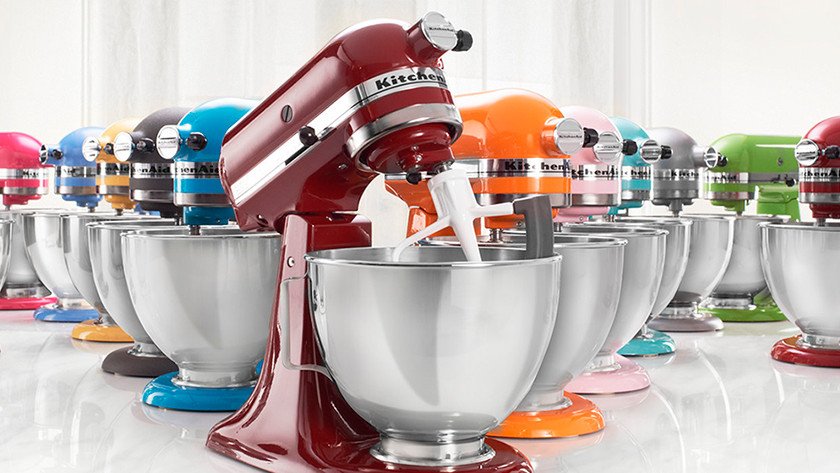 KitchenAid models
Kitchenaid pays a lot of attention to the design of the kitchen mixers. These kitchen mixers therefore do not look great on your kitchen counter and you also choose from many different colors. Here is also a price tag. KitchenAid also has a mixer specially designed for the small kitchen; the Artisian Mini mixer. This kitchen mixer takes up a lot less space on your kitchen counter.+ Solid and solid+ Beautiful design, available in various colors+ Mini mixer for the small kitchen- Mixers are pricey
Kenwood models
Kenwood makes sturdy and solid stand mixers and uses high-quality materials, just like KitchenAid. Compared to the KitchenAid models, Kenwood stand mixers are a bit more traditional in design. Kenwood distinguishes itself from KitchenAid with a unique model with heating function; the Cooking Chef. You can also use this to roast a piece of meat and make fresh, warm sauces.
Sturdy and solid
Model with heating function
Expansion options
Expansion possibilities of a KitchenAid
KitchenAid kitchen mixers have many options for expansion. There are attachments for chopping, cutting and grating of ingredients. With the juicer you press the juice from vegetables and fruit for a clear juice. There are also various pasta attachments for making spaghetti or even ravioli. The kitchen tools from KitchenAid are rather pricey, so you will have to choose which ones you do or do not purchase.+ Wide selection of attachments- Attachments are pricey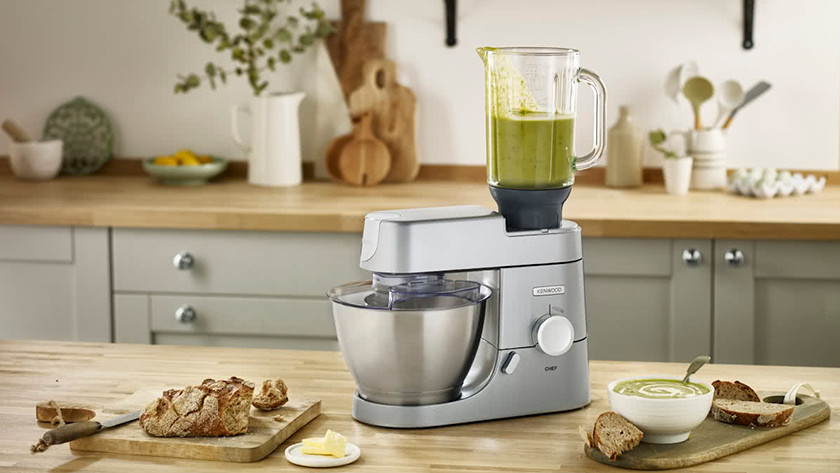 Expansion possibilities of a Kenwood
The expansion possibilities of a Kenwood stand mixer are comparable to those of a KitchenAid. Although the Kenwood attachments are a lot cheaper than those from KitchenAid. This makes it easier to expand your kitchen mixer. In addition to a food processor attachment, Kenwood also has a blender attachment for making smoothies.
Wide selection of attachments
Also a blender attachment
Conclusion
In terms of quality and strength, the KitchenAid and Kenwood kitchen mixers are close together. The possibilities for expansion are also similar, but there are no big differences to mention. However, the kitchen mixers and attachments from Kenwood are a lot cheaper than those of KitchenAid. KitchenAid, on the other hand, pays more attention to the design of the mixer. This could also be an important consideration, since a kitchen mixer does claim its place on your kitchen counter.
Did this help you?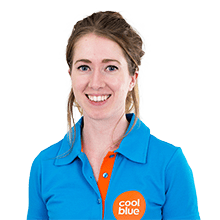 Article by: