Advice on DJ speakers
When you use a DJ controller or DJ set to play at home, you need DJ speakers to mix well. These speakers are called monitors. On this page, we'll explain these kind of speakers, the different types available, and what to keep in mind when you buy monitors. This helps you to easily find the most suitable DJ speakers for you.
---
1. What are DJ speakers?
Dj speakers are speakers designed to mix music. You want your music to sound the best possible. They make sure you add enough bass to your track, and that the higher frequencies don't sound like one big mash-up. A neutral sound is important, so the output of the DJ monitors is very precise. Does it sound well through your DJ speakers? Chances are it sounds like you imagined on any other sound system as well. DJ monitors are an essential part of your studio gear. Ultimately, you want to hear all nuances of your mix equally well.
2. Why can't you use PC speakers?
You also need monitors to monitor your mix when you're at home. And with the speakers you can entertain others with your unique musical talents. Basic PC speakers don't offer the quality and power that you need. Also, you need speakers with the same connector as your DJ set or DJ controller. Often, computers don't have these connectors. DJ monitors do have these professional connectors and offer a higher sound quality and more power.
3. What kind of DJ speakers do you need?
All DJ speakers in our assortment have a built-in amplifier. Thanks to the built-in amplifier, you don't have to buy a separate amplifier. You can directly connect the speakers. These active speakers are most practical for at-home use. They're compact and you don't need extra amplifiers. But which type of active speakers is most suitable for you?
4. What size DJ speakers do you need?
DJ speakers come in different sizes. Manufacturers indicate the size of these speakers in inches. More specifically, they indicate the size of the largest woofer. The smaller the woofer, the smaller the speaker cabinet. Small active DJ speakers usually have less power than large DJ speakers. Is your DJ controller or DJ set placed in a small (bed)room? The 3-inch, 4-inch, or 5-inch model is most suitable. Do you often play your music in bigger rooms for birthdays or housewarming parties? Make sure to buy a woofer 5 inches or larger.
5. Which connectors do you need?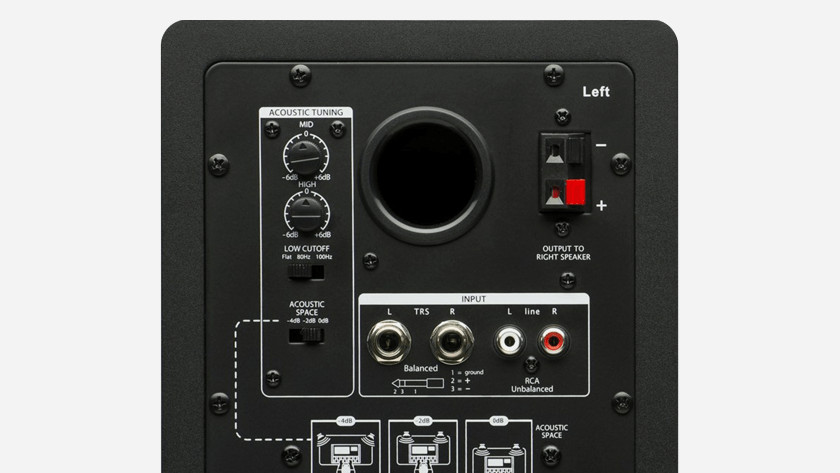 You will find connectors for sound input at the back of the DJ monitors. Connectors you might find are: XLR, jack, and RCA. Jack is also called TRS, and RCA is also called Phono connector. Jack and XLR are balanced. This means the signal is interference-free and free of white noise. RCA is unbalanced. You might hear a soft white noise if the cable is longer than 5m. The studio monitors are usually close to the DJ set when you use them in small studios, so all three connectors work. Do you have a big studio or do you just want the best connectors? Choose XLR or jack. We recommend matching your studio speaker inputs with the outputs of your DJ set or audio interface.
6. Do you need 1 or 2 DJ speakers?
Some DJ speakers come in sets of two, others are sold individually. You always need two speakers for stereo sound. We recommend to buy a set of speakers or two identical DJ monitors. We always tell you if it's an individual monitor or a set of monitors.
7. Do you need different speakers to play and produce?
Many DJs produce their own music. Do you wish to play sets and produce music as well? Pay attention to what type of speakers you buy. Most DJ speakers are unsuitable for producing music, because they distort the sound. For example, they may produce too much bass or too little detail in the higher frequencies. Studio monitors will provide a fair, neutral sound, and are made for producing. You can use studio monitors to DJ, but you can't use DJ speakers to produce.
What else do you need?
Not all DJ speakers come with cables. Make sure to check this when you place an order. We also recommend monitor pads. These pads are made of acoustic foam, to mute resonance and vibrations of your DJ monitors. The acoustic isolation makes for a better sound. Not enough room for speakers next to your DJ set? Look into speaker stands.
Did this help you?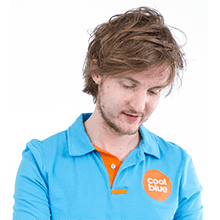 Article by: