Advice on epilators
An epilator is used to remove unwanted hairs from the root. That means you can enjoy a smooth result for longer compared to shaving these hairs. What's a good epilator for you then? I'll help you choose the best one for your needs.
1. What do you want to epilate?
All epilators come with a wide epilator head by default. That allows you to quickly and easily epilate larger surfaces such as your legs. Specifically for smaller areas, such as your armpits or bikini line, there are models with a small head attachment or precision epilator to work more precisely. Some models are even so precise that you can use them on your face. If you also want to use your epilator for your armpits or bikini line, we recommend choosing a model that's suitable for sensitive skin.
2. Want to epilate in the shower?
Epilating in the shower has one major advantage: The hot water will relax your skin, making epilating a less sensitive chore. You could of course epilate right after taking a shower, but this usually takes more time and once the skin cools, epilating becomes a bit more sensitive.
3. Want to use the epilator for shaving as well?
If the skin is too sensitive or if you can't remove all the hairs in one go because they're to short, an epilator with a shaver head offers a good solution. The shaver head comes included with some models, but there are also ones that let you attach a razor blade to the epilator. That way, you can epilate and shave off the shortest stubble in one go. Another advantage is that the separate shaver head usually has a trimmer that trims the hairs down to the ideal epilating length of 2mm.
4. Want a fast and efficient treatment?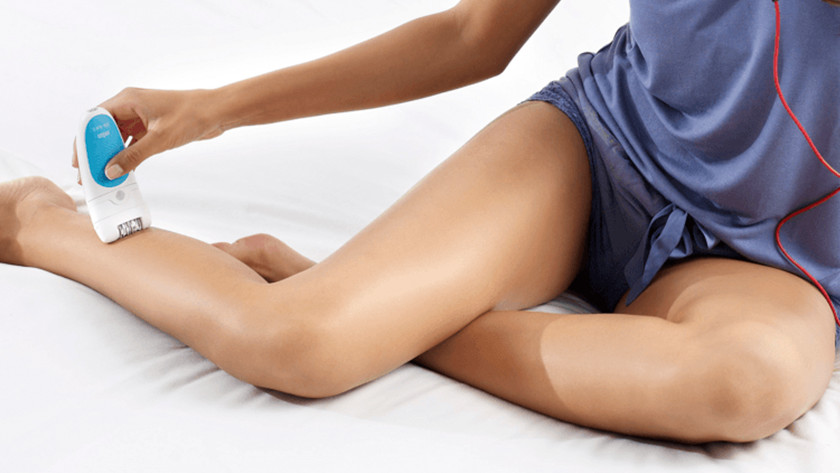 For the best results, hold the epilator at a 90-degree angle to your leg. By tightening the skin and moving the epilator against the grain, you'll get the smoothest result. It also helps to regularly scrub the skin where you want to use the epilator. That makes the hairs stand up better and makes it less likely that they'll grow in. Scrubbed hairs are easier to epilate.