Expert review: Asustor Lockerstor 2 AS6602T
I get to test the Asustor Lockerstor 2 AS6602T for a couple of days. This affordable yet powerful NAS is suitable for at home, or for a small office. It has a 4GB RAM and a Quad-Core processor, which makes it very fast. Thanks to two 2M.2 NVMe ports, you create a SSD cache. This helps you to open files quickly. Also, you can use hundreds of apps to set up your NAS completely to your own preferences. Here, you'll read my findings.
---
The Lockerstor 2 in short
Space for 2 hard drives
|
4GB DDR4 RAM + Intel Quad-Core CPU
|
No plex support
Install up to 2 hard drives and 2 M.2 NVMe SSDs for a high read and write speed.
Thanks to the Intel Celeron Quad-Core processor and 4GB DDR4 RAM, you quickly stream videos and your programs work fast.
Thanks to the 2 times 2,5GbE ports, you reach a high Ethernet speed of up to 5 Gigabit.
The internal hard drives aren't included. View our bundles for this.
First impression of the Asustor Lockerstor 2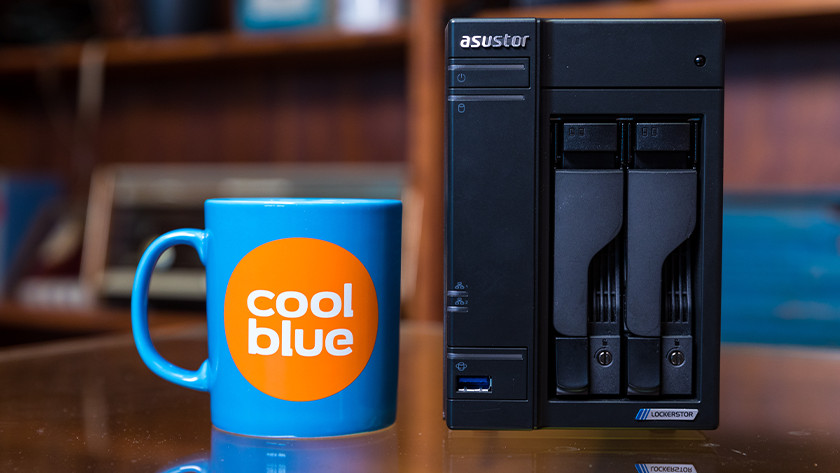 While unboxing the Asustor Lockerstor 2, I notice that the NAS is a lot smaller than I thought. It easily fits into your fuse box or TV stand. Asustor chose a sleek design with a metal casing, which makes the NAS feel sturdy and not easy to damage. Other than the hard drives, you'll find everything you need in the box. Like Ethernet cables, screws for the hard drives, and a quick manual.
Ready to use in no-time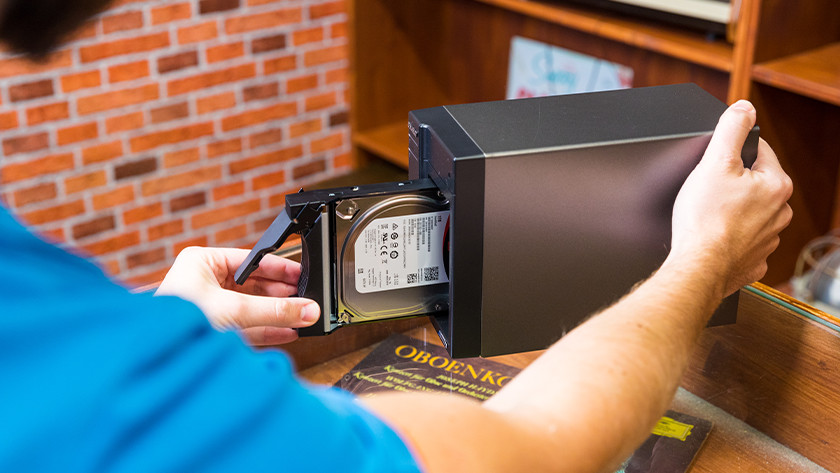 First, I install the hard drives. I use two special NAS-drives to make sure I can built a safe RAID setup. RAID 0 takes care of speed, RAID 1 for safe data storage. To install the drives in the bays, you just easily tighten a few screws. Too bad a screw driver isn't included. I slide back the bays, pull the Ethernet cable from my router to the NAS, and connect the power cable. The NAS starts initializing right away and after a loud beep it's ready to use.
Easy to install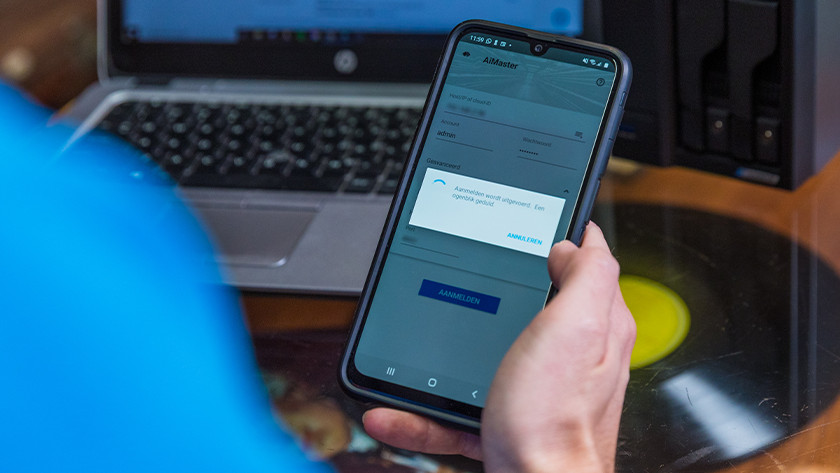 You connect to the NAS via your computer or smartphone. I test both options. After installing Asustor Control Centre onto my PC, I press 'Scan', and the NAS is connected. Then I can create an account, and choose between a RAID 0 (maximum capacity) or RAID 1 (balanced) set up. Same holds when I use the AiMaster app on my smartphone. Both apps are very easy to use. Make sure you are on the same network as the NAS, and that the network detection is switched on. That went wrong when I did it.
Almost 300 different apps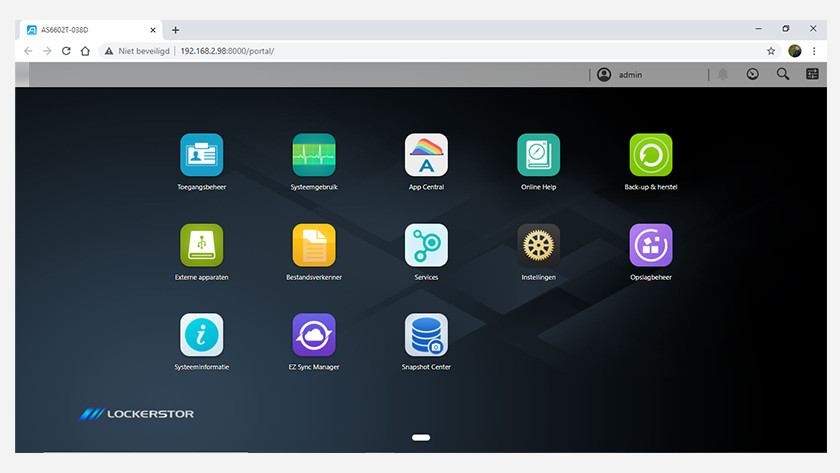 After logging in, you see a clearly arranged desktop with a couple of apps, like Snapshot Centre and EZ Sync. You use Snapshot Centre to make a backup of an entire PC, and EZ Sync to automatically synchronize data. I open App Central to see what else I can download. App Central has fewer proprietary applications than Package Centre by Synology, but a lot more third party apps. This gives you almost 300 apps to choose from, which makes the NAS multifunctional. Think about apps like Surveillance Centre, Plex, or Spotify.
Multifunctional device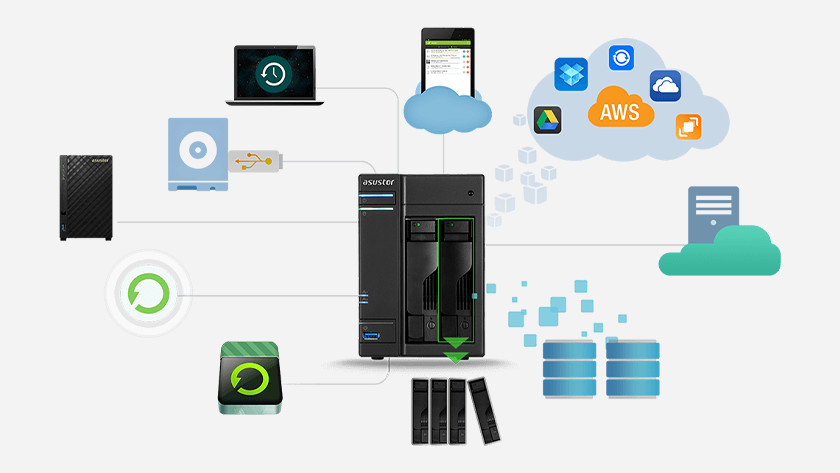 I change my NAS into a monitoring center via Surveillance Centre, and use Plex and Spotify to create my own movie and music database. But this product can do even more. It lets you stream 4K movies to your television, tablet, or smartphone without a problem. The NAS can even decode compressed videos to the original, higher resolution, while playing the movie. Do you use the NAS for a small (home) office? You can save Adobe projects directly onto your NAS, or you install a virtual machine. This way, multiple employees have access to the same, virtual operating system.
Powerful hardware for a good price
The inside is pretty impressive too. The AS6602T has a 4GB DDR4 RAM, and a Quad-Core processor with a clock speed up to 2.7GHz. I can quickly open a program, or stream a video without a problem. Do you install one or two NVMe SSDs in the free M.2 ports? You'll open or move files even faster. Thanks to the double Ethernet port, you reach an internet speed up to 5 Gigabit. This isn't often in this price range.
Conclusion
Space for 2 hard drives
|
4GB DDR4 RAM + Intel Quad-Core CPU
|
No plex support
The Asustor Lockerstor 2 AS6602T is very easy to set up. Connect it to the network, download the app, and you're ready to go. The Asustor app Central contains hundreds of different apps to choose from, like Surveillance Centre, Plex, or Spotify. This app store has less First-Party apps than Synology does, but it makes up for it with its powerful hardware and its affordable price.