Expert review Philips Somneo HF3672/01
The Philips Somneo HF3672/01 is an alarm clock that is also a wake up light. This means this alarm clock wakes you up with light. But that is not all it can do. This alarm clock can also help you relax and fall asleep. It's supposed to improve your night's rest and make sure you wake up well-rested. Does it actually work? I jumped in my bed and tested out the Philips Somneo HF3672/01.
---
In short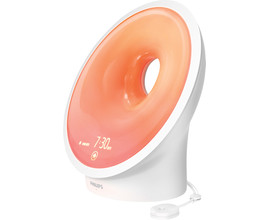 Light alarm clock
|
Alarm: FM radio, nature sounds, and light
|
Snooze function
Helps you fall asleep and wake up relaxed
Easy to use
Completely customizable
Can be operated with the accompanying app, including bedroom conditions
Charge function for your phone
The Somneo does take up some space on your bedside table
First impression
Personally, I've always just set an alarm on my phone, so I've never had an actual alarm clock. What I have now is an alarm clock 2.0. The Philips Somneo actually looks more like a designer lamp. I must admit it looks great on my bedside table.
I've found a good spot for my alarm clock and get started with the manual. The manual is clear and I can easily set the alarm clock. The accompanying app is easy to download as well. I can also use the alarm clock as a reading and I can charge my phone with it. This is useful, as it saves some space on my bedside table.
Falling asleep and waking up
Falling asleep
To fall asleep extra comfortably, I turned on the sunset. It slowly darkened my room, which is very pleasant. I also turned on ambient sea sounds. By breathing along with the sea sounds, I quickly relaxed. Very pleasant.
Waking up
I set the Somneo so it would start emitting lights 20 minutes before the actual alarm would go off. As the wake up time approaches, the lamp gets brighter. As a result, I'm already fairly awake before the alarm goes off and I don't even have to use the snooze button.
Relaxing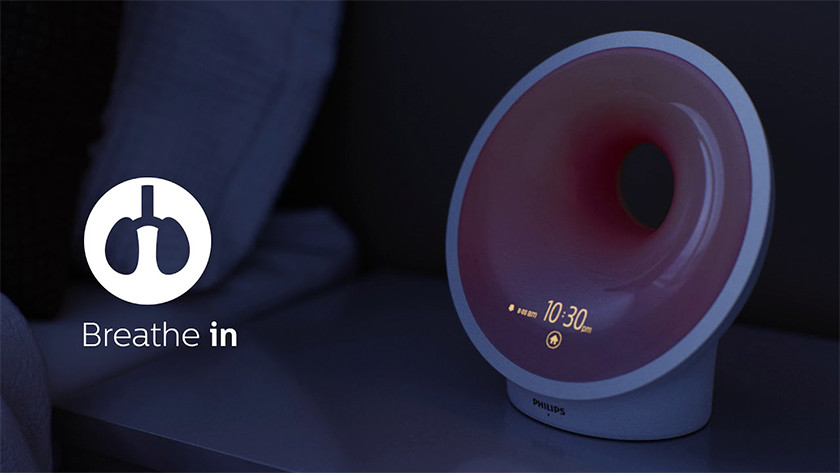 I must admit, I'm not always a great sleeper. I sometimes tend to think in bed when I'm busy, for example. I've read in the manual that you can use the Somneo to relax as well. I chose the sound-driven relaxation exercises, as I'm lying in my bed with my eyes closed anyway. This is pretty nice. I still think I prefer falling asleep to sea sounds, because I can breathe along with the rhythm then.
Bedroom conditions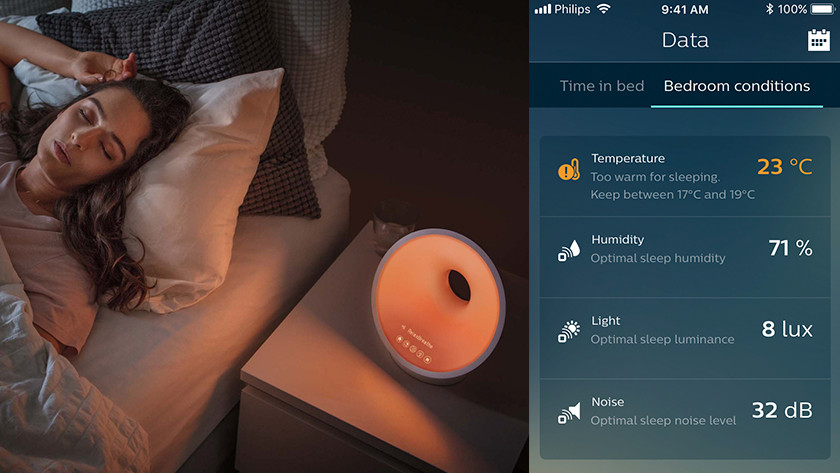 The sensors for bedroom conditions are what set this Somneo model apart from other models. These sensors measure the temperature, humidity, amount of light, and noise level in your bedroom.
The app notifies me it's too warm in the bedroom. Good to know, so I open a window right away. This is pretty useful and really adds value to your alarm clock in my opinion.
Verdict
In my opinion, the Philips Somneo HF3672/01 really works. I feel like I wake up more naturally, I'm more alert when I wake up, and I don't snooze as often I used to. Gaining insight into your bedroom conditions is a useful addition, but it's not essential for a good night's rest.
If you're looking for a wake-up light with all the trimmings, the Philips Somneo Connected is a good choice. If you mostly care about the wake-up feature and you don't need all the other functions, a basic Philips Wake-Up light is a better choice.