Advice on hedge trimmers
If you are going to buy a hedge trimmer, there are a number of questions that you need to ask yourself. To help you with your purchase, we have outlined those questions with corresponding answers. This way, by following the steps below, you arrive exactly at the best hedge trimmer for you.
---
In short
| | |
| --- | --- |
| High hedge | Trimming a high hedge is done with a telescopic hedge trimmer, so you don't need a ladder anymore. |
| Deep hedge | Use a hedge trimmer with a long blade, allowing you to cut the hedge along its entire depth. |
| Low hedge or buxus | A handheld hedge trimmer is specifically designed to comfortably trim low hedges, bushes, and your buxus. |
| Thick branches | Choose a hedge trimmer with large blade spacing, so that you can easily cut thick branches. |
1. What does your hedge look like?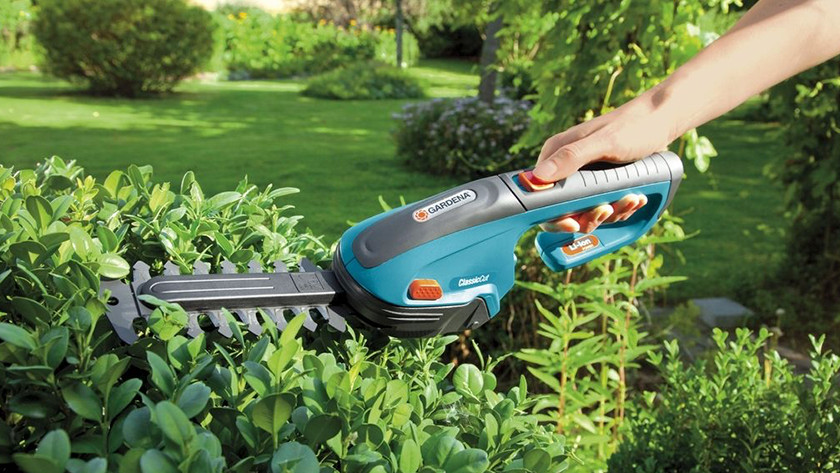 If your hedge is higher than yourself, you need a hedge trimmer for high hedges. A telescopic hedge trimmer, or a hedge trimmer with handle, offers a solution. If your hedge is deep or you can only reach it from one side, you use a hedge trimmer with a long blade. The handheld hedge trimmer is suitable for your buxus, low hedges and bushes. Afterwards, determine the thickness of the branches. Are you going to trim thick branches with your hedge trimmer, then there must be more distance between your blades.
2. Which way of working do you like?
You can choose between manual, electric, cordless, and gasoline hedge trimmers. Every propulsion comes with its own advantages and disadvantages. Find out for yourself which way you prefer.
Manual and electic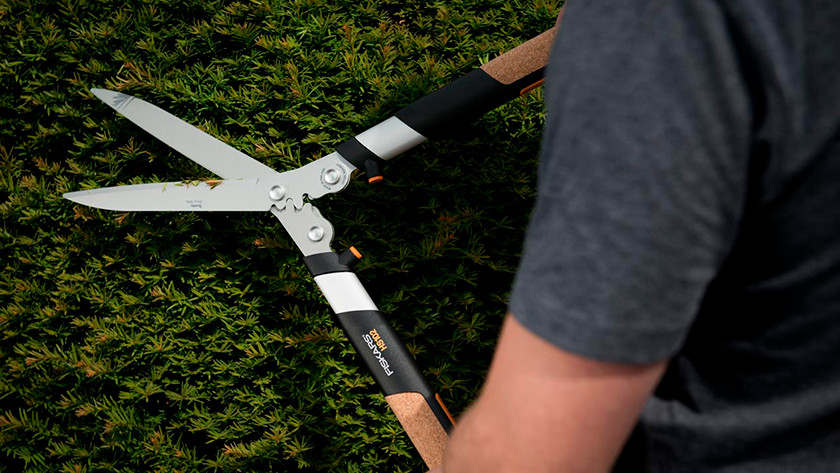 Hedge trimmer manual
You are independent of power supply.
The hedge trimmer is easy to maintain.
You have to use your own power to cut the branch.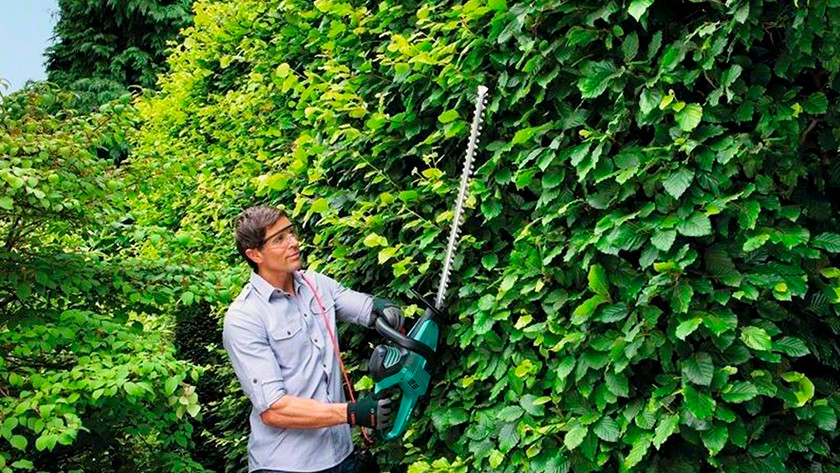 Hedge trimmer electric
Usually, electric hedge trimmers are lightweight.
These are the cheapest models of all hedge trimmers with an engine.
You should be careful not to cut through your extension cord.
Cordless and gasoline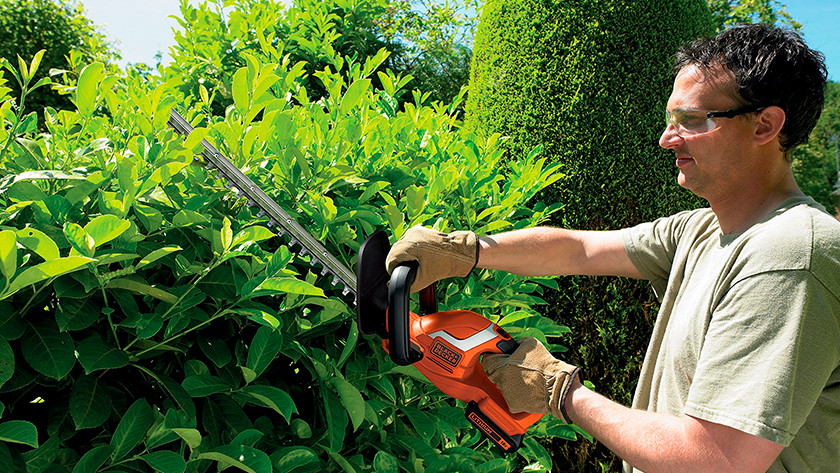 Hedge trimmer cordless
You work without a cord.
A hedge trimmer with a battery reduces pollution and noise.
You're dependent on your battery life.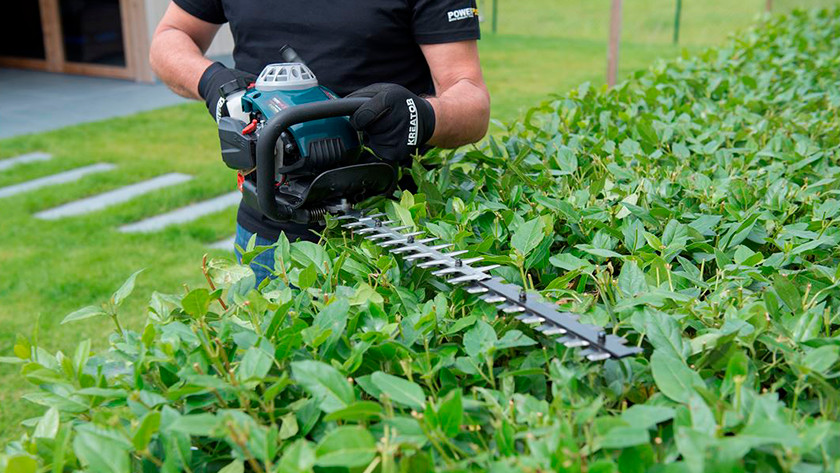 Hedge trimmer gasoline
You work without a cord.
The engine is often powerful.
The sound output and environmental pollution is highest with this type of hedge trimmer.
3. What else do you pay attention to?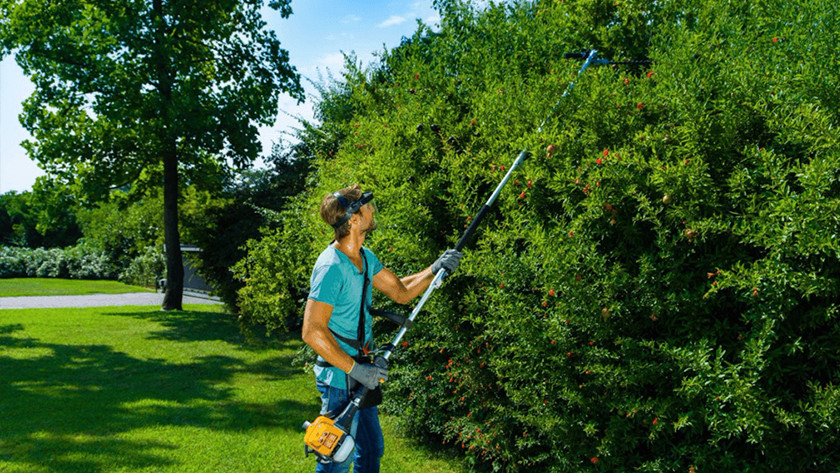 Starting at 3,5 kilograms, a hedge trimmer is on the heavy side. You will definitely notice working with a telescopic hedge trimmer from your body. So pay attention to the weight. Sometimes you have to trim at all kinds of angles. If you don't want to bend over backwards, a pivotable handle or blade is what you are looking for. With a hedge trimmer multi-tool, you have a fixed motor unit, to which you can attach various attachments. This way, you can turn your hedge trimmer into a string trimmer or chainsaw.
Think of maintenance and safety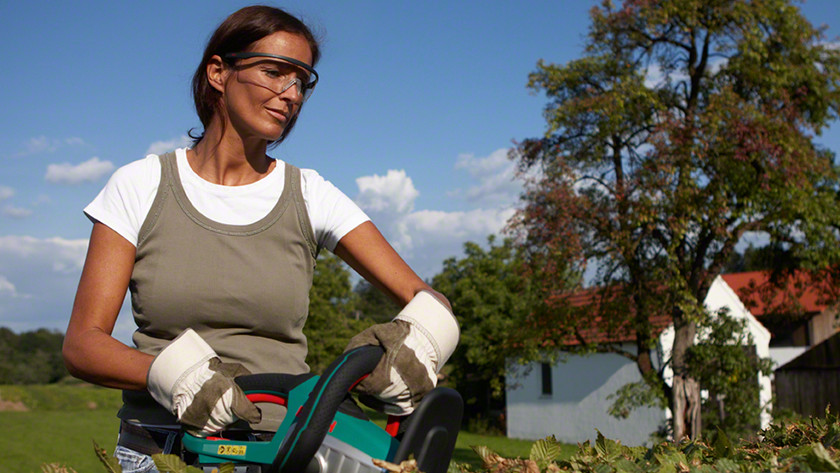 Maintenance accessories such as spray and oil keep your hedge trimmer intact. A hedge trimmer with a gasoline engine requires more maintenance than if you have a hedge trimmer with a battery in the barn. If you are going for an electric hedge trimmer, you need an extension cable. If your hedge trimmer is cordless, then you do not have to worry about it. In addition, the use of work gloves, hearing protection and safety goggles is always important when working with a cordless, electric or gasoline hedge trimmer.
Did this help you?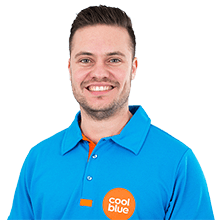 Article by:
James
Garden Tools Expert.