Everything on Super Smash Bros Ultimate
17 jaar na Smash Bros Melee en 10 jaar na smash Bros Brawl is het eindelijk zover: Super Smash Bros. Ultimate is uit voor de Nintendo Switch! Voor de jongere generatie wordt het een openbaring, voor de veteranen een nostalgietrip, want het is weer tijd om je vrienden en familie in te maken in de arena's van Super Smash!
Super Smash Bros. Ultimate
Order now and find out which of your friends are the sorest losers!
Why do I want Super Smash Bros. Ultimate?
For people who weren't around in 2001: Super Smash Bros. Melee was the best-selling game for the Nintendo GameCube at the time. Like many other gamers, it meant I had to spend all my time after school and during the weekend practicing like a madman so I'd be able to take on my friends and my nephews in Smash. Smash is also one of the games that created a lively competitive scene from a pretty early stage, which still lives to this day. So welcome back, Super Smash Bros!
New characters
Besides the fact that all our favorite characters from the previous Smash games are included, Nintendo also pulled a number of new characters from their hat. These newcomers include Richter & Simon Belmont from the Castlevania series, as well as King K. Rool from Donkey Kong.
Everyone is here!
Zit jouw favoriete Smash chracter wel in de game?! Geen zorgen. Nintendo heeft alle personages uit alle eerdere Smash titels in de game geplaatst. Ook zijn er nieuwe toevoegingen, zoals de Inklings uit Splatoon en Ridley uit het Metroid universum.
Playing style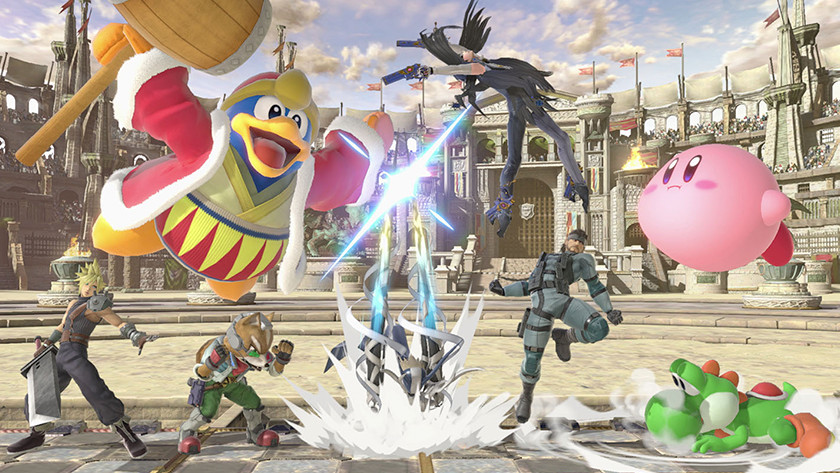 De kern van Smash blijft hetzelfde: betreed de arena en smash je tegenstanders de arena uit. hoe meer schade je krijgt, hoe verder je wegvliegt, tot je de arena helemaal uitknalt. Wat er wel vanderd is zijn de move-sets. Deze zijn geupdatet en zullen sneller zijn dan in eerdere games. Dit maakt de skill ceiling natuurlijk een stuk hoger en ik ben benieuwd in welke mate de professionele spelers de game op blijven pakken!