SodaStream: how much do you actually save?
If you like to drink sparkling water, but want to produce as little plastic waste as possible, a SodaStream is the thing for you. With a SodaStream machine on your countertop, you can turn tap water into sparkling water with a push of the button. The purchase price of a SodaStream may have you wondering whether you'll really be saving money on sparkling water. You'll find the answer in this article.
---
Price: you'll feel it in your wallet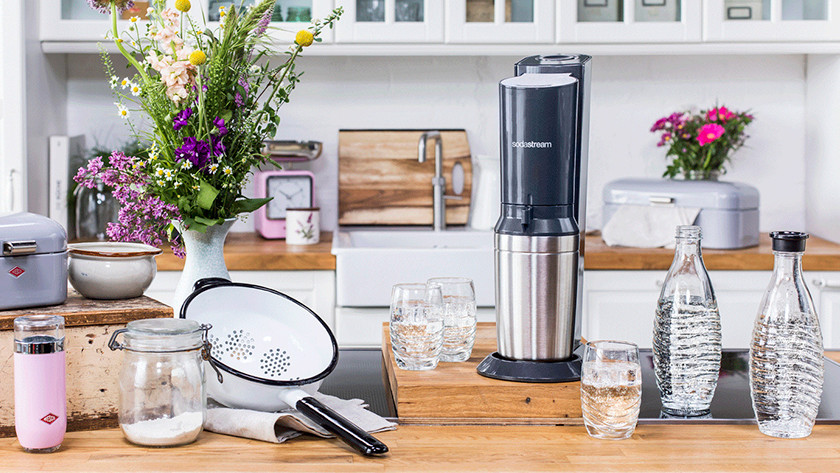 Investment
Sparkling water machines currently cost at least € 59.99. This gets you a CO2 cylinder that lets you make up to 60 liters of sparkling water. If you want to make 2 liters of sparkling water every week, you'll need 2 cylinders a year. A cylinder costs € 12.50 on average. That means it'll cost you € 72.49 in total to make 120 liters of sparkling water. That's € 0.60 per liter of sparkling water.
Weekly costs
Let's say you drink 2 bottles of sparkling water every week. These bottles cost € 0.85 a piece on average, plus deposit. If we calculate this on an annual basis, you pay € 114.40 for 2 liters of sparkling water per week. In the Netherlands, PET bottles are charged a € 0.25 deposit. If you return the bottles, you'll get € 24 back. So for this amount of sparkling water (104 liters), you pay € 90.40 a year. It's not possible to return the bottles at Coolblue.
Cost comparison
| | | SodaStream | Bottles of sparkling water |
| --- | --- | --- | --- |
| Purchase price for a year of sparkling water | | € 72.49 | € 114.40 |
| Costs per liter of sparkling water | | € 0.60 | € 0.85 |
Eco-friendly: less plastic waste
SodaStream reusable carafes
The SodaStream machines come with glasses or recyclable plastic carafes to make and store your sparkling water in. You then put them in the fridge to have nice, cool sparkling water. There are also SodaStream machines that come with a small 0.5-liter bottle for use on the go or in the car. Since you reuse the carafes and don't produce plastic waste, you're being more eco-friendly.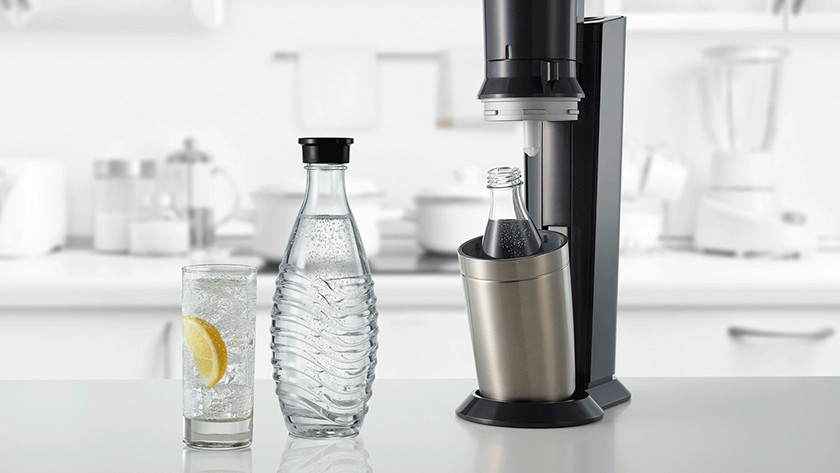 Sparkling water bottles from the supermarket
While doing the weekly groceries, you'll often grab 2 liter bottles of sparkling water. These plastic bottles will be empty after a week, after which you return them to the supermarket for recycling. At least, we hope. But what about those small plastic bottles for on the go? We consume 1 million plastic bottles every minute worldwide. The majority of these bottles end up on the garbage dump or somewhere in nature. Only 7% of them are turned into new PET bottles.
User-friendliness: it's a breeze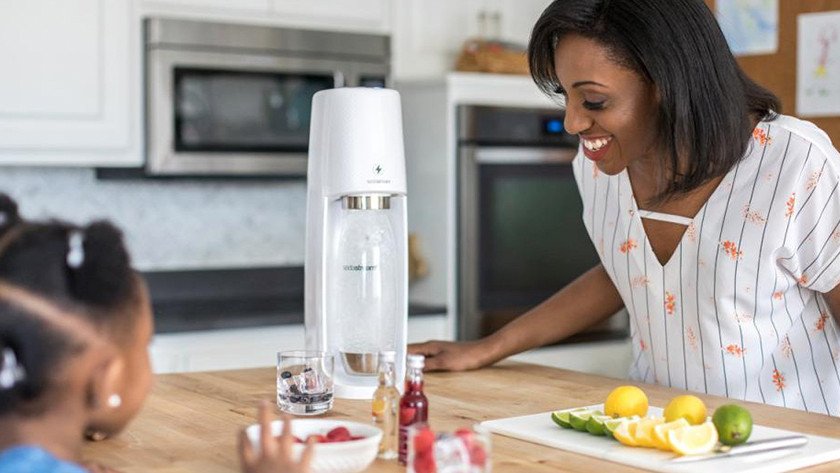 Sparkling water machine on your countertop
Give the SodaStream sparkling water machine a nice spot on your countertop. That way you can quickly and easily make sparkling water whenever you want. Put the carafes in the fridge to always have a cold glass ready. You can determine how much soda to add to the water, so you can easily vary between intense and light sparkling.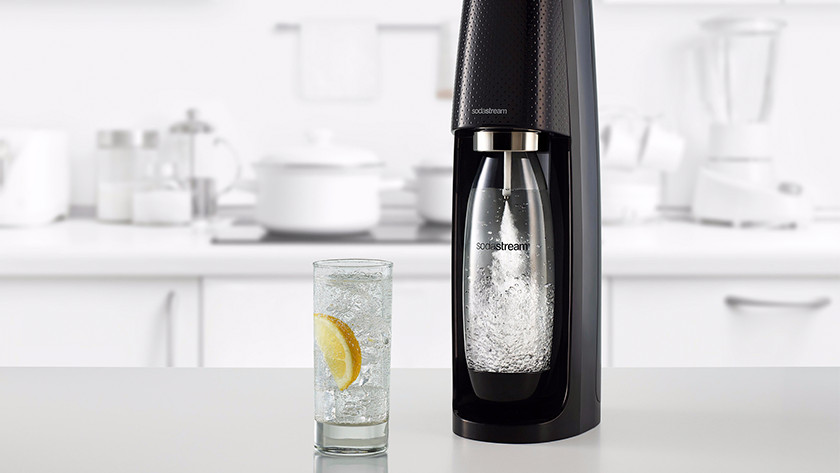 Dragging bottles everywhere
Getting the weekly groceries isn't always a welcome chore. Especially the bottles of sparkling water take up a lot of space, and they're also pretty heavy. And when the bottles are empty, you have to collect them in a bag or closet. Otherwise you'll mix them up with the other waste and you'll lose your deposit.
Did this help you?