2x AOC i2490PXQU/BT
---
Product information
Pros and cons
According to our monitor expert
This Duo Setup doubles your screen space, so you can easily work in multiple windows at the same time.

Thanks to the 100% coverage of the sRGB color space, colors are displayed more realistically, and you can edit photos and videos more accurately.

This screen's blue light filter reduces the chance of strained eyes and sleeping problems.

The 4 ms response time can cause ghosting when playing games.

With this duo set, you don't get a connector for the monitors, so order a monitor arm separately with the recommended accessories.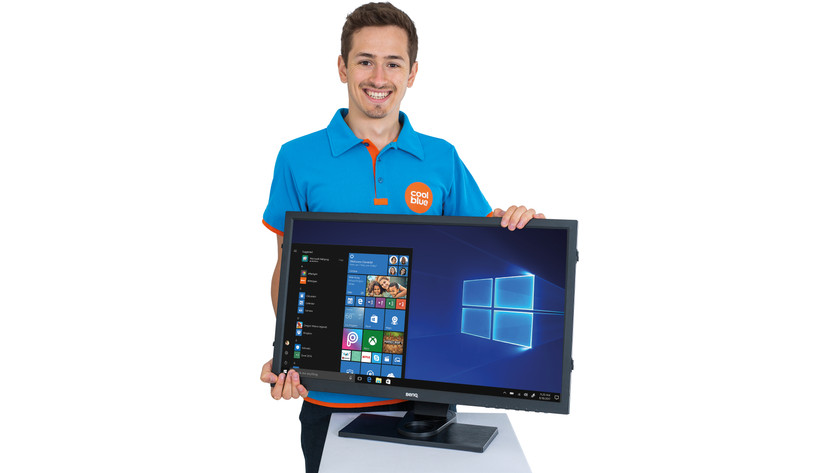 ---
Product description
With the AOC i2490PXQU/BT Duo Setup, you can use 2 24-inch AOC monitors side by side to double your screen space at home or in the office. These monitors excel in accurate color representation. With 100% coverage of the sRGB color gamut, you can edit holiday pictures and watch movies in true-to-life colors. And thanks to the IPS panel, you can properly see colors from any angle. The monitors feature flicker-free technology, so your eyes won't hurt at the end of the day. Working late? The blue light filter prevents sleeping problems and reduces the strain of the light on your eyes. The monitors are fully adjustable, so you'll always be looking at the screen in a comfortable position.
Note!: this screen has an anti-reflective layer that prevents glare. Don't peel it off your monitor!
Included by default
Power cable
VGA cable
HDMI cable
DisplayPort cable
Monitor base
---
Visit one of our stores by appointment
View more monitors in the store

Get advice from an expert

We have stores in Amsterdam, Arnhem, The Hague, Eindhoven, Groningen, Haarlem, Leiden, Rotterdam, Tilburg, and Utrecht
---
Reviews
| | | | |
| --- | --- | --- | --- |
| 5 stars | | | |
| 4 stars | | | |
| 3 stars | | | |
| 2 stars | | | |
| 1 star | | | |
Most helpful reviews
Overall a good purchase, perfect for teleworking.

Francesca | 7 May 2020 | In the version: 23,8 inches | 1

HDMI cable had a defect and did not plug in properly

Screen of very good quality for price range. Too bad the HDMI cable that was included did not work properly.

Francesca | 7 May 2020 | In the version: 23,8 inches | 1

good monitor for people on a budget

Yunus Emre Yilmaz | 16 January 2020 | In the version: 23,8 inches | 1

Using it for programming when I work from home. Reliable and great quality on display. Not a gaming grade monitor, but if you need a monitor for software development or daily tasks, that's it.

Yunus Emre Yilmaz | 16 January 2020 | In the version: 23,8 inches | 1

Great screen for the price

MarekT | 1 December 2018 | In the version: 23,8 inches | 1

Great screen with features like IPS display and DisplayPort.

MarekT | 1 December 2018 | In the version: 23,8 inches | 1

Worth for work

Pivot / portrait mode is awesome

Got HDMI, sRGB (analoge), display connectors with it

Preset display mode and settings gives quite good picture

Bit more expensive as its precessor

Settings menu and set key is not so convenient

Well equiped and nice display with easily adjusted leg. PIvot (portrait) mode is awesome. Display quiality is quite nice, though I advise to use it with digital connector, either HDMI or display port, but that goes for any display for like 15 years now...
This monitor is recommended for work, but would not recommend for mid or high-end gamers.

Gábor Mihályi | 5 December 2018 | In the version: 23,8 inches | 1

best Ratio Price versus quality

It has all connectios ( Hdmi, DVI and Display Port)

Future proof and nice quality image

Have been working with that the last 2 weeks and working just perfec :)

YannMut | 5 August 2020 | In the version: 23,8 inches | 1

Excellent value

Can't beat it at this price. Quality is good and to my surprise it came with all the cables.

Martin Mellor | 27 July 2019 | In the version: 23,8 inches | 1

Good deal

Looks great, works great, easy to setup, comes with a lot of cable options. Cannot rotate the screen (landscape to portrait) though, which is a small minus.

Sven | 19 January 2021 | In the version: 23,8 inches | 1

Nice!

Does not occupy much space

Quality of image a bit blurry

Too many cables to plug to the laptop (for my usage)

It is really nice, but the blue protection mode makes the quality of the image drop and the screen becomes a bit blurry and oversaturated.

Gisela Rosado | 8 September 2020 | In the version: 27 inches | 1

Value for money

Excellent quality with affordable price

Mohamed Thoufeeque Nizam Mohideen | 13 May 2020 | In the version: 23,8 inches | 1

Good balance for a home office

Good size for home office

Lightweight, can be put away easily

Good choice of connectors

Image is good enough for office work

A bit clunky, but no more so than most competitors

Image could be better for quality pictures/video

I like the product for what it is. My "cons" should be read as "this does not meet my ideal", but at this price that is not possible. We both two of them, for both my wife and myself.

Mauro Petriccione | 29 December 2020 | In the version: 23,8 inches | 1