Expert review Apple AirPods (1st gen)
Apple AirPods give an extra dimension to listening to music wirelessly. These earbuds not only connect to a smartphone or tablet wirelessly, but also connect to each other. I tested the earbuds extensively. I paid attention to the connection, the sound, and the controls.
---
Note: Apple AirPods (1st generation) no longer available
Due to the arrival of the Apple AirPods (2nd generation), the Apple AirPods (1st generation) will no longer be made. The Apple AirPods (1st generation) are no longer available.
First impression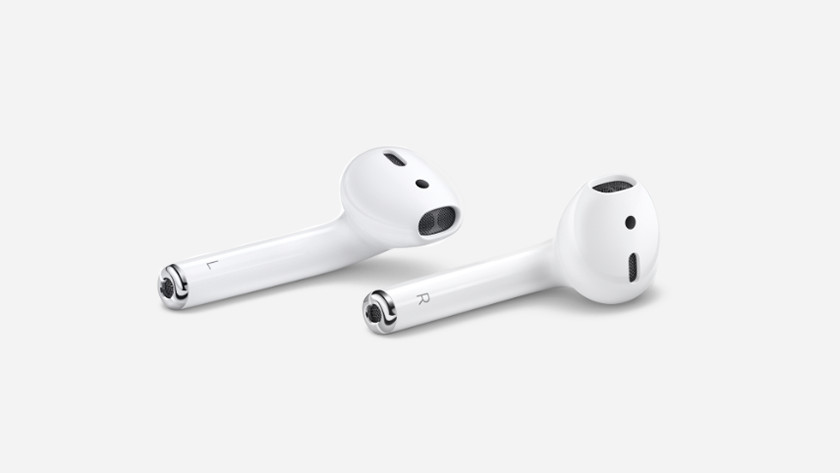 For the first time, I have 2 earbuds in my hands that aren't connected via a cable, but are completely wireless. It's nice to know I have complete freedom of movement. One thing is for sure: I won't have to worry about cables with these earbuds. I wonder if they'll fall out of my ear quickly. In the box, you can find a charging cable and a compact storage box. This storage box also works as a power bank. This means the earbuds are will automatically charge when I put them in the box.
Connect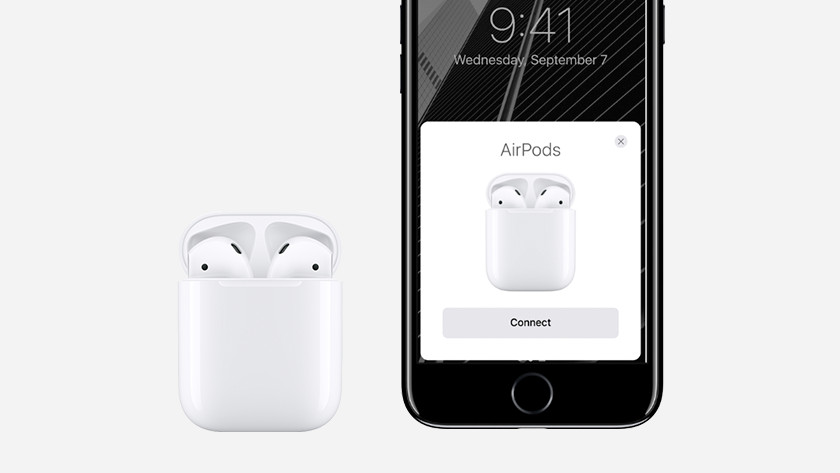 A fast connection to your iPhone Because I updated my iPhone to have the latest iOS, it can connect to the AirPods fast. As soon as I open the lid of the storage box, my smartphone recognizes the earbuds. All I have to do is press the 'connect' button on my screen. I can also connect my AirPods to other devices via a Bluetooth connection, but won't be able to access all functions. The music doesn't stop when I take out 1 earbud, for example. That does happen when I connect the earbuds with my iPhone.
Controls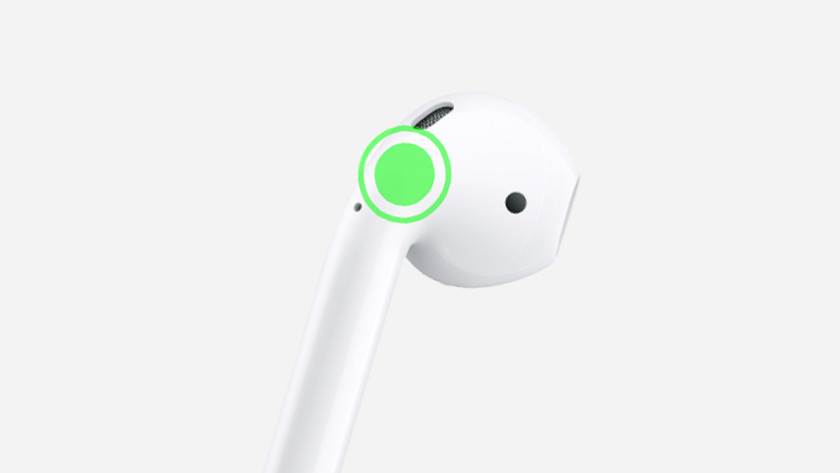 Voice control via Siri, no remote To adjust the sound or to listen to another song, I can my earbud with my finger twice. This activates the Siri function, so I can control the music via voice commands. The disadvantage is that Siri doesn't always understand me, for example when I ask to lower the volume. That's why I still reach for my iPhone to control the music. The earbuds have integrated sensors that respond to different situations. The music pauses when I remove one earbud and they automatically turn off when I put them in the storage box.
Carrying comfort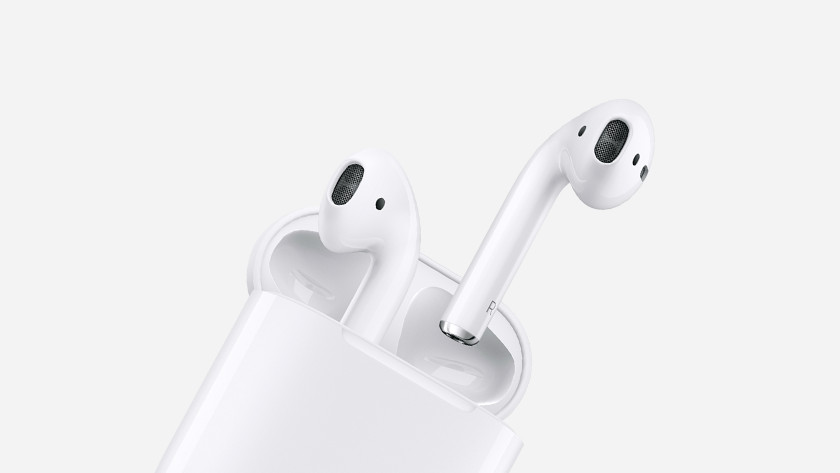 Universal fit AirPods have a universal fit. That means there's only one size, but the earbuds fit in my ears comfortably. Even listening to music for one hour. I do have to get used to the idea that there are 2 white rods sticking out of my ears. I'm also thrilling that the earbuds are completely wireless. If one of the earbuds falls out of my ear, it lands on the floor. I put it to the test and jump up and down a few times, but the earbuds stay in my ears.
Sound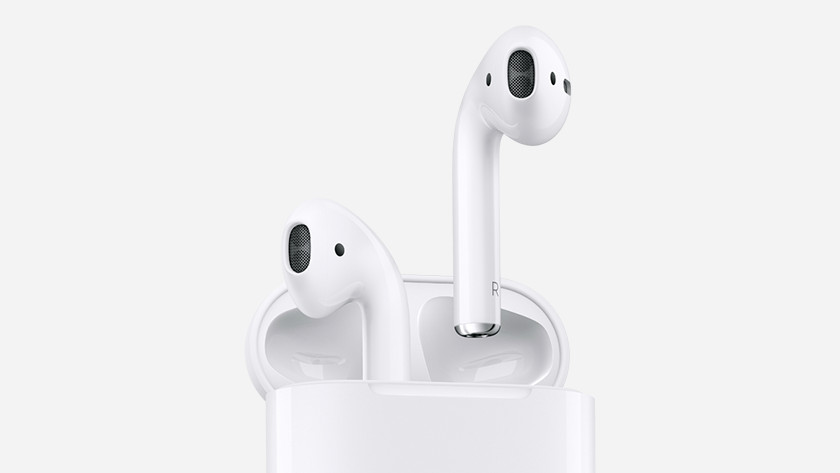 **Clear sound with a deep bass ** Because wireless streaming often negatively impacts sound quality, I'm curious about the sound reproduction. I compare the earbuds to the Apple EarPods that come with the iPhone. For me, AirPods are the winner by a small margin. I think the sound sounds a bit clearer and that the bass stands out more in the mix. To me, it adds value that I can listen to AAC files with my Apple AirPods. These files provide better sound quality than MP3s, so the music sounds extra detailed.
Battery life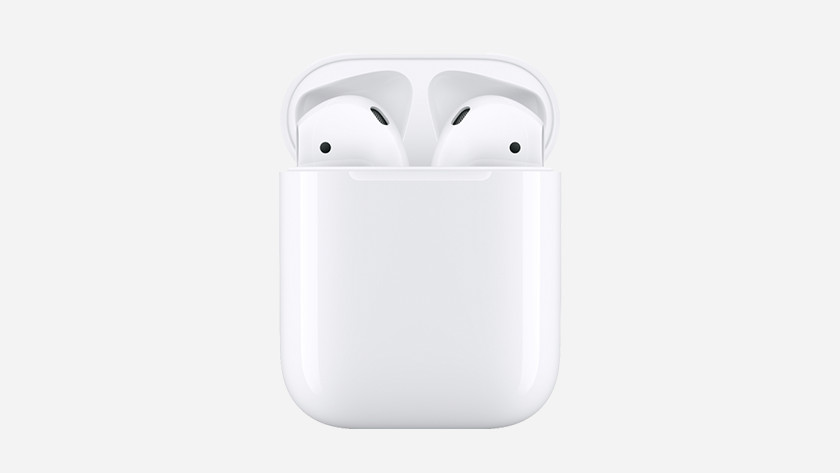 Always have 29 hours of battery life with you AirPods work for up to 5 hours on a full battery. I can plug the earbuds into the included storage box to charge them. If I keep them in the box for 15 minutes, I'll get 3 hours of extra battery life. The power bank offers extra battery life up to 24 hours. That means I can charge the earbuds about 5 times. If I want to know the battery status, I can ask Siri. The status is also displayed on my iPhone as soon as I make a wireless connection.
Integrated microphone
Clear conversations I can use these earbuds to easily have hands-free phone calls. The integrated microphones in the earbuds filter out unwanted ambient noise. Because of that, my voice is clear even when I'm in a noisy location. I called my colleague from a busy cafeteria and in the reverberating staircase. Both times, my voice was clearly audible. The sound in the cafeteria was still audible, but remained background noise.
Conclusion
I'm excited about the user-friendly functions of the AirPods. I can connect wirelessly by simply opening the storage box, which is convenient. The box also functions as a power bank, so I always have 24 hours of battery life. Because of that, I don't have to charge the AirPods every day. Operating them via Siri and tapping on the earbuds does put me in awkward situations. That's because Siri doesn't always understand me the first time. For me, that's not too inconvenient, because I don't mind using my smartphone.
Did this help you?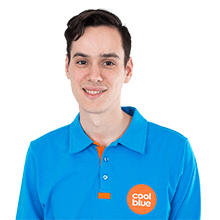 Article by: