Advice on car radios
Looking to buy a new car radio? You've come to the right place here at Coolblue. Our wide assortment offers many different car radios. We'll gladly give you some tips and advice to help you pick out the best car radio. The right car radio will make driving a lot more fun. What makes a car radio the best one for you? Below, we'll ask you some questions to help you find out.
---
What size car radio is suitable for your car?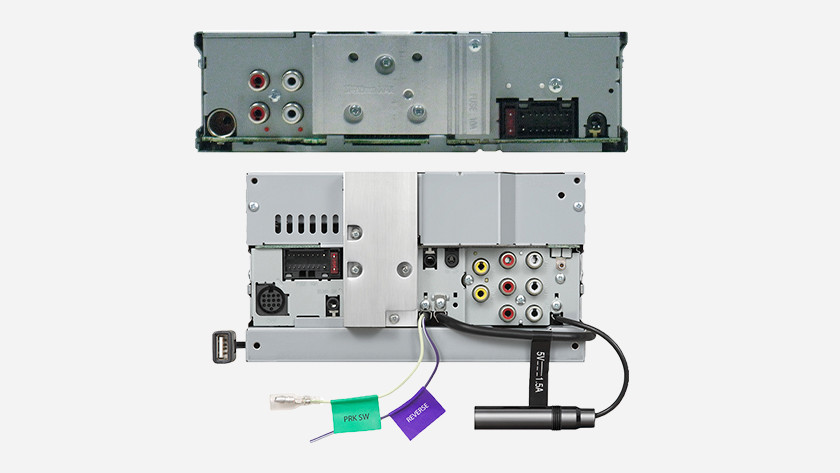 There are two standard sizes for car radios; single or 1-DIN and double or 2-DIN. 1-DIN is the traditional size with dimensions of 180x50x150mm, a narrow display, and a few buttons. 2-DIN car radios are twice as high (100mm). This offers room for a bigger display that can be used, for instance, for navigation or watching movies. Do you only have space for a 1-DIN car radio, but want the benefits of a 2-DIN car radio? Choose a 1-DIN car radio with a fold-out screen. The fold-out screen is invisible until you fold it out to use it. Want to install a 1-DIN car radio even though your car has 2-DIN? Fill the open space with a separate panel you can get from your car dealership.
Which radio signals do you want to receive with your car radio?
Listening to FM radio is very popular. The downside is that it's analog radio in low quality. In addition, the reception is sensitive to interference and not very user-friendly. You'll need to find the right frequency on a broad spectrum manually. The DAB+-signal is a great alternative. DAB has no static or interference and you'll immediately have access to many stations, which the radio detects by itself. On top of that, DAB+ offers extra options for sending and receiving additional services such as traffic updates and text. The DAB+-signal can't be received using a traditional radio antenna however, but needs a special antenna that's included with the DAB+ car radio. There's also a number of radios that already have DAB+ built into them, so you won't require an external antenna anymore.
What music device do you use to play your music?
Prefer to listen to your own music? In that case, selecting the right car radio depends on the music device you use. You can of course play music from CDs or DVDs. A more compact solution is storing music on a USB flash drive or memory card that you can connect to your car radio. Do you keep your favorite music on your smartphone or MP3 player? Choose a car radio with AUX input or Bluetooth. Using an AUX cable, you can connect your music device to the radio, or do it wirelessly via Bluetooth. For iPhone users, there are also car radios that specifically support iPod/iPhone. Using a special cable, you'll be able to browse your music collection and select the songs you want to play.
Want to be able to make hands-free calls via your car radio?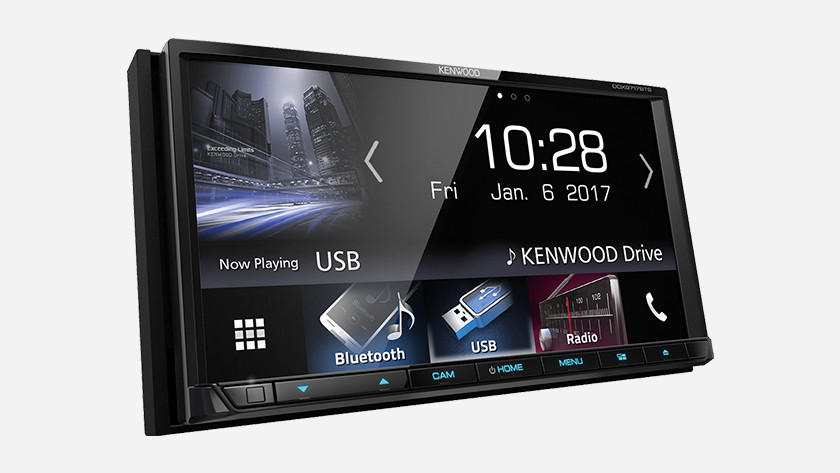 In your car, you're only allowed to make hands-free calls. A smartphone may be connected wirelessly to your car radio using Bluetooth. Another option is to use a car kit for this if your (current) car radio doesn't have Bluetooth. In that case, you connect an external Bluetooth kit – car kit – to your car radio and your smartphone. An advantage of this is that you can keep your smartphone in your coat, bag, or pocket when getting into the car. A car mount lets you place your smartphone near the steering wheel and/or your car radio.
Why do I need an RCA Pre-out on my car radio?
Not every car radio has one or more RCA Pre-out connectors. That's not a problem if you're fine with the standard speakers in your car. Got higher standards and want to personalize your sound system? In that case, you'll probably not just want a new car radio, but new speakers, amplifiers, and/or a subwoofer as well. In that case, the number of RCA Pre-out connectors is important. These are the connectors you use to connect separate amplifiers for speakers and a subwoofer. One connection lets you personalize your front speakers. Two or three connectors give you control over your rear speakers and/or a subwoofer connection in your car as well.
Which accessories make using a car radio more pleasant?
Make your ride from A to B a lot more pleasant with the right accessories. Coolblue offers many accessories that ensure you and your passengers will enjoy your time on the road even more.
Good sound in your car requires more than just a good car radio. A set of good speakers is essential. When choosing car speakers, you'll need to keep the dimensions in mind, because not every radio will always fit your car. On top of that, it's also important to look at the number of RCA connectors your car radio has, so you know how many amplifiers, speakers, and/or subwoofers you can connect. You can connect one amplifier to each RCA connector. You can then connect a set of car speakers or subwoofer to that amplifier.
In order to safely make phone calls in your car, the law requires you to do it hands-free. You can make hands-free calls via your car radio or a car kit. The car kit is an external Bluetooth kit that you connect to your car radio and your smartphone. An advantage of this is that you can keep your smartphone in your coat, bag, or pocket when getting into the car. A car mount lets you place your smartphone near the steering wheel and/or your car radio.
How do you install a car radio?
After you've bought your new audio equipment, it'll still need to be installed in your car. In order to make sure that's done right, it's a good idea to have a professional do it. Are you handy, do you know something about car radios, and do you decide to install your car radio yourself? Then make sure you have the right ISO cable. This is used to connect the car radio to the electronics in your car. Be aware that buying a new radio might involve some extra costs as well.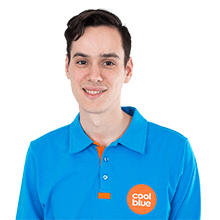 Article by: