Advice on oscillating multi-tools
If you're choosing an oscillating multi-tool, you're choosing a tool for fine to medium-sized work like sawing cutouts for cables into furniture, scraping off leftover glue, and sanding surfaces like baseboards, frames, and steps. Which oscillating multi-tool is best for you depends on a number of things. Following the steps below will make it easy to choose the best multi-tool for you.
---
Choose oscillating multi-tool
You can go many ways with oscillating multi-tools, making them suitable for a variety of jobs. To find the best multi-tool for you, look at the following:
Job type
Battery or with cord?
Quickly change attachments
Saw jobs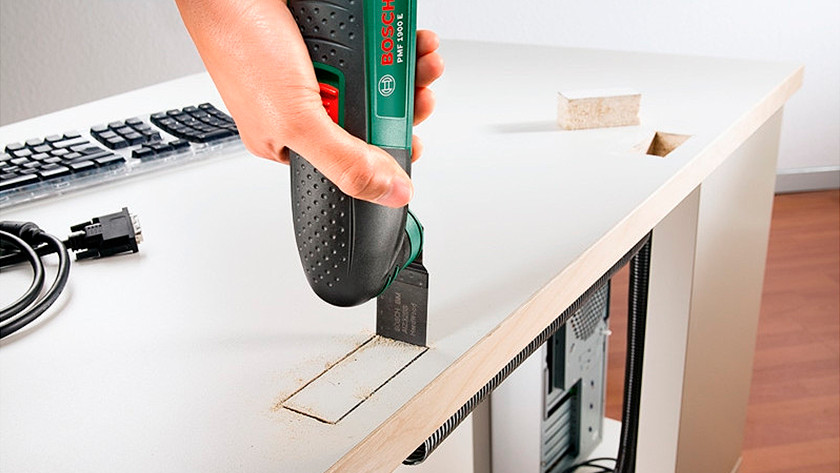 Sawing cutouts
Sawing a cutout for the sink into your countertop or creating a hole on the back of your dresser so cables can be led away neatly? choose an oscillating multi-tool with a plunge-cutting saw blade included. With this type of saw blade, you won't need to start at the edge of your work surface, but you'll be able to plunge (as the name implies) the saw into your work.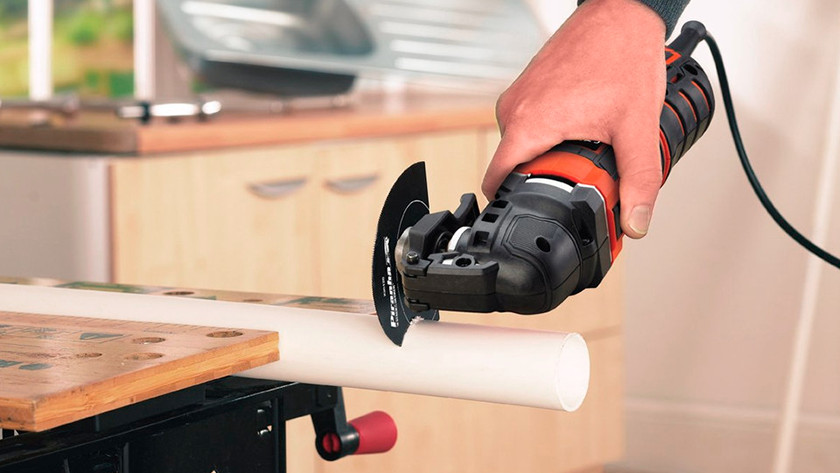 Sawing up and sawing against the grain
Sometimes, a radial arm saw or a circular saw will be just a little too crude. If you're cutting baseboards or window frames to size, or if you're going to use a multi-tool to saw laminate, the segment blade will be a great help with that. A lot less tiresome than sawing everything by hand, and definitely a lot faster. There are segment blades for various surfaces. The standard blade allows you to work with wood, but if you go for a diamond version, sawing metal becomes an option as well.
Scraping and planing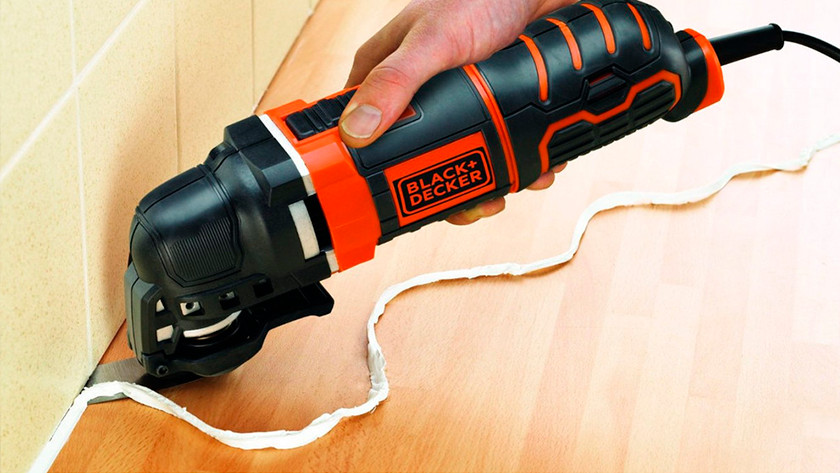 Scraping
Removing leftover glue or putty can be a frustrating job. When you use a multi-tool with a scraper blade, it still won't happen automatically, but it will become a lot easier. This way, you'll rid your stairs from leftover glue and remove excess putty from tile walls with relative ease.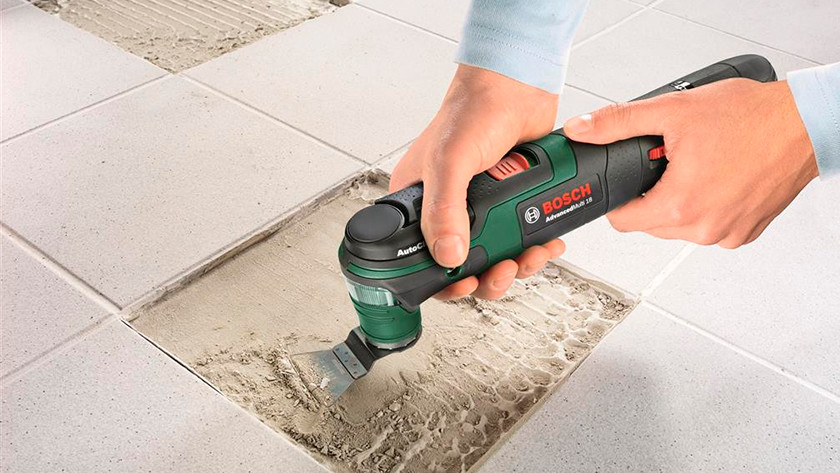 Shaving
Between sawing and sanding, there's shaving: roughly removing a layer of wood. This is what you do, for example, to that door that jams or to a plank you didn't cut quite enough off. Your oscillating multi-tool's shaving blade may also be a solution for hobby woodworking such as sculpturing.
Remove sanding and grouting
Sanding
Sanding is easy to do by hand or with a sander, but the great ease when it comes to sanding with an oscillating multi-tool is in its size. That is, the relatively small sanding pad that moves from side to side at lightning speed allows you to reach the smallest nooks and crannies. This is ideal when sanding baseboards and window frames, but also, for example, when sanding stairs or garden furniture. The machine's low-profile casing provides you with good agility when doing this, too.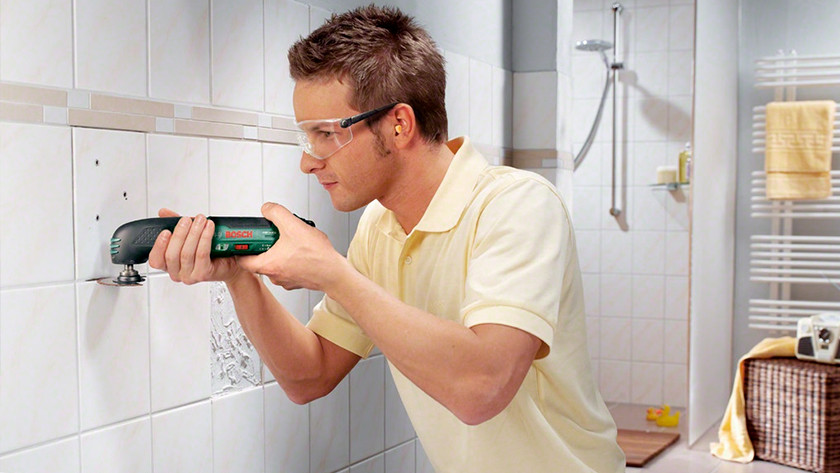 Removing joints and tiles
Going to replace the old tiles in the bathroom or kitchen with new ones? Removing joints using a multi-tool or removing tiles using a multi-tool are jobs that can be easily done. Segment blades are the ideal accessories to get this job done.
Cut tiles to size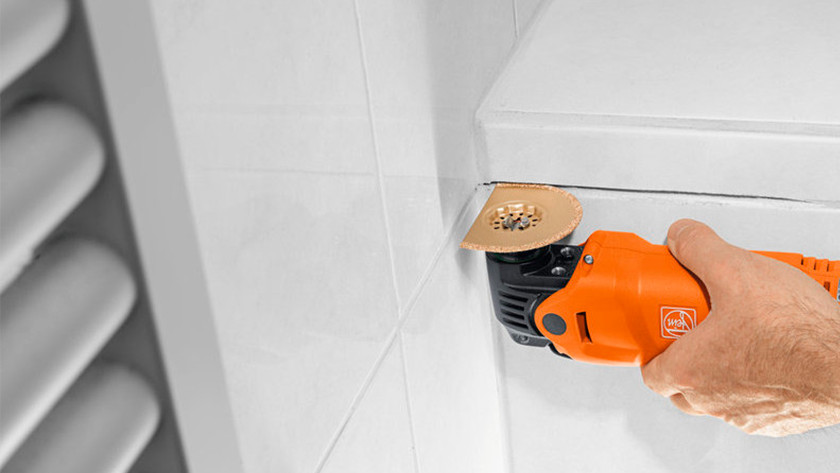 Cutting tiles
In a perfect world, every tile would fit perfectly onto the wall you're tiling. Unfortunately that's not how it works, which means there's no getting around having to cut the tiles to size. If you're going to cut tiles with a multi-tool, you should use a cutting disk or a segment blade.
On battery or with cord?
Will you choose a wired oscillating multi-tool or a battery-powered one? The advantage of a power cord is its continuous supply of power, a disadvantage is its limited reach. For a battery-powered multi-tool, it's the exact opposite, of course: you have full freedom of movement, but you will need to charge the battery when it runs out.
Do you want to be able to change attachments quickly?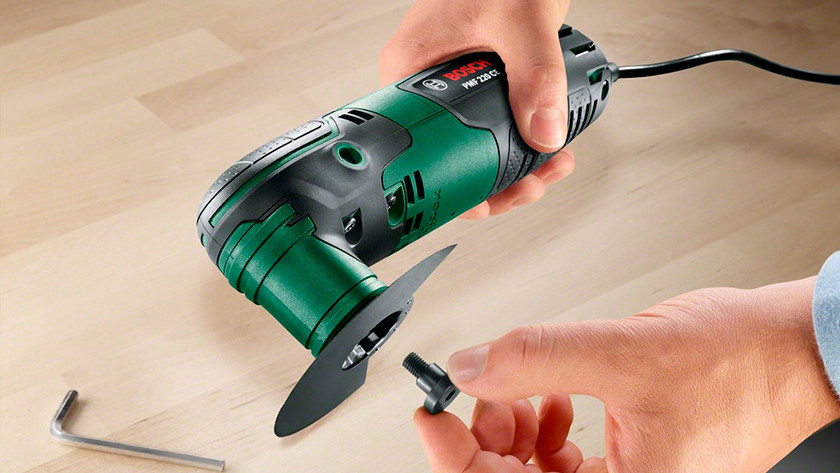 The attachments on an oscillating multi-tool should of course be firmly attached when you start using it. If you choose a tool-less accessory change, the multi-tool will have a system that allows you to loosen and fasten the attachments using a button or lever. If you choose accessory change with a tool, you'll receive a (hex) wrench with your multi-tool, allowing you to screw and unscrew the attachments by yourself.
Don't forget the accessories!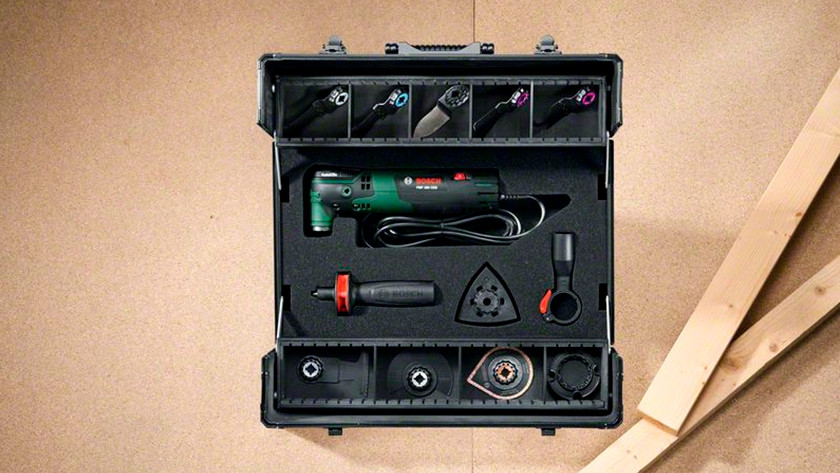 A multi-tool only really shines thanks to its accessories. For oscillating multi-tools, the most common accessories are saw blades, sanding pads, shaving blades, and scraper blades, but dust extraction sets or special sets for working with laminate or tiles are also among the possibilities.
Did this help you?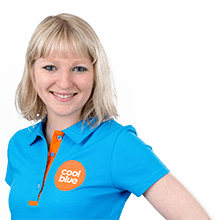 Article by:
Marloes
Oscillating Multi-tool Expert.