Advice on phone mounts
A phone mount is a straightforward but incredibly useful accessory for your smartphone. It ensures you can use your phone safely and responsibly in traffic. No matter if you're on you bike or in your car, thanks to your phone mount you can easily use navigation software, stay up-to-date on new notifications, and listen to your favorite music on the go. Which phone mount do you need exactly? On this page, we'll help you navigate through the various types of phone mounts in our assortment!
---
Why do you need a phone mount?
In a car You can use your smartphone as a GPS, call friends, or use your device to listen to music. You want to be able to reach it easily. You can mount a mount with a suction cup to your windshield or dashboard, while you can easily click a clasp onto the air vent. Are none of these three options suitable for your car? A Brodit Proclip is the thing you need. You can read more on this further down this page.
On a bike Holding your smartphone in your hand while cycling is incredibly inconvenient and dangerous. Do you want to stay up to date on incoming messages, have you got a planned route, or do you want to keep a close eye on your sports statistics? You'll be happy with the purchase of a bike mount. Do you cycle in all weathers? Go for a waterproof model. That way, you don't run the risk of water damage.
Want to charge your phone on the go?
Active If you actively use your phone in your car, you'll want to maintain the battery level. An active phone mount has an integrated cable with car charger, so you can keep your smartphone up and running. That way, you'll never reach your destination with an empty battery.
Passive A passive mount is a mount that holds your device, but doesn't have an integrated charging cable. That's why their price is often lower than that of active mounts. You can just as easily use your own charging cable and a car charger if you want to charge your device in your car.
Do you want a universal or device-specific mount?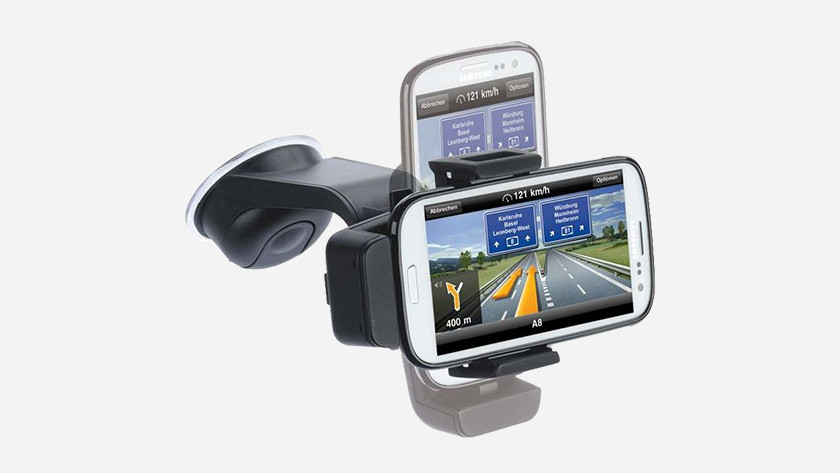 Universal A universal car mount is suitable for various devices. The mount can be adjusted, so you can adjust it to the dimensions of your device yourself. That's ideal if you need to be able to put multiple different devices in the mount.
Device-specific A device-specific mount was designed specifically for your device. It fits perfectly and often has strategically-placed cutouts so all buttons and ports are still available.
Brodit phone mounts
With a Brodit mount, your phone will get the best possible spot in your car. A Brodit mount consists of a mount and a ProClip. Thanks to this ProClip, you're not limited to your windshield, dashboard, or air vent. Every ProClip is car-specific and uses the notches in yoru dashboard to give your smartphone a nice spot. Brodit also has active and passive mounts. Do you want more information on Brodit phone mounts? Go to the expansive advice page.
Did this help you?
Article by: