Advice on Apple Watch straps by Apple
You can wear your precious Apple Watch for various activities. During those activities, you want to have the right watch strap, so you'll never have to compromise on carrying comfort. In addition, it's also nice to be able to switch straps sometimes. The strap is the most personal part of your Apple Watch. There are many straps to choose from, so you can have a different strap for every occasion (or season).
---
What size strap do I need?
What kind of strap you need depends on when you wear your Apple Watch and what kind of strap you like. Apple Watch straps come in so many colors, you're bound to find one you like. Do you want a strap with a clasp? Make sure the clasp is the same color as your Apple Watch case. Most watch straps come for any size wrist. We'll indicate what the circumference of your wrist should be for every watch strap. If you're not sure, you can measure your wrist with a tape measure. Switching the strap is easy, and only takes a few seconds. Want to know what straps Apple has and what activities they're suitable for? You can read more here.
Sporty Apple Watch straps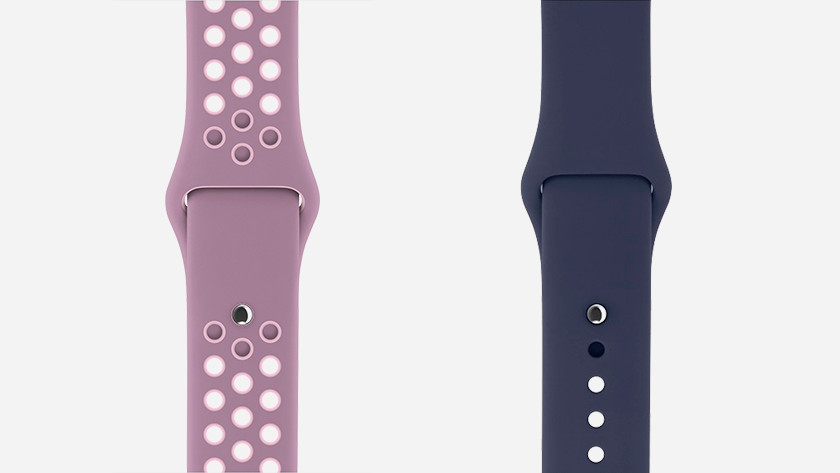 Silicone straps
Apple's silicone strap is made of fluoroelastomer. This flexible material is strong and durable, so the straps will last a long time. The straps feels flexible and light. Don't like the end of the strap sticking out? This strap has a pin closure, so that's not an issue. Closing the strap with 1 hand takes a bit of practice, though. This is the perfect strap for daily use, even when working out. There are special straps for workouts, which have holes. The holes create ventilation, so the strap fits nicely during your workout. Want to swim? No problem. Apple also includes 2 sizes with every strap, so it always fits.
This strap is suitable for workouts and daily use, thanks to the strong fluoroelastomer.
You can swim with the silicone strap.
A strap with ventilation holes is available for workouts.
The pin closure takes some getting used to.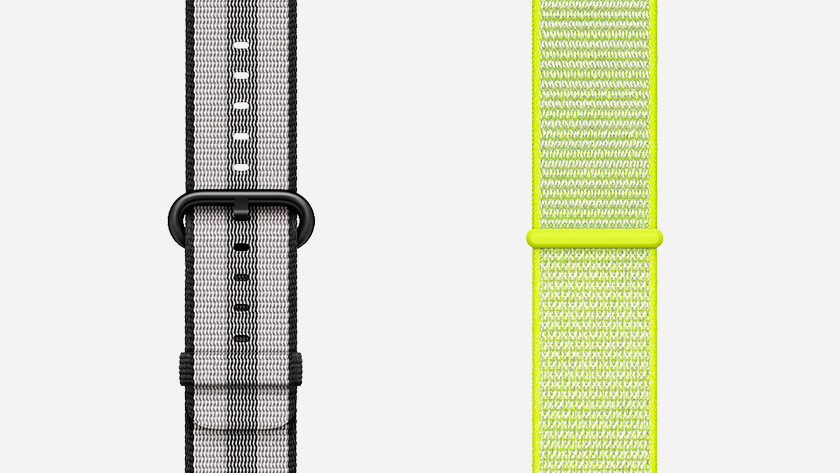 Nylon straps
Another strap suitable for daily use is the Nylon strap. The choice is yours. There are many different colors and prints. The nylon strap is very durable. It consists of 4 different layers of woven nylon. Despite these 4 layers, the strap feels thin, so it's suitable for the summer months as well. Some nylon straps have a clasp, which is a metal closure. Other nylon straps have a velcro closure. These straps are suitable for workouts as well. This strap is soft and light, and the inside of the woven nylon consists of many small loops that create ventilation during your workout.
The strap feels thin, so it's suitable for the summer months .
The velcro strap is suitable for workouts.
The woven nylon consists of 4 layers, so it's very durable.
This strap isn't suitable for swimming.
Classic Apple Watch straps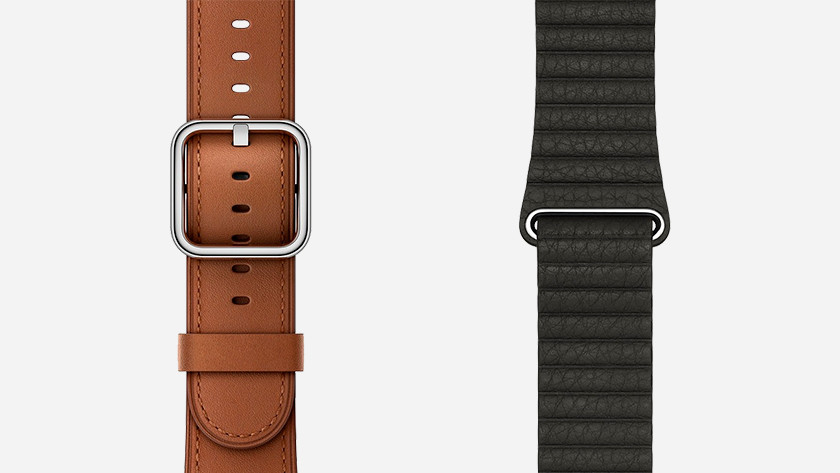 Leather straps
Looking for a fancier strap? A leather one might be better for you. These come in a ribbed as well as a smooth version. You can also choose from various closures. The modern clasp is only available for the 38mm Apple Watch. The ribbed straps with magnetic closure is only available for the 42mm Apple Watch. The soft leather creates a stylish and timeless look for your Apple Watch. Great for the office. The leather only gets more beautiful as it ages. Swimming isn't recommended for this strap. Other workouts are better suited for the silicone strap or the nylon strap with velcro.
The leather strap gives the Apple Watch a stylish look. Great for the office.
The leather only gets more beautiful as it ages. 
If you want to swim, we recommend another strap.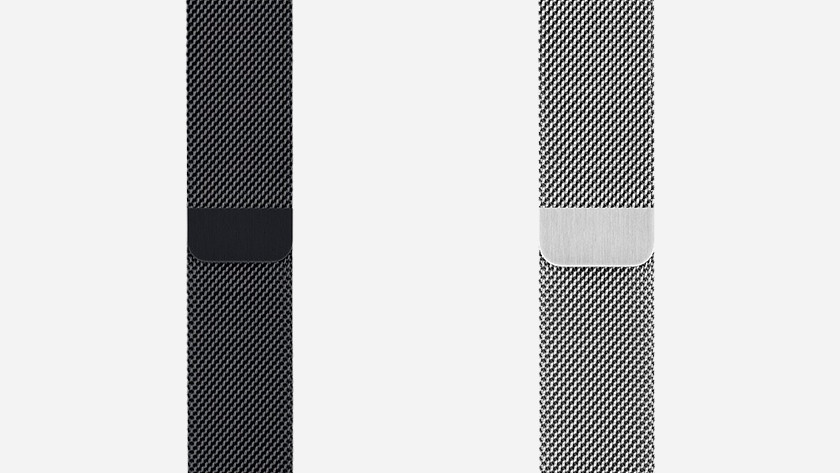 Metal straps
The metal strap makes the Apple Watch look like a traditional watch. It looks sleek, so the Apple Watch can be worn to work or other formal occasions. The metal straps vary in price. The chain is the most expensive. Space black is a bit more expensive than silver. The cheapest is the Milanese strap, which was based on 19th century Milanese design. The delicate stainless steel mesh is made with specialized Italian machines and wraps around your wrist easily. The strap is magnetic and can be adjusted until you get the perfect fit.
The metal strap makes the Apple Watch look like a traditional watch, so it's suitable for formal occasions.
The Milanese strap is magnetic, so it can be adjusted until it fits.
You can't swim with a metal strap.
Did this help you?