How do I set up my TP-Link router?
It's very possible to get overwhelmed when you're installing your router. Do you have a TP-Link router and no idea where to start? Below you can read exactly how to install the router using your computer or smartphone.
What do you need?
A TP-Link router
A modem
A network cable
A laptop/desktop or smartphone
Step 1: connect the router
Grab the router's power cable and the network cable. Are you going to install the router wirelessly with your smartphone? Go to step 4.
Plug 1 end of the network cable in the WAN port of your router.
Put the other end in a LAN port of your modem.
Put the connector of the power cable in an available socket.
Put the other end in the back of the router. The router is now connected.
Turn on the router by pressing the power (also known as the On/Off) button on the back of the router. It's now time to install the device.
Step 2: Set up the router via your PC
Open the configuration page of your TP-Link router in an internet browser. Make sure the computer you're using is connected to the router's network with a network cable.
Choose a password for the configuration page and fill this in.
Click 'Let's get started'.
Choose the correct time zone on the next page. For The Netherlands, this is GMT+1. Click 'Next'.
Choose 'Dynamic IP', on the next page. Click 'Next' again.
Select the 'Do NOT clone MAC Address' option. After this, click 'Next'.
Pick a name for your network and fill this in. This is the name you'll see when you're looking for available networks. Fill in your desired password. This is the password you'll use to connect to the network. Click 'Next'.
You'll now see an overview of the chosen options. Go through these and click 'Save' if everything is correct.
The router has now been installed. Do you want to control the router outside of your network, for instance via 4G or another address? Set up a TP-Link Cloud account on the next page. If you're not interested, you can skip this step to approach the route's interface. It's now possible to change the language to Dutch in the right-hand corner.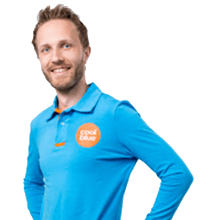 Article by: