What is Google Chromecast?
The Chromecast is a compact media player, developed by Google. Chromecast is the easiest way to stream music, movies, and web pages from your smartphone, tablet, and laptop to your TV. In this article, you can read more about Chromecast.
---
Stream media to your TV
Full HD (1920x1080)
|
Suitable for Netflix, Spotify, YouTube, and KPN Play
|
App for Android and iOS
With the Chromecast, it's very easy to play video and music on your TV. The Chromecast is ideal for TVs that aren't smart TVs. It can also be used as an upgrade for your smart TV. Unlike the Chromecast, TV smart platforms often work very slowly and require a separate remote. The Chromecast lets you use your PC, laptop, tablet, or smartphone as a remote.
Google Chromecast Ultra
4K (3840x2160)
|
Suitable for Netflix, Spotify, YouTube, and Play from KPN
|
App for Android and iOS
Stream Netflix series and Youtube videos to your TV in 4K with the Google Chromecast Ultra. This successor to the Chromecast turns your Ultra HD TV into a smart TV via the HDMI connection.
| | | | |
| --- | --- | --- | --- |
| | Stream media from | Smartphone, laptop, or tablet | |
| | View content from | YouTube, Netflix, HBO GO, Google Play, Videoland, NPO Uitzending gemist, RTL XL, and your Chrome browser. | |
Easy setup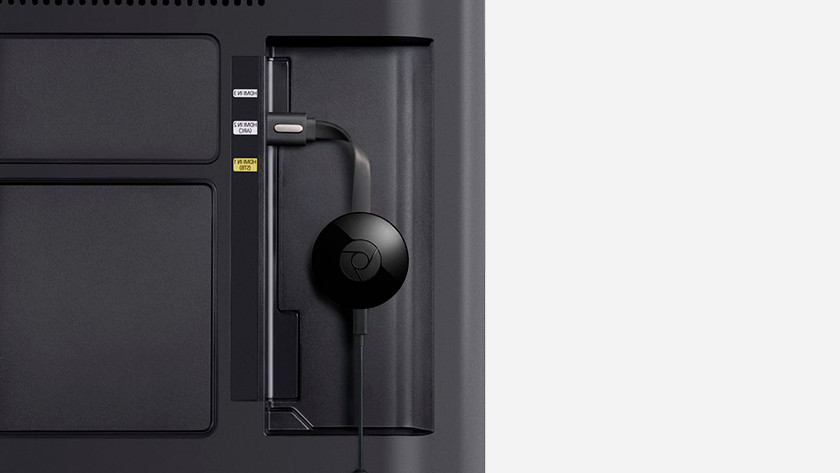 The installation of the Chromecast is simple and fast:
Plug the Chromecast into a HDMI port on your TV.
Connect to your Wi-Fi network.
Stream your smartphone, tablet and laptop to your TV .
Connect the Chromecast, your laptop, tablet and smartphone with the same wireless network. The Chromecast receives power via an empty USB port in your TV or via a separate power adapter. Have you set up the Chromecast? Find what you want to view, press the Cast icon and adjust the volume with your smartphone, tablet or laptop.
Available apps and programs
Do you want to watch a show on Netflix or HBO GO together or show your friends a YouTube clip? With the Chromecast, you won't all have to stare at a small screen, but you can stream YouTube videos and movies from Netflix and HBO GO to your TV with 1 tap. Chromecast works on Android tablets and smartphones, iPhones and iPads. It also works via the Chrome browser on your Windows laptop, MacBook, or Chromebook.
Thanks to automatic updates, the Chromecast will support a growing number of apps in the future.The following apps and programs are already available for Chromecast in the Netherlands:
Apps
Netflix
HBO GO
YouTube
Videoland
Google Chrome
Google Play
NPO Uitzending Gemist
Plex
Article by:
Richard
Product Expert Media Players.