How do you choose an airfryer?
There are many different airfryers. There are big and small sizes, with different baking technologies for a crispy result. In addition to fries and snacks, you can also prepare other dishes in an airfryer. The possibilities depend on the expansion options of the fryer. We'll take a look at the differences in this article, to make sure you choose to right airfryer.
---
Selecting an airfryer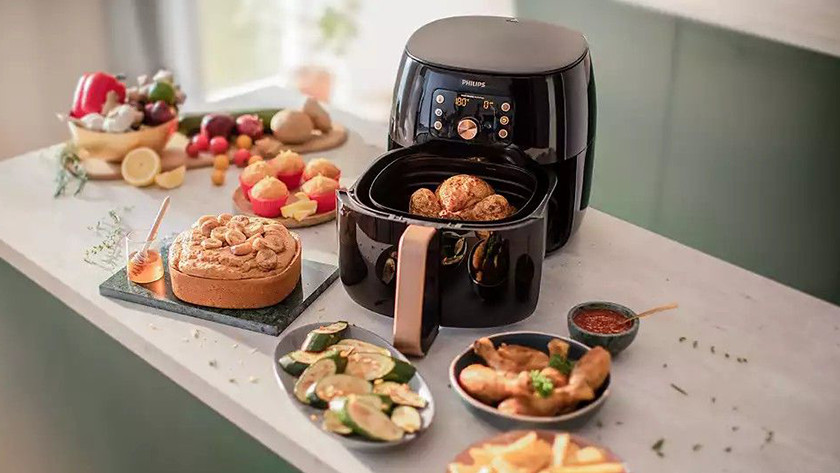 Every airfryer uses hot air to prepare fries, snacks, and other foods. Still, there are many different types available. Ask yourself the following questions when you're choosing an airfryer.
For how many people do you use the airfryer?
What baking technology do you want?
Do you want automatic programs?
What do you want to make?
How big is your household?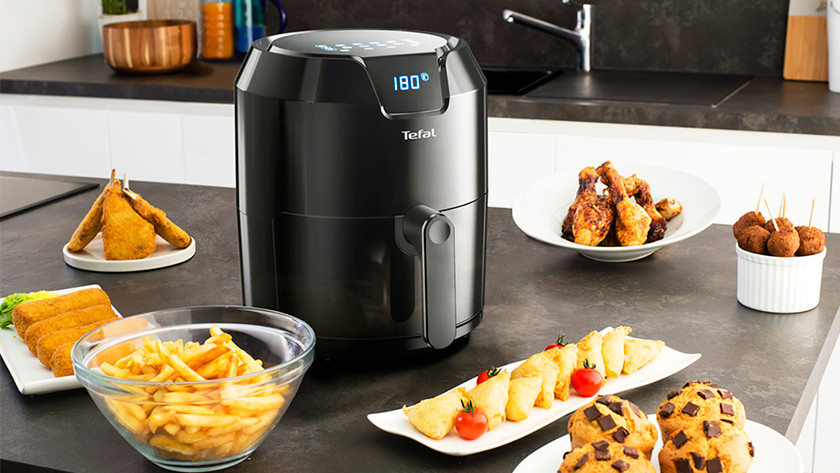 Small airfryers
Do you have a small household of 2 or 3 people? Then a small airfryer with a capacity of 0.6 to 1kg will be big enough. Do you cook for 4 people? Then an airfryer capacity of 1kg only provides a modest serving of fries. Want to make everyone snacks to go with the fries as well? You can do that in 2 rounds.
Doesn't take up much space on your kitchen counter.
Large airfryers
Are you looking to make a large amount of fries and snacks for about 4 to 6 people in one go? You'll probably be looking at an airfryer with a capacity of 1 to 1.5kg. You can also prepare an entire meal in these larger airfryers, like a piece of fish, vegetables, and potatoes. Larger airfryers are even suitable for baking a cake.
For entire meals and large portions
Suitable for larger baked goods.
Which baking technology do you choose?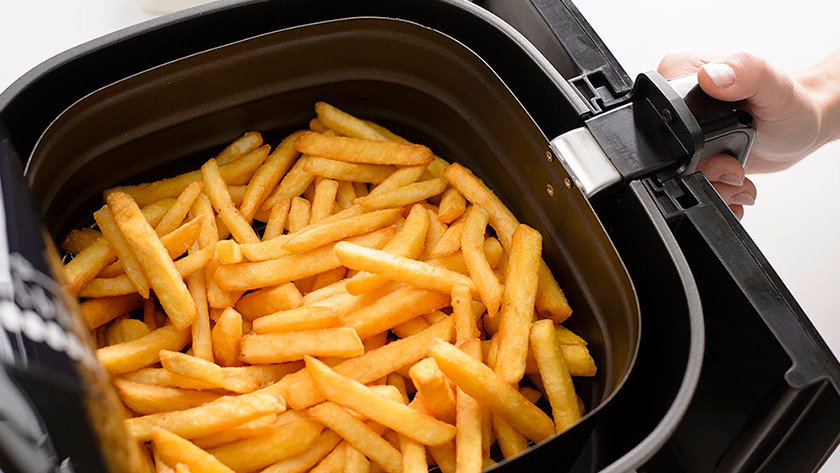 3D Air Pulse technology (Tefal)
Tefal uses the 3D Air Pulse technology. With this technology, adding just one tablespoon of oil is enough to fry your snacks. After a short warm-up time, the airfryer is ready for use. The heating element at the top of the pan and the hot air flows together ensure that your dish cooks fast and evenly.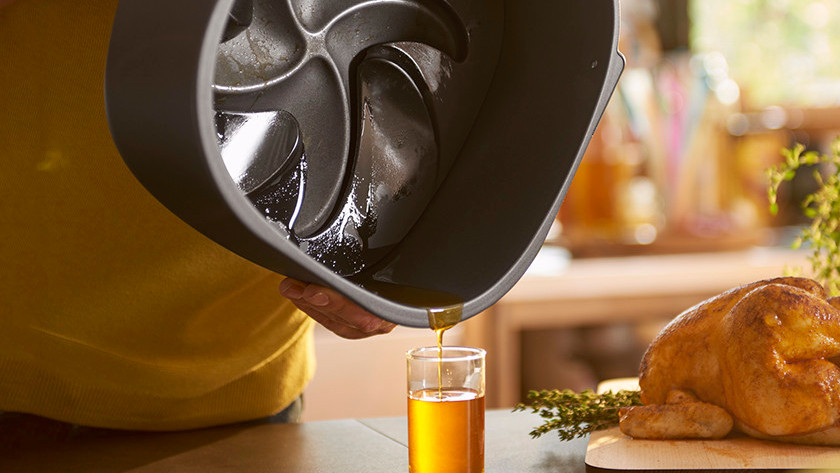 RapidAir technology (Philips)
Some Philips Airfryers have RapidAir technology. With this technology, only one tablespoon of oil is needed to bake snacks. The hot air is blown into the pan from above. The propeller at the top pushes the air through the double wall of the pan to the bottom. The star-shaped element at the bottom of the pan then distributes the air evenly throughout the pan. This means the dish cooks evenly and your fries bake crispy all round.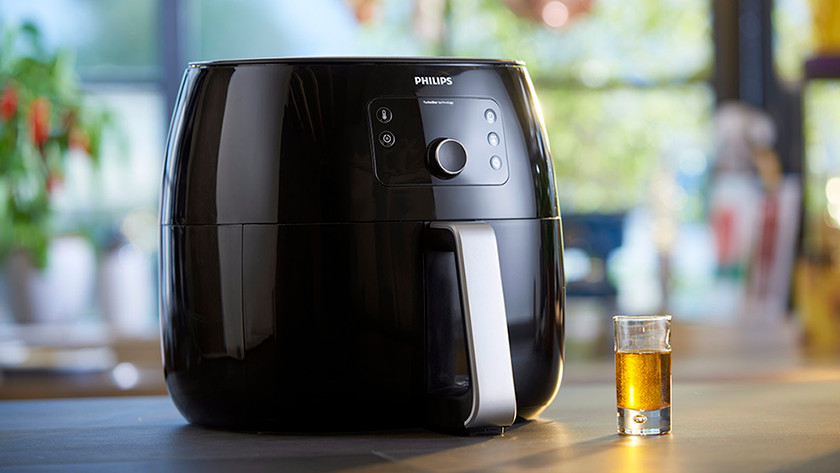 TurboStar technology (Philips)
Philips takes it one step further with the TurboStar technology. All the fat that is released during frying or grilling, gets drained right away and ends up in the bottom of the pan. This way, you can snack even healthier. With the TurboStar technology, pre-heating is no longer necessary. This is because the heating element and the motor are powerful. Like with the RapidAir technology, the hot air circulates through the pan for even cooking and a crispy result.
Do you want automatic baking programs?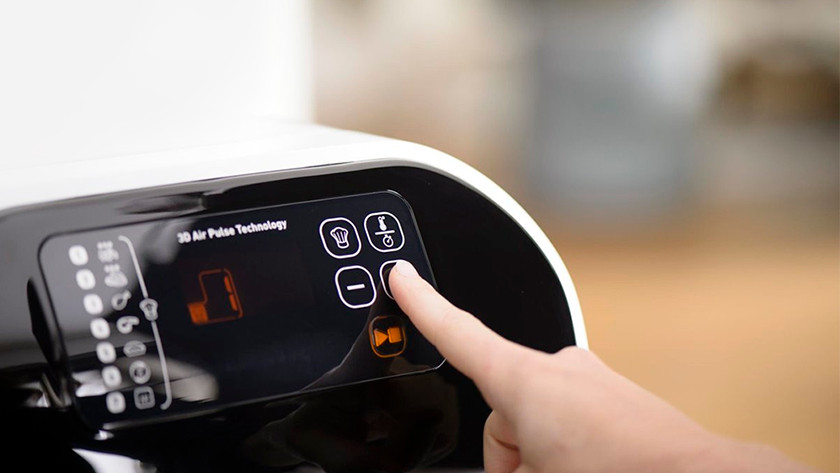 For some airfryers, you set the temperature and baking time yourself. But there are also airfryers with automatic programs. That means the temperature and baking times are pre-set, so you can find the right settings with the press of a button. Handy, because now you don't have to worry about that.
What will you prepare?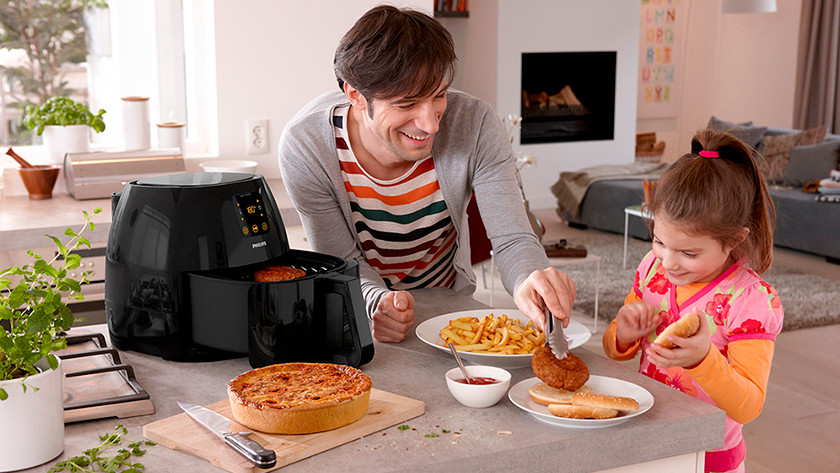 Do you like to make many different dishes with your airfryer? All you need are the right accessories. Think of bakeware for cakes and muffins. Or add a cooling rack, to create a double layer in the pan. That way, you can fry meat and potatoes at the same time.
Did this help you?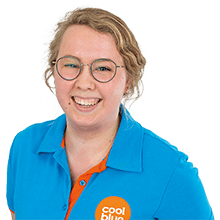 Article by: