Fitbit Sense Lunar White/Soft Gold + Fitbit Aria Air White
---
Product information
Pros and cons
According to our smartwatch expert
See if your active lifestyle pays off with the scale with your Fitbit Sense.

With the EDA scanner, you gain insight into your stress level and take action to reduce it.

You don't just receive notifications of messages, but you can also make calls when your phone isn't around.

Fitbit isn't compatible with all Huawei smartphones.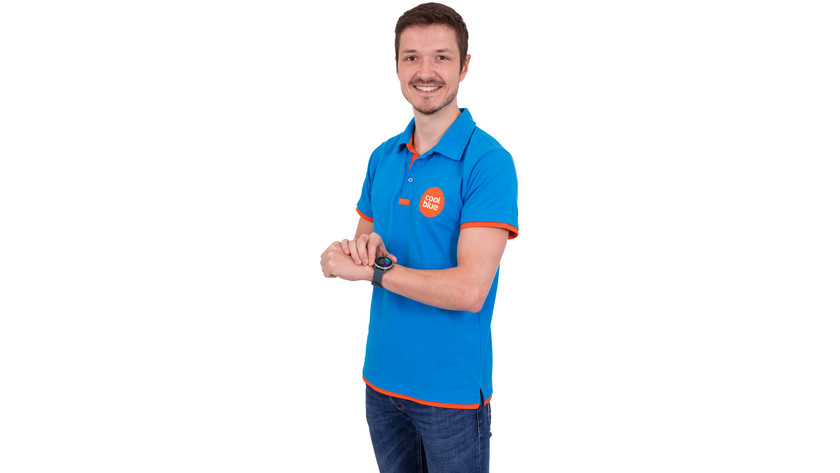 ---
Product description
You can keep an extra eye on your health with the Fitbit Sense Lunar White/Soft Gold + Fitbit Aria Air White bundle. Connect your Fitbit and Fitbit app to the scale and get information about your weight. You can see exactly whether your active lifestyle has an influence on your weight. The Fitbit Sense measures your stress level and gives you tips to reduce it. By measuring your skin temperature and oxygen in your blood, you gain insight into your fitness and you can improve your sports performance. You can even leave your smartphone at home while running. Thanks to the integrated GPS receiver, you can navigate on the watch. You can also listen to music directly from your watch. In addition, you can keep your Fitbit Sense on while swimming or showering, because the watch is waterproof.
Note: you won't receive a charger adapter. Do you want to charge the watch via a socket? Use the charger adapter of your phone charger or order a one now.
Note: if you had/have a Fitbit Premium account, you can't benefit from the free 6-month Fitbit Premium trial.
This watch is recommended for a wrist circumference of 15 to 17 centimeters.
---
Included by default
Fitbit Sense Lunar White/Soft Gold
USB charging cable (excluding connector)
Watch strap short (14 - 18cm)
Watch strap long (18 - 22cm)
Fitbit Aria Air White
---
Included by default
Fitbit Sense Lunar White/Soft Gold
USB charging cable (excluding connector)
Watch strap short (14 - 18cm)
Watch strap long (18 - 22cm)
Fitbit Aria Air White
---
Personal advice about smartwatches in our stores, also by appointment
Get advice from an expert

Discover the latest products in the store

We have stores in Amsterdam, Arnhem, The Hague, Eindhoven, Groningen, Haarlem, Leiden, Rotterdam, Tilburg, and Utrecht
---
Battery life
8
Wearing comfort
8,7
Design
8,7
Options
6
"Best fitbit watch so far"
T Fan | 21 November 2020 | In the version: White | No accessories
Lot of options supporting your mental and physical health

Fitbit community is fun e.g. fun step goal challenges etc.

Long battery life compares to previous versions

GPS tracker built-in (finally)

Watch responses are slow if you try to switch between tasks too fast

The watch itself is on the bigger side for smaller wrists
I've been a happy fitbit user for 7 years and the Sense is the best one so far. The first Sense I got had issues with automatically turning on and off every few hours. This drained the battery life. However, after returning it and getting a new one, the problem seems to be solved. Fitbit has a good system set up for product returns.
---
"surprisingly disappointing for top of the range Fitbit"
Kester Ratcliff | 21 November 2020 | In the version: Gray | No accessories
sleep quality and quantity tracking

surprisingly few features actually work.
Surprisingly few features actually work, and Fitbit's customer service is surprisingly unhelpful at trying to get the features to work.

I'm keeping it now only because of the sleep quality and quantity tracking, which is important to me for managing a medical condition. But none of the other features I was expecting from the advertising actually work satisfactorily.

I was expecting to be able to leave my phone in my locker at the gym and listen to music on my earphones transmitted via bluetooth from the Sense watch, but it doesn't have any storage so it doesn't function for music playback when it's out of bluetooth range of a phone. So what's the point of even having music controls on the watch? It seems like misleading advertising.

The fitness features are mainly designed around the category of users who are trying to lose weight or gain cardiovascular fitness, not around users who are already slim and fit but would like to gain muscle. The gym apps by third-party companies which are apparently available on their website are mostly not currently maintained or developed and therefore not compatible with the Sense or Versa 3 latest models. Fitbit's own gym app a) only shows videos, which are not practical to stop and watch or listen to while actually in the gym, they take too much time and I cool down too much, b) won't let you progress to more advanced ones before completing basic ones, so if you're already more advanced than the basic ones, you're stuck, c) I paid for Premium but I still can't actually download any of the additional Premium fitness routines / videos in the Coach app. I asked Fitbit customer service for help and they just directed me to a useless how-to page which reiterates how it should work, but it doesn't actually. The sort of gym routines I would find most practical would be like in the Genius gym app, which contains very low data requirement very short animated gif videos so you can see the whole thing in a glance or in a few screen lengths, without cooling down too much or getting out of the >120bpm heart rate activity zone. Fitbit advertises this is available but it hasn't actually been maintained for two years and no-one answers their customer service email address, so it doesn't work.

I also expected from the advertising to be able to control my Phillips Hue lights, which are also part of my plan to keep a regular sleep cycle due to a medical problem which means sleep cycle regularity is extra important to me, but there's a bug with the system something to do with Google's latest Android version only allows a certain narrow range of IP addresses to connect with third-party apps, so in fact the Fitbit doesn't connect with the Phillips Hue app, and I can't change my IP address because my wifi router had to be setup by the ziggo engineer in a different range to avoid interference from about 20 other signals in the building.
---
"Good watch for the price but lacking music storage"
Ludo | 17 October 2020 | In the version: Gray | No accessories
auto-activities start (great when cycling everywhere; it will recognise the activity automatically)

Lots of options in the FitBit app (calories, heart, sleep etc)

Large choice of activities

NO MUSIC STORAGE (Need a paying subscription to Spotify or deeper). Not possible to store and play own music on watch

Not so large choice of free apps; most are paying apps.
Overall this is a great smartwatch for monitoring lifestyle and go on activities with it. Not so pro as a Garmin forerunner, but better look for everyday wear, as well as auto functions. Very disappointed that you cannot store own music and play it back. Watch description is misleading. You do need to pay extra for using Spotify or deeper offline options. Also Fitbit premium has lots of great programs and workouts but again you need to pay extra ...