How do I choose a stand mixer?
Choosing a stand mixer is quite difficult. Before you start, think of what you want to make. You do this to determine what capacity and which features you want. There's stand mixers for large or small preparations, with or without accessories, by various brands, in all kinds of colors. In this article, I'll go through all of that, so you can choose your ideal stand mixer.
What do you want to make?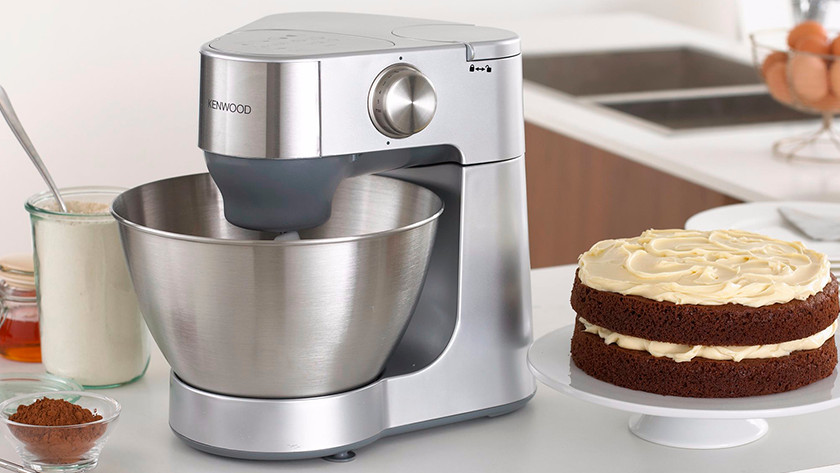 With a stand mixer, you can whisk, knead, and mix various ingredients to make a combined dough or batterd. You can use a stand mixer to make cakes, loaves, bread, and more. You can use the included dough hook, balloon whisk, or mixing attachment. Choose a stand mixer if you want to bake a lot and could use some help.
How much power do you need?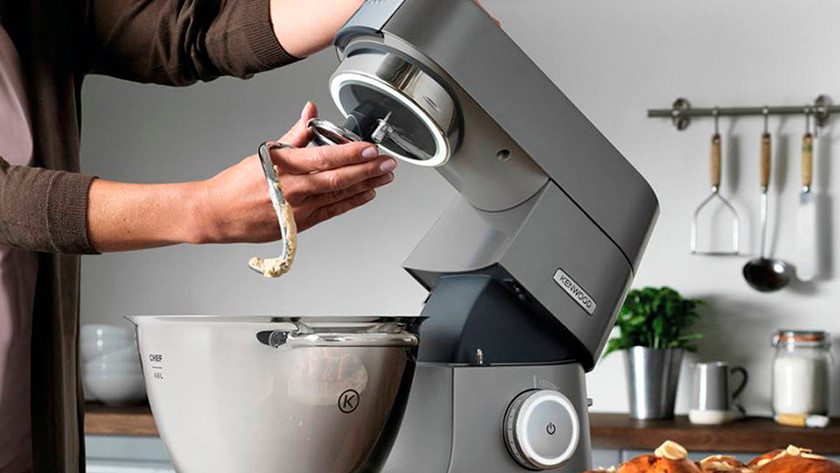 The power indicates how much energy the motor needs to run. Stands mixers with a high capacity are often more powerful, but that's not always the case. A stand mixer with direct drive needs less power to deliver the same power, because all energy is used to mix. When kneading heavy dough, such as bread or pizza dough, you need a powerful stand mixer.
Do you want to knead heavy dough occasionally?
Direct drive from 300 watts
Indirect drive from 800 watts
Do you want to knead heavy dough regularly and for a long time?
Direct drive from 325 watts
Indirect drive from 1200 watts
How much batter do you want to make in one go?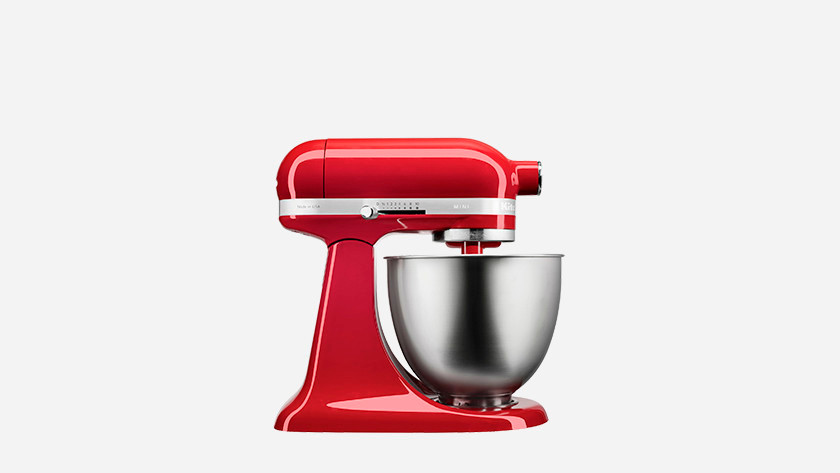 Small to medium-sized preparations
Do you have a small household and don't necessarily want to knead large quantities of dough at the same time? A stand mixer with a 3 to 4-liter mixing bowl is a good choice for you. An advantage is that this stand mixer takes up less space on your kitchen counter. A mixing bowl this size is great if you want to make batter for 1 cake.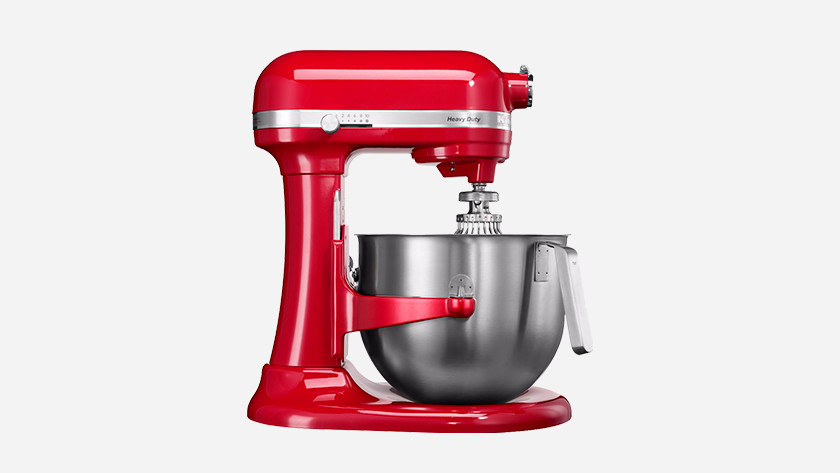 Large preparations
Do you want to make large pies or multiple cakes at the same time? Go for a stand mixer with a 5-liter mixing bowl or more. You'll be able to make batter for 1.5 to 2 cakes. Do you want to make more at the same time? Look at a mixing bowl between 6 and 7 liters, so you can make batter for 2.5 cakes. Keep in mind that a stand mixer that size takes up more space on your kitchen counter and is more difficult to move.
What user-friendly features do you want?
There's various functions that increase the user-friendliness. See the options below:
Extra mixing bowl: you can make several preparations at the same time.
Mixing bowl with size indication: you can measure liquids directly.
Anti-splash lid: the content won't splatter.
Soft start: the ingredients don't fly out of the bowl.
Anti-slip feet: your mixer will stay in place.
Do you want a user-friendly stand mixer, but aren't sure which one? Have a look at our selection of user-friendly stand mixers, according to customers.
Which accessories do you want?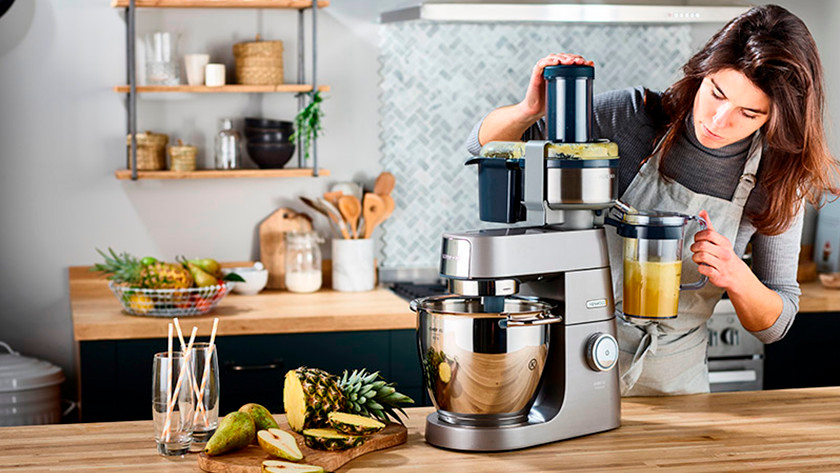 With a stand mixer, you can whisk, knead, and mix your ingredients, but with the right accessories you can do even more. Some mixers have a blender attachment, pasta roller, meat or grain grinder, a food processor attachment, an ice cream maker attachment, or slowjuicer. Some brands include attachments with the stand mixer and other brands make you purchase these yourself. Think about what you want to make with your kitchen mixer to determine which attachments you want.
Which brand?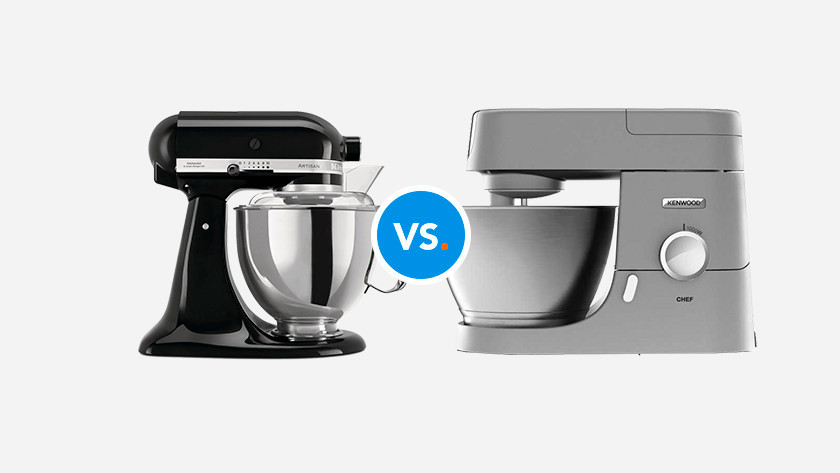 The 2 major brands when it comes to stand mixers are KitchenAid and Kenwood. Both brands make high-quality stand mixers. The KitchenAid mixers all have a direct motor drive. The mixers by Kenwood have an indirect drive. KitchenAid pays more attention to the design, but Kenwood has more affordable expansion options. Bosch also has many stand mixers. They distinguish themselves by supplying many accessories for a decent price.
What is the lifespan?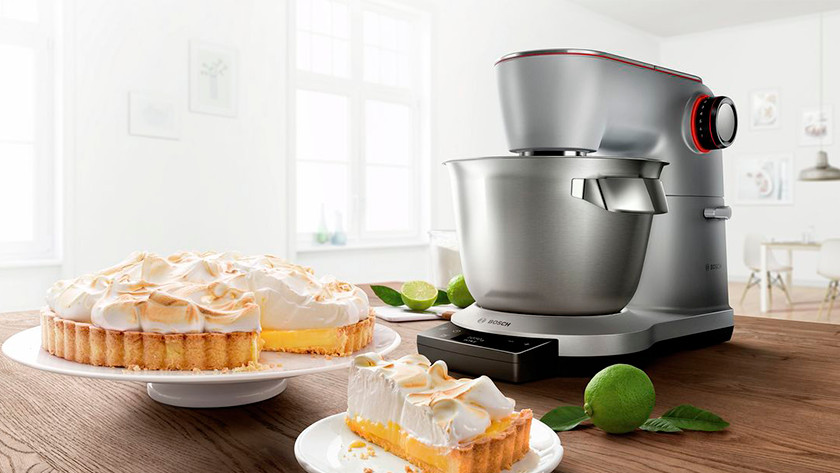 The lifespan of the stand mixer depends on the investment you make and how often you use it. Stand mixers made of metal are better than ones made of plastic. A stainless steel mixing bowl lasts longer than a plastic mixing bowl. Stand mixers with a strong motor, suitable for heavy dough, can handle more and will last longer. In general, the more you invest, the longer the stand mixer will last.
Which design suits you?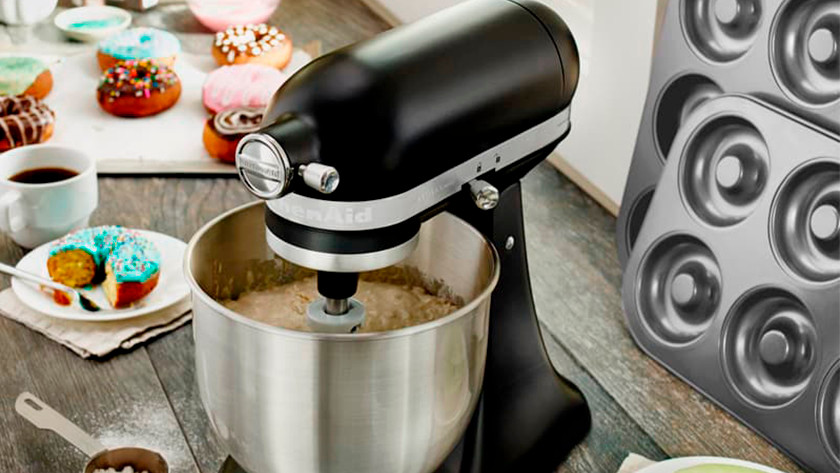 A stand mixer is put on the counter. When choosing your stand mixer, pay attention to the size, so you know if it fits on your kitchen counter. Take a good look at the design and the color, too. Looking at a stand mixer that you don't like all the time is very annoying. Do you prefer to store the stand mixer after use? Keep in mind that large models are very heavy and difficult to move.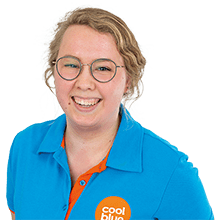 Article by:
Dorieke
Stand Mixer Expert.