How do I set up a second display?
A second screen gives you extra screen space when you're working on a laptop or desktop. You can connect this in no time. Plug the connector of the monitor into a socket before you start. We'll explain how to install the screen and connect it to your computer.
---
Set up screen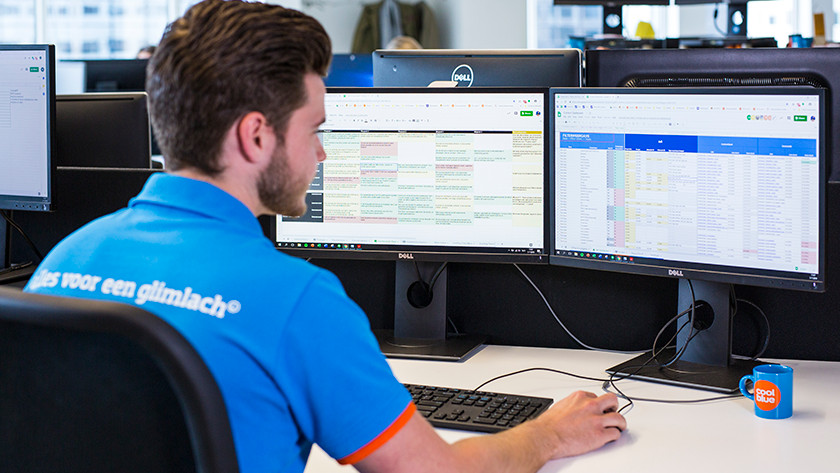 To set up the new monitor, connect the power cable and place the monitor in the right spot. Have you already connected the monitor with a cable? Go to Step 3. If you haven't, go to Step 1.
Choose a connector.
Connect your monitor via a cable.
Go to Display Settings.
Identify the screens.
Rearrange the screens the way you want to.
Choose how to display the screens.
Step 1: Choose a connector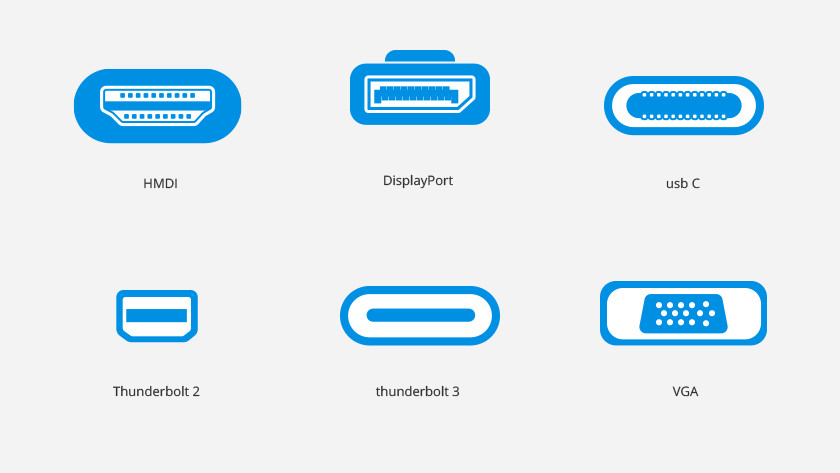 You first need to choose the type of connector that you want to connect the screen with. You can choose between an HDMI, DisplayPort, USB-C, Thunderbolt, or VGA connection. Which one you choose depends on the connectors on your monitor and those of your laptop or desktop. For example, does your monitor have an HDMI port? Connect your computer with an HDMI cable. You can do this in 3 different ways:
Step 2: Connect your monitor via a cable (3 options)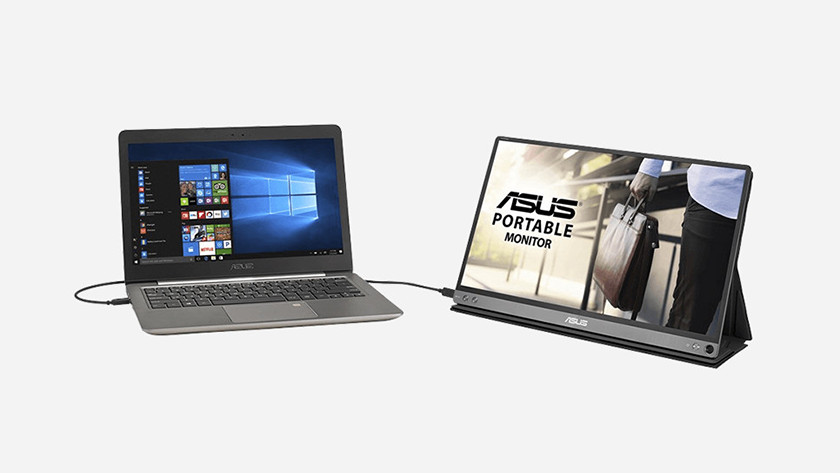 Option 1: Direct connection
The easiest way is to connect the new screen directly to your laptop or desktop. Make sure your PC has enough ports. If your laptop has an HDMI port available, use the HDMI port of your monitor to connect the screen. Is there no HDMI port available? Consider an adapter.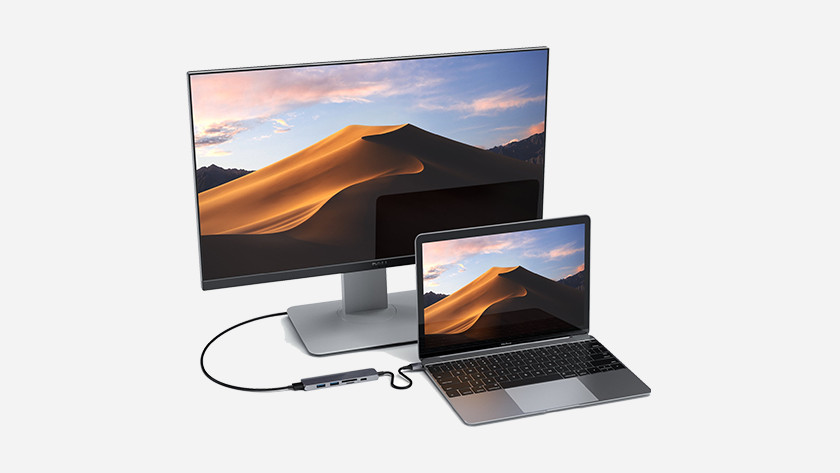 Option 2: Connect via a dock
Another way to connect the monitor(s) to your computer is by means of a docking station. This lets you expand the number of ports on your device, so it's easier to connect a second screen.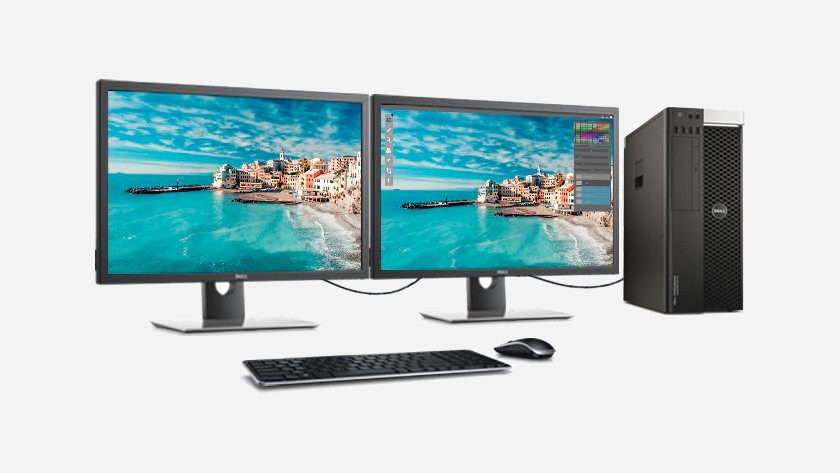 Option 3: Daisy Chain
A final and lesser known way to connect is Daisy Chaining. You need 2 DisplayPort cables for this. Use cable 1 to connect your computer to your first screen. Next, use cable 2 to connect the first screen to the second screen. Note: Not every monitor supports this.
Step 3: Go to Display Settings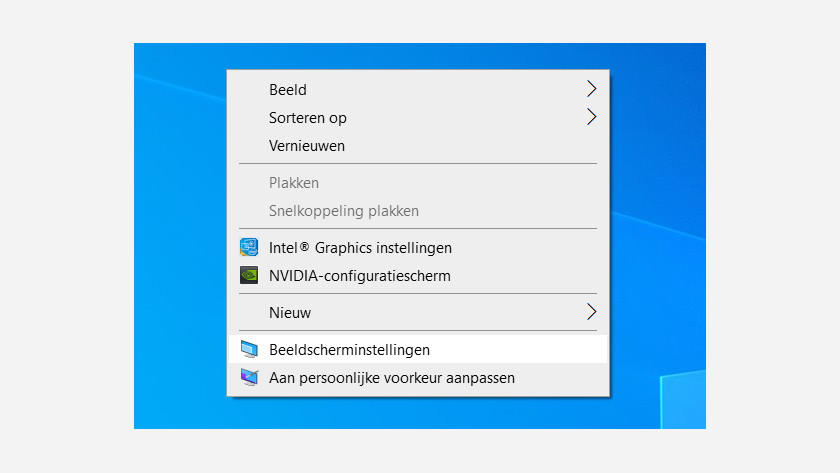 It's time to set up your screen. Right-click your desktop background and select Display Settings.
Step 4: Identify the screens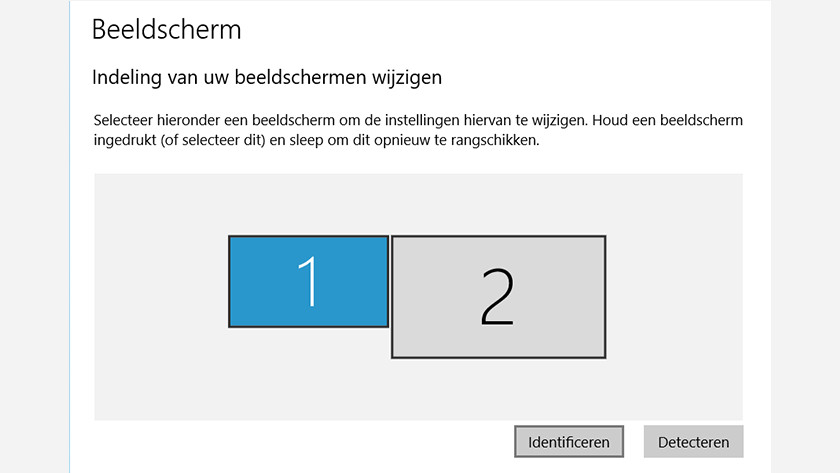 Select the screen you want to adjust. Click on Identify to see which is screen 1 and 2. A number appears on the screen. You can recognize the screen by this number. You now know which screen is which. If your monitor isn't listed here, click on Detect to find the screen.
Step 5: Rearrange the screens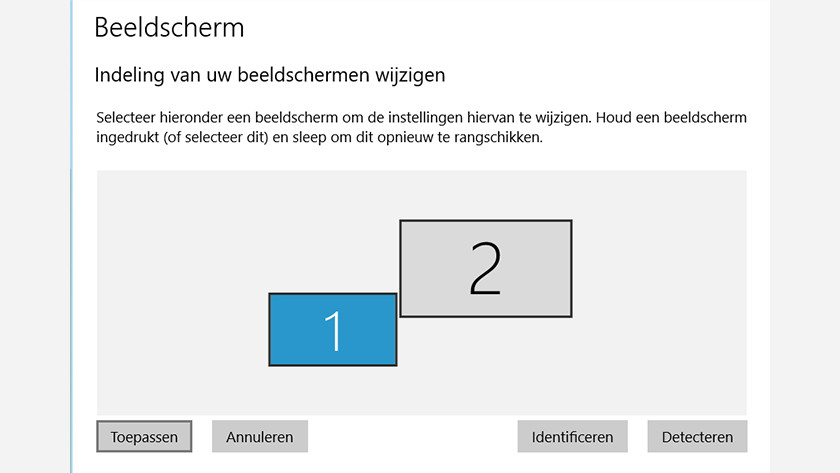 Is your second screen a laptop? It's probably lower than your monitor. Luckily, you can easily rearrange the screens by dragging them. You can place the screens next to each other or one above the other, for example. The benefit of this is that you can move the cursor between the screens in a way that feels more logical. If your screens are above and below each other, you move the mouse up or down to go to the other screen. Easy as that.
Step 6: Choose how to display the screens
Scroll down and click on Multiple Displays to change the display options of your screens. Select one of these options:
Duplicate: You see the same image on both screens.
Expand: The image expands to the second screen, so you have more screen space. You can drag items from one screen to the other.
Show only on 1 / Show only on 2: The image appears on only one of the screens. Your other screen remains black.
Not successful?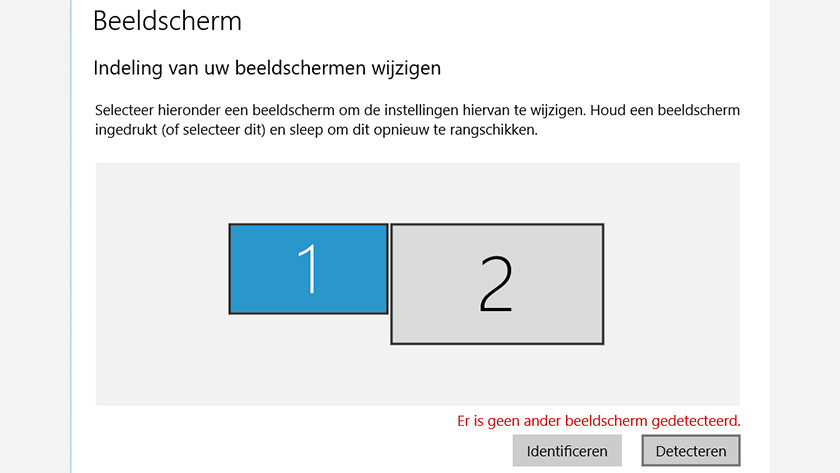 Perhaps you need to update your drivers. It's only necessary to update your drivers if your PC doesn't recognize the screen and if you've already tried Detect in Display Settings. A driver ensures your video card and your monitor work in harmony and can therefore be helpful. In the article below, you can read how this works. It works the same for laptops and desktops alike.
Did this help you?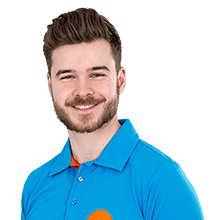 Article by: