How do I install Plex on my Synology NAS?
Are you the proud owner of a Synology NAS and a huge fan of movies and series? Then you should install Plex. This program lets you access all of the media on your NAS anywhere, anytime. How to install Plex? Find out here.
---
What is Plex?
Plex is an application that lets you easily manage your entire media library. This app is comparable to Netflix, the difference being that it lets you access your own media, like photos and music. Install the app on your phone, smart TV, or console and you'll have access to your movies, series, and photos wherever you are.
In addition, Plex is useful for collecting so-called 'metadata.' Metadata is extra information about your media. Think of the genre of the movie, the quality, the cast, the cover of the movie, and a summary of the movie. The software uses this data to display your library as clearly as possible.
What do you need?
A Synology NAS
An internet connection
A laptop or desktop
A (modem) router that's connected to your NAS and computer.
Step 1: installing Plex
Installing Plex will take you less than 5 minutes. All you have to do is follow these steps:
Open the configuration screen of the Synalogy NAS in a web browser, such as Google Chrome, Safari, Firefox, or Internet explorer. Do this on a computer that's connected to the same network as the NAS.
You can find the main menu in the top left corner of the screen. Click it.
Open the 'Package Center.' A new screen will pop up.
On the top left corner, you'll see a search function. Use it to look for Plex and select the result.
Click 'Install.'
Is the installation complete? Check the main menu of the NAS. Here, you'll now find the Plex logo. Click it to start the set up.
Step 2: setting up Plex
Plex will open a new screen in your browser. Go through the following steps to set up the app on your Synology NAS:
In the center of your screen, you'll find the option to log in or register. Select register.
Select a desired username and enter it together with your email address and your desired password.
Tip: Write this information down. You'll need it for future adjustments, accessing your media, and updates.
Now, press 'Log in.' In the next screen, you can set up a name for your server. Do you also want to be able to access your movies and series outside of your own network? Make sure to leave the 'Remote access' box checked.
In the next screen, you can create your library. Select whether you want to add photos, movies, series, or music. After selecting the file type, a pop-up appears, asking you for the location of your media. Repeat this step for all your libraries.
Tip: Make sure all of your series and movies aren't in 1 folder. Archive your folders in such a way that all movies are gather in a folder called 'Movies' or 'Films,' for example. Do the same for all your series.
After setting up your library, select 'Complete.' You're now redirected to an overview of all your media. At first, you won't see anything. The program needs some time to index all of your media and download the relevant information.
Is the app done readying your media? It's now time to set up the devices you want to use to watch your movies and series.
Step 3: using Plex
Are you going to use Plex on the computer? All you have to do is navigate to plex.tv. Log in using the user information you used during installation. The screen that shows up after logging in is the same screen you were shown after completing the installation. Choose your library on the left side of the page and select a movie or series for more information or to start watching it. That's all you have to do.
Do you also want to enjoy your media on the go? Simply download the app on your phone.
Did this help you?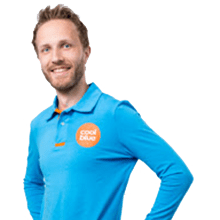 Article by: