Advice on tripods
You've probably seen him standing around, a photographer or filmmaker who stoops down and looks through the viewfinder while his camera is resting on a tripod. The tripod under his camera helps him make a stable recording. In addition, his hands are free to operate the camera. These are basically the main reasons for using a tripod. On this page, we explain the main differences between tripods. This way, we help you with the search for the most suitable tripod for you.
---
Which tripod fits your usage situation?
There are different types of tripods for a variety of photography types. There are tripods that allow you to have the camera just above the ground. These are meant for macro photography or photographing from a lower perspective. There are also tripods that are intended for recording. These tripods have a large handle and a special tripod head with which you can make smooth pan and lift movements. Tripods for photography are available in different types. There are tripods that are especially suitable for traveling. Other tripods are better suited for a studio.
Type of tripod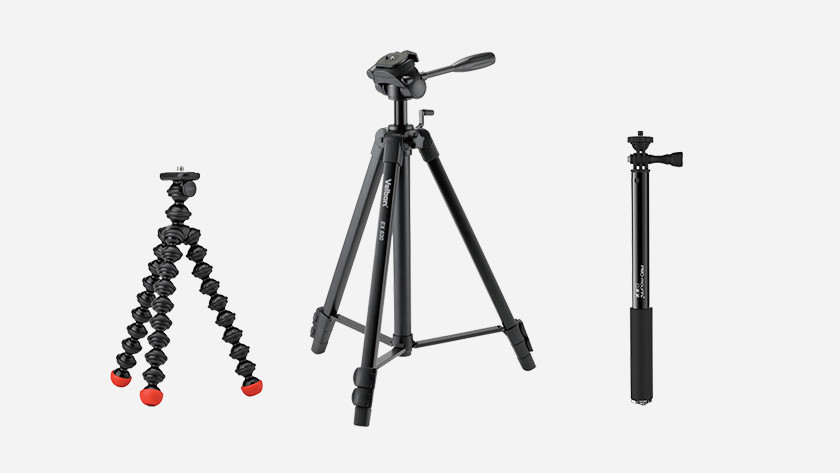 Tripods are available in different shapes and sizes. On our page with all types of tripods, we explain the differences and talk about the advantages and disadvantages per tripod.
Type of tripod head
The tripod head is the part of the tripod to which you attach the camera. There are tripods with an integrated head and tripods with a removable head. The latter makes your tripod a lot more flexible, because there are all kinds of tripod heads with their own characteristics and specific functions.
Working height and camera weight capacity
There are different types of tripods for a variety of types of photography. There are tripods where you can fix the camera just above the ground and tripods that are intended for recording. Tripods for photography are available in different types, as well as tripods that are better suited for a studio. These differences mainly have to do with the camera weight capacity and working height.
Working height
In our assortment of tripods, we have a wide variety of difference in working height. The minimum and maximum working height are important specifications to check before purchasing a tripod. Would you like to photograph plants just above the ground, or photograph small animals? Pay particular attention to the minimum working height. Choose the minimum working height of up to 45 centimeters. Are you looking for a tripod that allows you to stand upright behind the camera? If so, keep in mind your eye level. For someone of 1.80 meters long, this is about 155 to 200 centimeters.
Camera weight capacity
An important distinction with tripods is made in the camera weight capacity. This is the maximum weight that the tripod can carry without falling. Are you looking for a tripod that allows you to photograph with a system camera with a compact lens? If so, use our product filter to select all tripods with a maximum camera weight capacity between 2 and 5 kilos. If you want to mount an SLR camera with a lens and flash on a tripod, choose a tripod with a camera weight capacity between 5 and 10 kilos.
Material
The cheaper models are usually made of aluminum and have a simple construction with few adjustment possibilities. Often, you can adjust the working height with these tripods less accurately because you can only extend the legs completely. The tripod head is integrated with these models. The more expensive models are made of more robust materials. Carbon, magnesium alloy, or polymer are examples of durable materials that are lightweight at the same time. These models are more resistant to splash water and have an adjustable construction that you can change without the tripod experiencing much wear and tear.
Spirit level and counterweight
Spirit level
A spirit level is mounted on most tripod heads. You use this to accurately determine your image frame. You can check whether your camera is horizontal and vertical.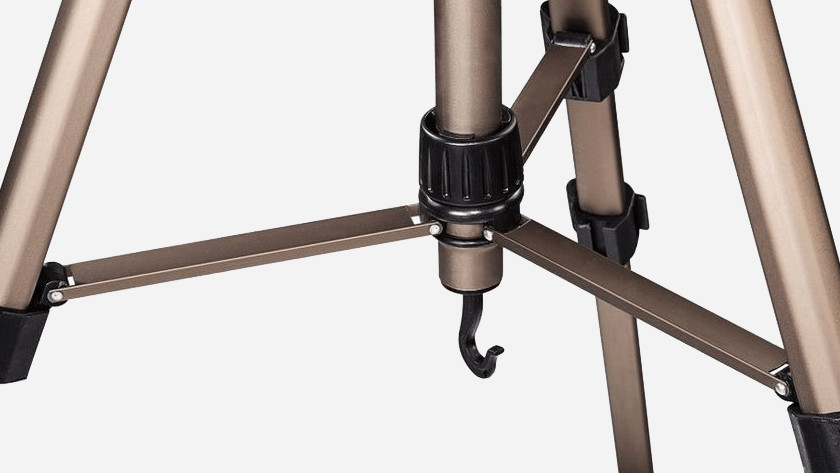 Hook for counterweight
With some tripods, you can hang a weight on a hook at the bottom of the middle column. This way, you make the center point heavier so the tripod stays firmly put, even with a bit of wind. Sometimes, a tripod comes with a bag that you can fill with stones to weight the tripod.
Leg sections and leg warmers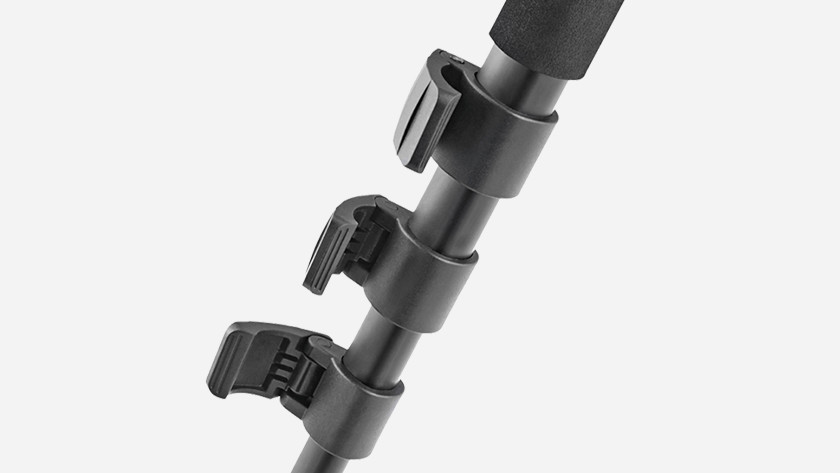 Leg sections
A tripod consists of several sections. To fully unfold a tripod, you have to extend 3 to 5 leg sections. There are tripods that use a patented system that speeds up the extending of the legs. This way, your tripod is quickly ready for use, easy to fold back.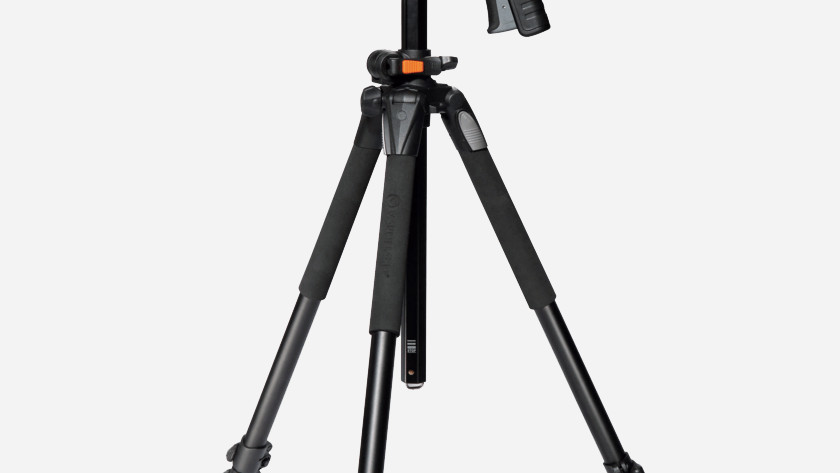 Legwarmers
Leg warmers are foam rubber sleeves that are placed around the legs of a tripod. Thanks to these sleeves, you can comfortably grab the tripod in freezing cold, extreme heat, or when the tripod has become wet.