What is NFC?
With NFC (Near Field Communication), you can exchange data safely and quickly. It's comparable to Bluetooth, but the range is less. With a smartphone with NFC, it's possible, for example, to make contactless payments or to transfer the customer card of your favorite store to your smartphone. In this article, we explain how NFC works and what you do with it.
---
What is NFC?
NFC stands for Near Field Communication. The maximum range to exchange data is limited to 10 centimeters. Compared to Bluetooth, less data is lost, because NFC connections won't quickly interfere with each other. On top of that, less time and energy are needed to establish a connection. With NFC, you can encode sensitive information, so you can send them without worries. Did someone steal your phone? Thanks to the NFC chip, it can be tracked down via GPS.
Conclusion
There are plenty of possibilities, but NFC is far from integrated in society. You can count on it as a versatile and safe way of data transfer, though. An important detail: your smartphone needs to support NFC.
Did this help you?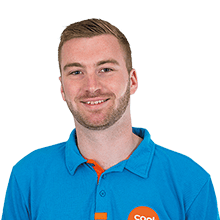 Article by:
Jesper
Smartphone Expert.