The best cameras for summer vacation
Are you looking for a suitable camera to capture your summer vacation? Then you can choose from different types of cameras. To help you select the right camera, we've listed a couple of cameras for you.
Choose the camera that suits you
The GoPro Hero and Nikon Coolpix are most suitable for active people. These are sturdy cameras for sports and outdoors activities. Do you want to capture the country of your destination in high-quality? Choose a camera from Sony, Canon, or Polaroid. These let you take detailed photos. Use the GoPro Hero 7 Black to take spectacular footage while you're snorkeling or surfing. The DJI Mavic Air is ideal for advanced videographers that want to make an after movie of their vacation.
Canon EOS M50
24,1 megapixels, filmt in 4K Ultra HD
|
Met wifi, bluetooth en NFC
|
Inclusief 15-45mm lens
If your vacation is all about nature, then the Canon EOS M50 is the right choice for you. With the 15-45mm lens, wide landscapes easily fit in the frame. And it's not just nature landscapes that you can capture clearly with the 24.1-megapixel sensor, but also urban landscapes. You easily set up the camera with the help of the Creative Assist function.
Sony Alpha A6000
24.3 megapixels, APS-C CMOS sensor
|
Full HD 1080p, 11fps, WiFi
|
including 16-50mm lens
|
Types of photography: documentary, nature, architecture
|
Optical zoom: 3x
Do you want a versatile camera? Then the Sony Alpha A6000 might be for you. Use the 16-50mm lens for street, nature, and architectural photography. Thanks to the fast autofocus system, focusing is quick and easy. And with 11 frames per second, you can capture moving subjects sharply. You can photograph cyclists in the French Alps this way, for example.
Nikon Coolpix W300
16-megapixel CMOS sensor
|
5x optical zoom
|
WiFi, GPS, and Bluetooth
|
4K recording function
|
Maximum aperture f/2.8
With the Nikon Coolpix W300, you can take photos during your active vacation. This compact camera is shock, frost, and dust resistant. This makes the camera suitable for a hike through the mountains. But this camera also performs well under water. Thanks to the large sensor, your images turn out clear. Do you want to record videos on your vacation? You can do this in 4K quality with this camera.
GoPro HERO 7 Black
4K at 60 frames per second
|
12-megapixel photos
|
Waterproof up to 10 meters
|
Advanced image stabilization
Are you looking for a camera to capture your own activities? Choose the GoPro Hero 7 Black action camera. Bring your camera when you go water skiing or mountain biking. You attach it to your helmet or breast with an action camera mount. Operate the action camera with voice controls. This way, your hands remain free during the activities. The camera is waterproof to a depth of 10 meters, without casing. This also makes it suitable for divers.
DJI Mavic AIR
12 megapixels, records in 4K
|
With remote
|
3-axis image stabilization
Advanced videographer can go nuts on vacation with the DJI Mavic Air. This lets you take detailed 4K videos with 30 frames per second. Thanks to the 3-axis gimbal, your footage is fluid and stable. Choose several flying modes in the app. For example, the drone can follow an object or person in the Active Track mode. You can fly for 21 minutes on a fully charged battery. The drone is operated with a controller or with hand gestures.
Polaroid Snap Touch Instant Digital Camera
Instant photography
|
Uses 2x3 inch film
|
Full HD at 30 frames per second
|
Bluetooth
With the Polaroid Snap Touch Instant Digital Camera, you print your vacation photos right away. When you get home, you stick them in a photo album or create a photo wall. Thanks to the touchscreen, you can easily set up the camera. You also select the frame of your photos via the screen. This way, subjects don't unexpectedly end up out of view. Do you also want to save your photos digitally? That is possible, with a microSD card. You can transfer your photos to your computer or tablet afterwards.
Complete your equipment
With the Case Logic camera bag and the Joby GorillaPod tripod, you complete your photography equipment for your vacation. You can easily bring your equipment in a camera bag. And if you want to be in a photo yourself, you use the tripod. You can take selfies or group photos effortlessly.
Case Logic Bryker Backpack DSLR Small
Backpack
|
Suitable for SLR camera
|
Not waterproof
|
710 grams
When you're on vacation, you bring your photography equipment effortlessly in the Case Logic backpack. With the loose dividers, you can store your equipment in a safe way. There is room for different types of cameras and lenses and multiple accessories. This way, you can bring a suitable camera and lens for different types of photography. And you can also bring other things in the backpack when you go on a long hike.
Joby GorillaPod 3K Kit
Maximum working height: 38.5 centimeters
|
Camera weight capacity: 2 kilos
|
Ball head
|
740 grams
With the flexible Joby GorillaPod 3K tripod, you can also feature in your vacation photos. Thanks to the flexible legs, you can place the tripod on both even and uneven surfaces. This way, you easily take a group photo. When you fold in the legs, you can use the tripod as a selfie stick as well. The ball head turns 360 degrees horizontally and 90 degrees vertically. That means you can place the tripod in whatever position you want.
Did this help you?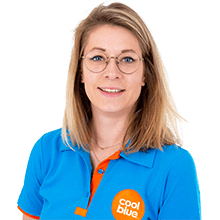 Article by: