6 Apple iPad life hacks for beginners
I thought I knew a lot about the Apple iPad. Still, I sometimes learn new tricks to make things more convenient and faster. So-called life hacks. To help you get started with your Apple iPad, I looked up the best life hacks, tested them, and wrote them down for you. In this article, you can find 6 things that will make working with your iPad even easier.
---
1. Type faster
When I type a long message, it often takes a long time. Typing on a touchscreen isn't as efficient as typing on a real keyboard. I'll can divide the Apple iPad keyboard in 2 parts with a simple movement.
I place 2 fingers on the keyboard and swipe them apart, left and right.
I hold my Apple iPad with 2 hands and type using my thumbs.
Note: this feature doesn't work on Apple iPad Pro 11 inches and 12.9 inches.
2. Multitasking in Safari
I regularly refresh the news throughout the day, but also watch live sports results on another website regularly. I hold down one of the 2 tabs in Safari and drag it to the side of the screen. Then, I let go of the tab so that Safari divides both tabs on the screen. Now I can read the news on one half, while changes sports scores remain visible on the other half. On my Apple iPad Mini, this only works in horizontal mode.
3. Back to top
When I read a longread from The Guardian, I sometimes have to scroll for a long time to get to the top of the page. Fortunately, iPad has a trick that prevents me from scrolling endlessly.
I click on the bar at the top of the application, this is the bar that also shows the time and the battery level.
After I tap the bar, the page I am on automatically scrolls up. This doesn't only work in the browser, but also on social media apps such as Facebook and Instagram.
4. Guided access
My cousins sometimes play a game on my iPad. To ensure that they don't mess with the settings, I ensure that they cannot leave the games app.
I open Settings → General → Accessibility → Guided Access
In this menu, I tap the Guided Access slider and activate the function.
Now I open the game for my nephews and press the home button 3 times (on-off button on the iPad Pro 2018) and start guided access. I can let my nephews play without having to worry. They can only leave the app with my access code.
5. Night Shift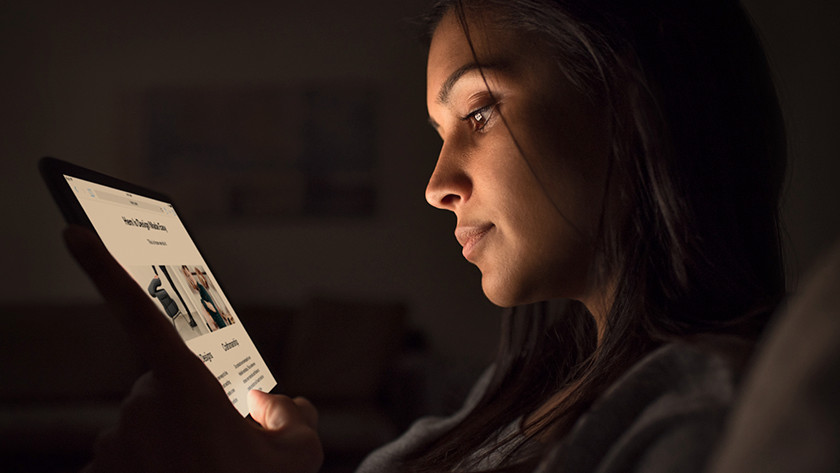 In the evening, I often watch my favorite series in bed. Previously, I had trouble falling asleep after bingewatching. This is due to the bright blue light of the screen. Thanks to Night shift, I no longer suffer from this. This filters the blue light from my screen, which is calmer for my eyes and brain.
I open Settings → Display and brightness → Night shift.
Here, tap the slider of Night shift and activate the function.
6. Adjust the control panel
I use some apps and settings often and I want to adjust or operate them quickly. I do this via the control panel. I bring out the control panel by briefly swiping down from the battery icon. I set up the control panel with my most used functions and settings.
I open Settings → Control panel.
Then I click on Adjust controls.
I add controllers by pressing + and - and Remove to remove controllers.
Did this help you?
Article by: