Compare all Apple MacBook
The most important question you need to answer in your search for a new Apple MacBook is of course: Which MacBook suits me best? And I will help you with that! In this article, you can read what you can use the MacBook (12 inches), MacBook Air (2018), and MacBook Pro (2018) for.
All MacBooks side by side
| | MacBook 12-inch (2017/2018) | MacBook Air (2018) | MacBook Pro (2018) |
| --- | --- | --- | --- |
| Screen | Average resolution, 12 inch Retina screen (2304 x 1440 pixels) | High resolution, 13.3 inches (2560 x 1600 pixels) | Highest resolution, 13 and 15 inch Retina + True Tone (2560 x 1600 pixels) |
| Dimensions | Very thin and light: 1.31 cm thin and 0.92 kg | Thin and light: 1.56 cm thin and 1.25 kg | Thin and light: 1.49 cm thin and 1.37 kg |
| Processor | Average processor of the seventh generation: 1.2GHz m3, 1.3GHz i5 or 1.4GHz i7 | Relatively fast processor of the eighth generation: 1.6GHz i5 with Turbo Boost up to 3.6GHz | Most powerful processor of the eighth generation: 2.3 GHz i5, 2.2 GHz i7, 2.6 GHz i7 and expandable to 2.9 GHz i9 |
| Connectors | Little: 1x usb c and 1x Mini-jack connection | Little: 2x usb c ports and 1x Mini-jack connection | Sufficient: 4x usb c ports and Mini-jack connection |
| Battery life | Long: up to 10 hours | Very long (full day): up to 12 hours | Long: up to 10 hours |
| Keyboard | Butterfly mechanism | Butterfly mechanism | Butterfly mechanism |
| Colors | Silver, Space Gray, Gold and Rose Gold | Silver, Space Gray, and Gold | Silver and Space Gray |
The screen
Apple MacBook
MacBook 12 inch is the smallest in the Apple MacBook family. If I go for compact this is my number 1. This thinnest and lightest MacBook ever weighs even lighter than a pack of sugar. Thanks to the narrow edges, I have a lot of screen surface in a housing that is as compact as possible. MacBook has the smallest screen, but with Retina display. This causes photos of my screen to splash.
Apple MacBook Air (2018)
MacBook Air has a larger screen than MacBook: 13.3 inches. MacBook Air (2018) has a Retina screen with the same high resolution as the MacBook Pro. In addition, MacBook Air is even lighter than MacBook despite its larger screen. The laptop weighs only 1.25 kilograms, so you can easily take it to work or college. Where MacBook and MacBook Pro last up to 10 hours, MacBook Air will keep it 2 hours longer. So a charger leaves you at home.
Apple MacBook Pro (2018)
If I want a big screen, I'm actually coming straight out of MacBook Pro 15. "But MacBook Pro also has a smaller brother of 13". The Retina display in MacBook Pro is the best screen ever in MacBook. The Retina screen has bright LED backlighting and a high contrast ratio, which gives black and white shades extra goodness. In addition, MacBook has True Tone technology. The screen colors with the ambient light. This gives my eyes more rest and colors are always displayed naturally. Even when I'm sitting under a fluorescent tube or in the sun.
Power
Apple MacBook
In MacBook, I find Intel Core processors of the 7th generation. Both day-to-day work and more advanced tasks take less time thanks to fast SSDs and Turbo Boost speeds of up to 3.6 GHz. A plus point of the Intel Core m3, i5 and i7 processors is that they do not have to be actively cooled. As a result, MacBook is whisper-quiet. An m-processor, compared to a 'normal' i-processor, delivers less power (30 percent). I do not notice this during the internet. Well when I use more programs at the same time.
Apple MacBook Air (2018)
In MacBook Air I find the Intel Core i5 and i7 processor of the 8th generation. Whether I edit a photo or surf the internet, everything goes very fast. Even if I use multiple programs at the same time. MacBook Air has more power than MacBook 12 "and lasts up to 12 hours without having to recharge it in. I watch up to 12 hours in one piece through iTunes movies." "When I put MacBook into standby mode? I then just continue where I left off, even after 30 days in standby mode.
Apple MacBook Pro (2018)
MacBook Pro is the real powerhouse. We find here the new generation Intel processors, all of the 8th generation, also called Coffee Lake. At MacBook Pro 15 "we even find an i7 and i9 processor: this is the most powerful processor in Apple MacBook ever! In the 13" model we find i5 and i7, again Coffee Lake. In addition, the number of processor cores doubled from 2 to 4 and even 6 with MacBook pro 15. "On MacBook Pro, I use the heaviest graphics programs effortlessly and I do multitask as much as I want. No problem is this pro too heavy.
Which should I choose now?
Apple MacBook: Super lightweight
MacBook and MacBook Air are fairly similar. But consider what you value more. Speed and weight? Choose the MacBook Air. Do you prefer the most compact model? A MacBook is a good choice. MacBook is suitable for work where you do not need too much power such as e-mailing, word processing and internet. Connections does not have this MacBook much. He only has 1 usb c port for connecting devices. Would you like a tan? This is the only line where you choose from 4 colors: Silver, Gold, Space Gray and Rose Gold.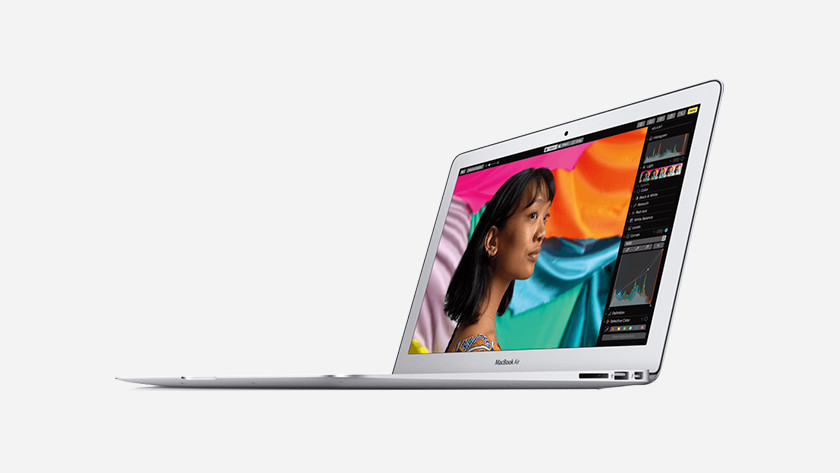 Apple MacBook Air: A lot of connectors
MacBook Air is the ideal notebook for daily use, for students for example. Light and compact to carry and a battery that lasts all day (12 hours), just like your iPhone. MacBook Air is available in 3 colors: Silver, Space Gray, and Gold. MacBook Air has just a bit more power than MacBook 12 "which allows me to do more at the same time, so I can also edit photos in addition to surfing the internet and watching series. The MacBook Air has 2 USB c ports, so I have one extra port compared to MacBook 12 inches.
Apple MacBook Pro: Powerful processor
If I want to get serious with photo and video editing, then MacBook Pro is my only real option. This is the most powerful MacBook ever and it has the most beautiful Retina screen with True Tone technology. In addition, at MacBook Pro I can choose the model with Touch Bar. Touch Bar is a touch-sensitive, glass strip on the spot of the function keys that shows useful extra options for everything I do. A color filter for during Photoshopping, for example. He has fewer connections than MacBook Air: 4 usb c ports and a Mini-jack connection. Furthermore, I choose from 2 colors: silver or space gray.
Conclusion
If you take MacBook with you all day long, your choice is probably going to be a MacBook or MacBook Air. Think about how you will use it. If you want many different connectors and a long battery, choose the Air. Do you want a super thin and lightweight MacBook to watch your favorite movies on the train? Choose the MacBook. If you're looking for a laptop to edit photos and videos, there's only one choice for me: MacBook Pro. Choose the 15-inch model for a serious amount of power (4 processor cores!) And lots of workspace. Choose the 13-inch if you're on the road a lot and have a good iMac on your desk.
Want to know more about the differences between Apple MacBooks, for example the difference between MacBook Pro 2017 and MacBook Pro 2015? Click on 'More advice on Apple MacBook' and view all MacBook comparisons.