What is the difference between a quick release drill head and an SDS?
Not only are there many different drills to choose from, the drill heads are not all the same either. Quick release, SDS-plus, SDS-max; those may be nice terms, but all you want is to just start your job with the best preparation possible. Before you buy a new set of drill bits, only to find out back at home that they don't fit your drill, I'll gladly explain the difference.
---
Comparison
| | Quick release | SDS-Plus | SDS-Max |
| --- | --- | --- | --- |
| How you attach the drill bit | Tighten manually | Click system | Click system |
| Type of job | Light jobs (drilling in wood) | Heavier jobs (drilling in concrete) | Very heavy jobs (break work) |
What drill head does your drill use?
Although some drills can be used with either drill head, we can generally distinguish which type of drill is equipped with which drill head. This is shown clearly in the table below.
Drill heads
| | Quick release | SDS-plus | SDS-max |
| --- | --- | --- | --- |
| Electric screwdriver | Yes | No | No |
| Cordless drill | Yes | No | No |
| Impact drill | Yes | No | No |
| Hammer drill | No | Yes | Yes |
| Combi hammer | No | Yes | Yes |
| Demolition hammer | No | Yes | Yes |
Any other differences?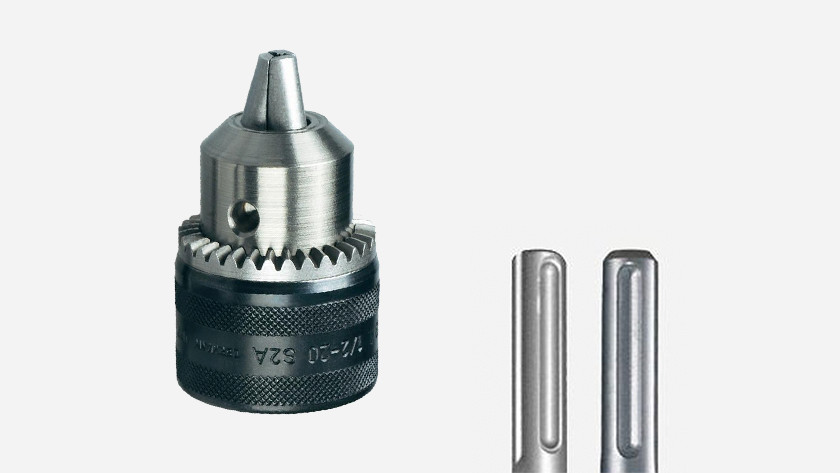 You might've thought that was it, but SDS drill heads in turn can be divided into 2 types: SDS-plus and SDS-max. They look very similar, but an SDS-max drill has an extra slot and a wider shaft. This means you can use it for the heaviest duty, such as demolition jobs or drilling large holes into concrete. SDS-max drill heads are seen mainly on demolition hammers and hammer drills. Chisels, for this reason, often have an SDS-max shank. Note, though, that SDS-plus drill bits don't fit SDS-max drill heads and vice versa.
When should you use which drill head?
Battery drills and impact drills, in most cases, have a quick release drill head. This, then, automatically means that wood, metal, and stone drill bits generally have quick release shanks too. In order to drill holes into concrete, natural stone, or other hard materials, you'll often use an SDS drill head. If you're tearing down a wall or chiseling away joints between tiles, you'll do that with an SDS drill head, too, since the chisel needs to be able to make a chopping motion here.
What about the accessories?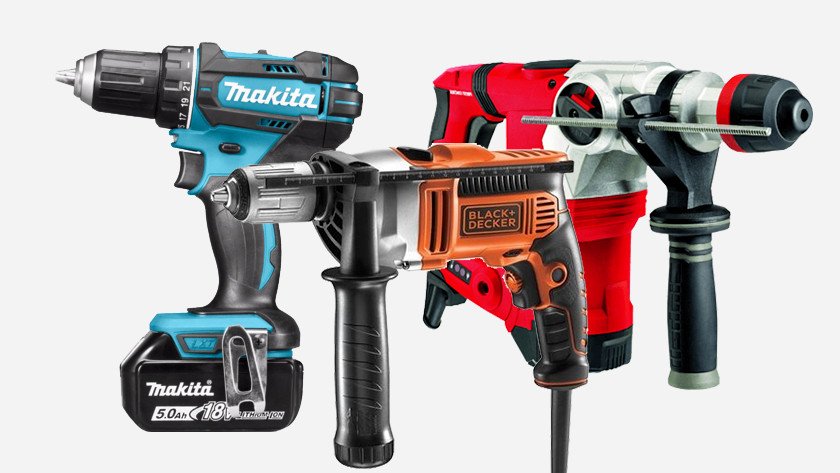 A wood drill bit with a quick release shank won't fit on a Combi hammer with an SDS drill head. A concrete drill bit that has an SDS-max shank won't fit on a quick release drill head either, no matter what. Nor would you want to. Remember the kind of drill head that's on your drill when buying drill bits and chisels. Extra drill heads or adapters are included with some drills. This allows you to use both quick release drill heads and SDS drill heads.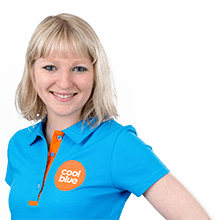 Article by: