Everything on Chromebook
No more waiting. No more configuring. No more long manuals. Go online right away to share, create, and discover. Simply log in with your Google Account and to have access to all your documents in the cloud directly. Start up your Chromebook with the SSD disk within 15 seconds, and you can get to work almost immediately.
---
In short
Voordelen
No problems with viruses
Starts quickly
Always updates automatically
100GB free storage in Google Drive
Long battery life
Automatically backs up your files in Google Drive
Relatively cheap
Nadelen
Not suitable for demanding tasks
No Windows or macOS operating system
Little storage space
No programs outside the Chrome Web Store
Getting started with Chrome OS
A Chromebook revolves around Chrome OS. Because it doesn't have to star an operating system when you turn it on, it only takes a few seconds for your Chromebook to get ready for use. The only thing you need to use Chrome is a Google account.
Well-known Google apps like Gmail, Calendar, Maps, Docs, and Hangouts are pre-installed. In addition, you can personalize your Chromebook with thousands of other apps from the Chrome Web Store.
No worries about viruses and updates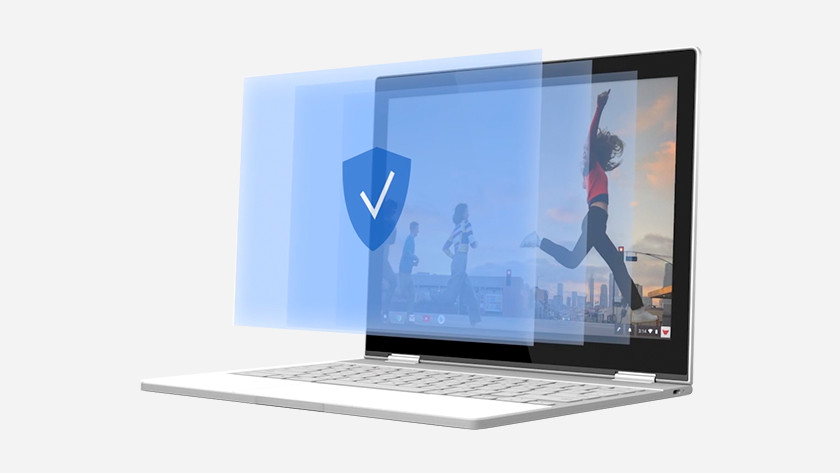 Chromebooks have multiple security layers to protect you from viruses and malware. Google Drive creates a secure online backup of all your files, so you'll never lose them, even if your Chromebook accidentally falls into the water.
Thanks to the automatic updates on Chromebooks, security and software upgrades are automatically downloaded. You won't have to lift a finger, so you won't have to waste hours installing patches.
Working in the Cloud
A Chromebook is made to work in the cloud. A Chromebook doesn't have a lot of storage space to store files: you do this in Google Drive. The advantage of Google Drive is that you won't lose your work as fast. All your edits in a Drive file are saved right away. You can open your Google Drive files on any other device with an internet connection. When you purchase a Chromebook, you get 100GB Drive storage for free. Read more about this.
Frequently asked questions
Can I also work offline with my Chromebook? *Yes, you can. A Chromebook is primarily intended to get started online, but some apps work without an internet connection. Gmail also works offline. Write an email, and Gmail will send it as soon as you are back online. You can also continue editing document you already had open. You can also open files on the hard drive. *
Can I also print using my Chromebook? *Of course. Connecting a printer to your Chromebook via a USB connection won't work. You can put your file on a USB flash drive and insert it into the printer. You can also use Google Cloud Print, to send files to the printer wirelessly. *
Can I use Word and Excel on my Chromebook?
If you want to use Office programs, you can. If you have an Office 365 subscription, you can work with Microsoft Word and Excel on a ChromeBook. In addition, the Microsoft Office app for Android is available for Chromebooks that have Google Play Store support. If your Chromebook supports this, we've listed it on the product page. You can also open, edit, and save .doc files via Google Docs. *
Can I use Windows on my Chromebook? *No, that's not possible. A Chromebook doesn't have an operating system. Windows or macOS can't be installed on a Chromebook. *