How do I adjust the image settings on my LG TV?
You can adjust the image settings of LG TVs in all kinds of ways. This way, you can easily choose from standard modes that suit your usage situation, such as watching sports. With the same ease, you can adjust all individual picture settings to your own taste. Think of the brightness or contrast. Find out how to do this in this article.
---
Step 2: open All settings
On the right side of the screen, you'll find a list with various icons. Use the arrow button on your remote to go down until you reach * All settings *. Select this option by pressing the OK button.
Step 3: open Picture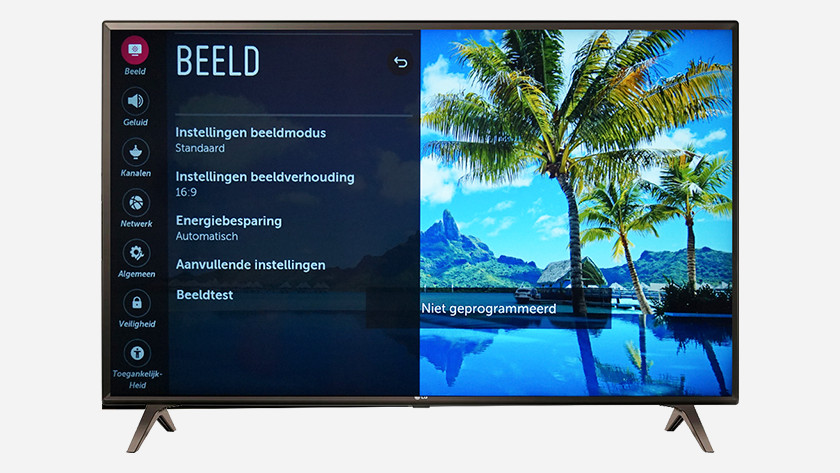 At the top of the drop-down list is the Picture option. Select it.
Step 4: Open Picture Mode Settings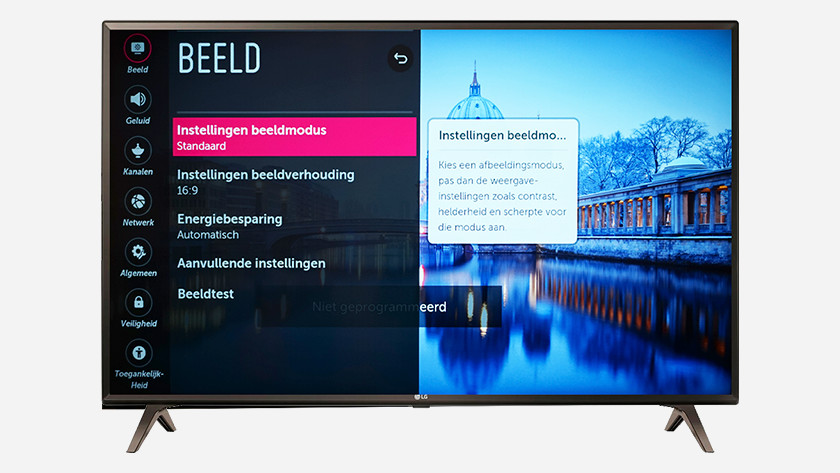 Select the Picture Mode Settings at the top of the drop-down list. If you want to choose a default picture mode, select the Picture Mode option and go to step 5a. If you prefer to adjust all picture properties in detail, go to step 5b.
Step 5a: choose a Picture Mode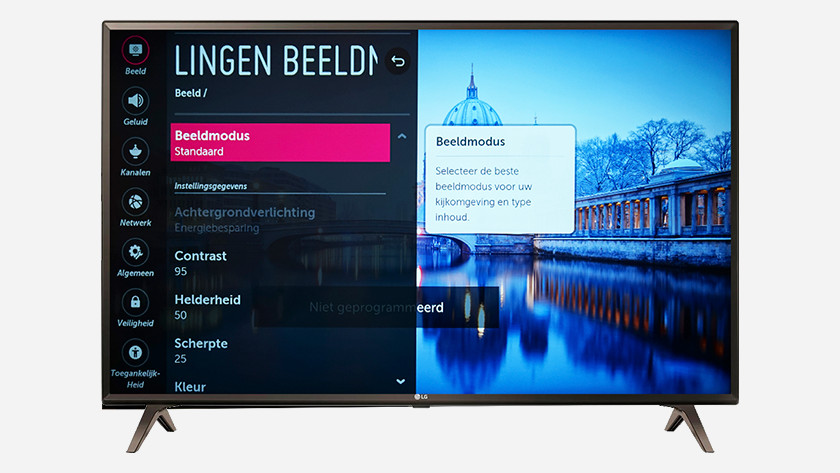 You can choose from different usage situations. In this overview, you can see which options you have and what you can adjust exactly.
The Picture Modes
| | Picture Mode | What you adjust |
| --- | --- | --- |
| | Vivid | Boost the brightness, sharpness, and contrast. |
| | Standard | Set an average contrast, sharpness, and brightness. |
| | Eco | Lower the brightness of the screen so the TV uses less energy. |
| | Cinema | Choose the best black levels and colors for movies. Due to the lower brightness, this option is especially recommended in dark rooms. |
| | Sports | Make fast-moving images like a ball extra sharp. |
| | Game | Reduce the TV's input lag. This means there is less delay between your controller and the action on the screen. |
| | HDR effect | Make the screen extra bright and dynamic. |
Step 5b: adjust all settings
Under the Picture Mode option, you'll find all individual settings, such as sharpness and brightness. By moving the sliders to the left or right, you can adjust each image property to your own taste. In this overview, you can see all functions.
The settings
| | Picture Mode | What you adjust |
| --- | --- | --- |
| | Contrast | Adjust the difference between the bright and dark parts of the screen. |
| | Brightness | Make the image less or extra bright. |
| | Sharpness | Adjust the sharpness of the edges. |
| | Color | Make the color representation extra or less deep. |
| | Tint | Adjust the color balance between red and green. |
| | Color temperature | Enhance the warm or cold color tones. |
| | Dynamic contrast | Adjust the ideal contrast based on the brightness. |
| | Dynamic color | Adjust the colors and saturation for a more vivid picture. |
| | Preferred color | Change the color of skin, grass, and sky. |
| | Color gamut | Increase or decrease the color gamut. |
| | Super resolution | Increase the sharpness of blurred or indistinct parts of the picture. |
| | Gamma | Make the image lighter or darker. |
| | Eco Mode | Reduce the brightness to reduce power consumption. |
| | Eye Comfort Mode | Adjust the color temperature to reduce eye fatigue. |
| | HDMI Ultra HD Deep color | Improve sharpness and brightness. This option is only available if your source and images also have this setting. |