How do you choose the resolution of your monitor?
A monitor with a high resolution provides a sharp image. You see more details on a 4K monitor than on a Full HD monitor. A 4K screen is especially beneficial for movie lovers, creative designers, and fanatic gamers. You often use a Full HD computer screen for general use. QHD is exactly in between. We'll help you choose the right sharpness.
---
Choose resolution
The sharpness is one of the first and most important choices you make before purchasing a monitor. This determines, along with the screen size, how detailed your image is. Which resolution you choose mainly depends on what you want to use it for.
I want to game in Full HD and watch Netflix + surf the internet, email, and process texts
I want to game and watch Netflix + edit photos and videos in QHD as a hobby.
I want to game and watch Netflix + professional graphics in 4K.
I want an ultrawide monitor for extra screen space.
Full HD (1920x1080)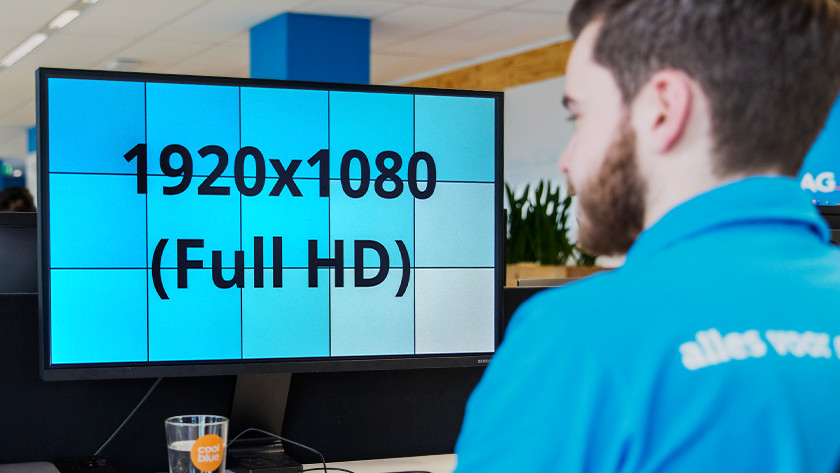 Full HD has 1920x1080 pixels and has the least sharp resolution. This is great for general use like emailing, browsing the Internet, viewing photos, text processing, or working in spreadsheets. You don't need a particularly high resolution for that. You watch Netflix series in full HD quality and YouTube videos in 1080p. You can also play games in full HD resolution. This is suitable for novice gamers or fanatic e-athletes, because the lower the resolution, the smoother your game.
QHD (2560x1440)
QHD resolution, also called Quad HD or 2K, has 2560x1440 pixels. This means that this resolution offers a perfect balance between Full HD and 4K. A QHD monitor allows you to see images twice as sharp as with a Full HD monitor, which is useful during photoshopping or editing 1440p videos. Gaming in QHD provides a sharp display, without the need for an expensive video card. Do you want the best of the best? Choose a 4K screen.
4K (3840x2160)
4K is currently the highest resolution for a monitor. With 3840x2160 pixels, this is 2 times sharper than QHD and 4 times sharper than Full HD. 4K is best known for watching movies. And indeed, you need a 4K monitor to watch a UHD movie. Creative professionals see every detail with 4K while editing photos or videos. Diehard gamers can't believe their eyes thanks to razor-sharp characters and lifelike landscapes.
Ultrawide resolutions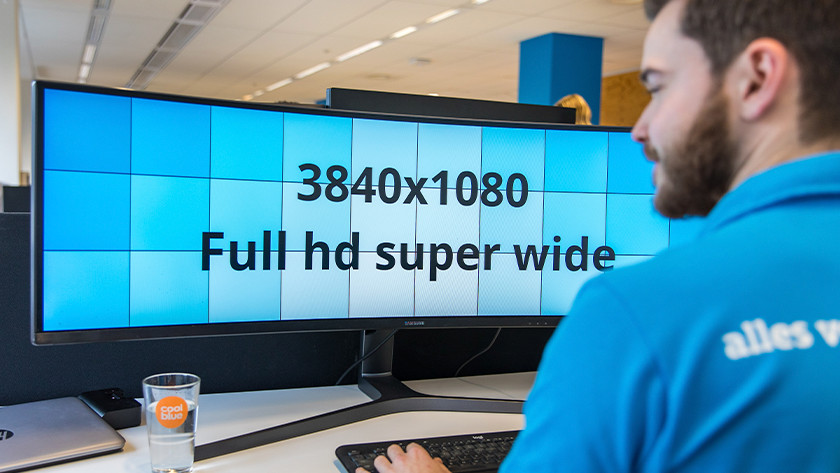 With an Ultrawide or Super Ultrawide monitor, you have more screen space than with a 'regular screen'. These are also divided into Full HD, QHD, and 4K. But the number of pixels is different. Ultrawide screens are half the size of normal screens and have a resolution of 2560x1080 at Full HD, 3440x1440 at QHD, and 5120x2160 at 4K. So you get a lot more pixels with the same sharpness. Super ultrawide screens are twice as wide as regular screens. They have a resolution of 3840x1080 at Full HD and 5120x1440 at QHD.
Resolution vs. screen size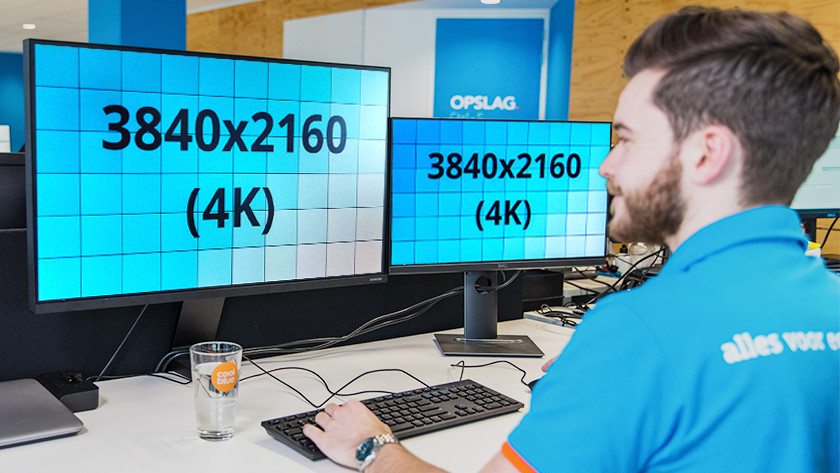 A resolution is tied to a certain number of pixels, regardless of the screen size. This means that a 32-inch Full HD screen is much less sharp than a 22-inch Full HD screen. So pay special attention to the pixel density. This indicates the number of pixels per inch, regardless of the size. You can expect sharp images from 90ppi. Also note that icons and text get smaller as the resolution increases. This gives you more screen space, but it makes it harder to read.
Required hardware for gaming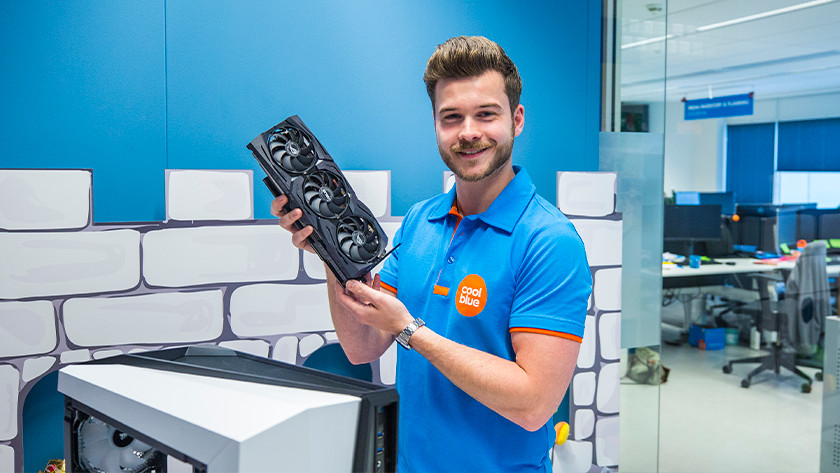 The higher the resolution, the more powerful the hardware you need for it. For 4K gaming, you not only need a 4K monitor, but also a serious video card, for example. We recommend at least these video cards:
For Full HD gaming at high settings, we recommend at least an NVIDIA GTX 1650 or AMD RX 570.*
For QHD gaming, we recommend at least an NVIDIA GTX 1660 Super, RTX 2060, or AMD RX 5700.*
For 4K gaming, we recommend at least an NVIDIA RTX 2080 Super GPU.* This costs between 800 and 900 euros, so keep this in mind if you want to game in 4K.
*This is based on Call of Duty: Modern Warfare (2019) at 60 fps.
Required hardware for movie and image editing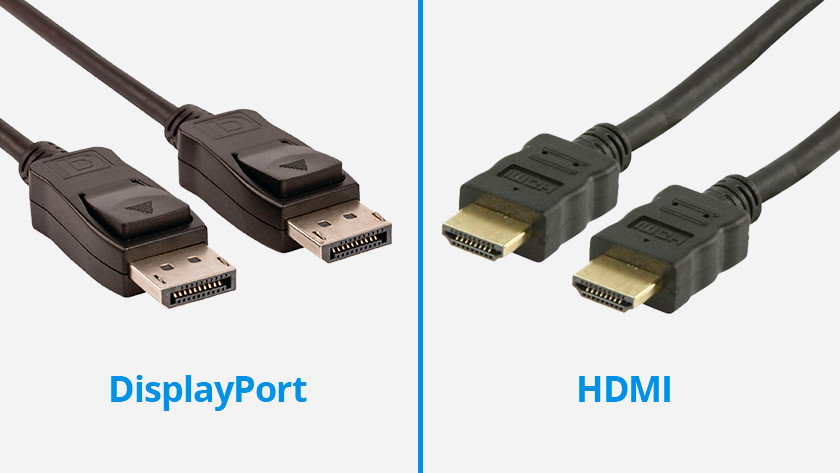 The higher the resolution, the more powerful the hardware you need for it. For example, you need the right cables to watch 4K movies. Below is an advice for your hardware:
To watch 4K movies you need at least HDMI 1.4 or a DisplayPort cable.
For 4K Netflix streaming you need at least a Windows 10 Anniversary update.
For 4K photo and video editing, we recommend at least 16GB RAM and a powerful video card and processor.