Which MacBook is suitable for students?
As a student, you need a laptop. Not just for doing homework, but, more importantly, for your free time as well. Of course, when you're done with your school work, you should reward yourself with a fun show or game. Which MacBook is suitable if you're a studen, though? I'll tell you.
---
Do you fit this profile?
As a student, you need a laptop for school and for in my free time. For school, you have to do online research, write a report, write a summary of your textbooks for an exam, or make a presentation in PowerPoint. Magister is a commonly used program to view schedules and grades and to upload assignments. After school, your laptop still doesn't get a break. In your free time, you can stream a series on Netflix or play games like Fortnite and Minecraft. When you get back from vacation, you can make an after-movie and share it on social media.
Recommended specifications
| | Required | Explanation |
| --- | --- | --- |
| Processor | i5 | Suitable for browsing, study purposes, watching YouTube videos, watching Netflix shows, light games |
| RAM | 8GB | For basic use like internet browsing, text processing, social media, and email, and doing all this at the same time (multitasking) |
| Storage | 128 or 256GB | 128GB for basic use like internet browsing, text processing, etc. To also play games, listen to music, and watch movies, 256GB would be a better idea |
| Storage type | SSD | With the SSD, programs will load in seconds |
| Video card | Integrated | Cleverly divides your system's RAM |
| Screen size | 13 inches | Often on the go? Choose a 13-inch model. This way, it'll easily fit in your bag. |
| Software | Microsoft Office suite | Programs like Word, PowerPoint, and Excel |
Suggested model
International keyboard (QWERTY)
|
Intel Core i5 1.6GHz (8th gen) - 8GB - 128GB SSD
|
Intel UHD Graphics 617
If you add up all the recommended specifications that you find in the table below, you end up with a MacBook Air 13 inches 2019, for example. This is an ideal laptop for students. Thanks to the i5 processor and 8GB of RAM, multitasking isn't a problem. Emailing, browsing, gaming; you can do it all at the same time. With 128GB of storage, you have enough memory to store study documents, movies, and music locally. You can leave your charger at home, because the battery lasts around 12 hours. And thanks to the 13.3-inch screen, it fits easily in your bag.
Powerful processor for multitasking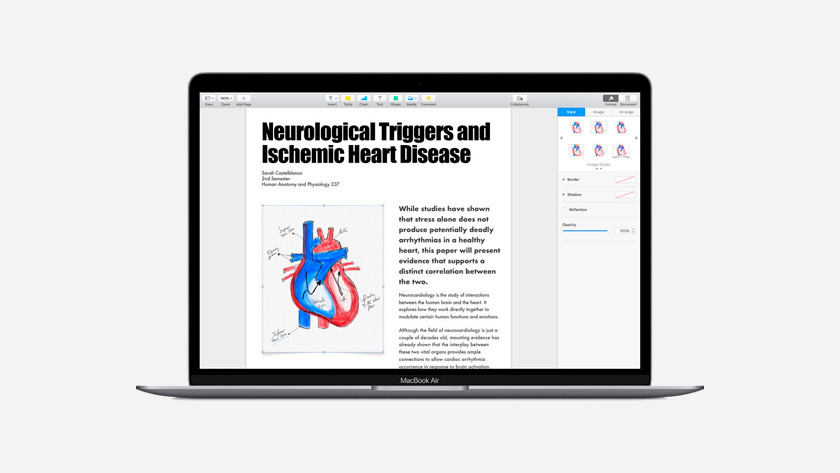 While browsing, you have a lot of open windows. You also listen to music and watch a series on Netflix at the same time. Because you do a lot at the same time, you need a MacBook that's powerful enough for multitasking. An i5 processor is powerful and suitable for browsing, watching movies and series, and playing games in Full HD. You can also easily edit photos, and it's suitable for all your study purposes.
The more RAM, the faster your MacBook is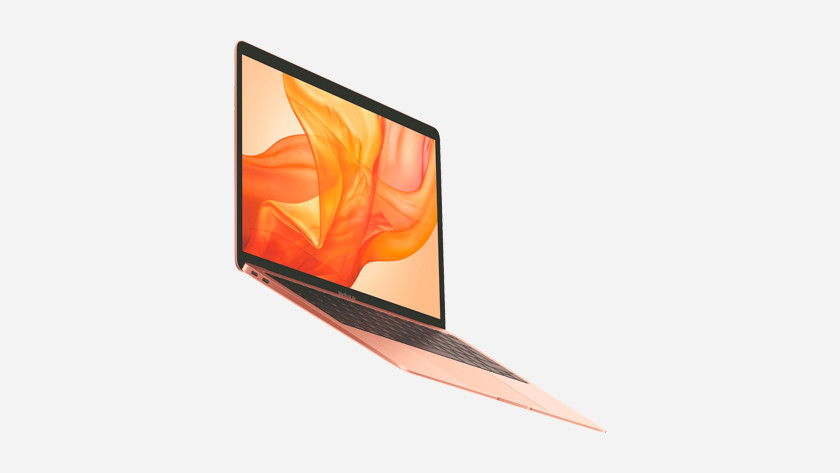 RAM affects how fast your MacBook works. Generally, the bigger the RAM, the faster your MacBook works. For basic use like internet browsing, text processing, email, and social media, you don't need a lot of RAM. 4GB should be enough for that. If you want to do everything at once, and maybe play a game and do some basic photo editing as well, you'll need 8GB. That's good, because MacBooks have at least 8GB of RAM.
Storage from 128GB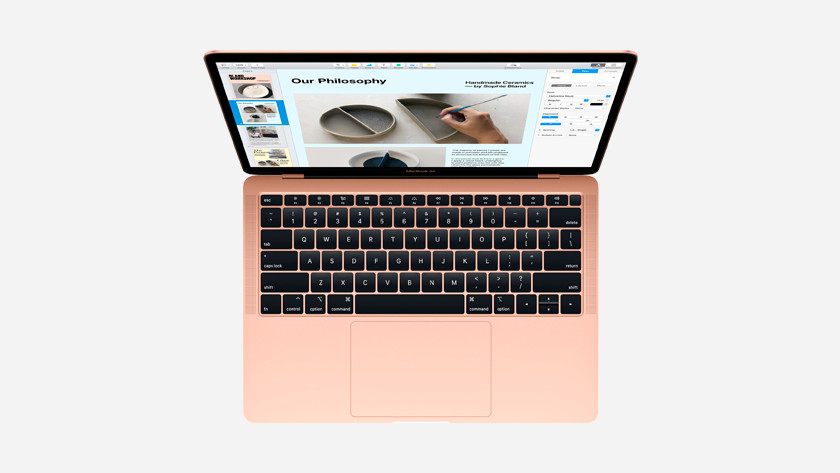 Opt for a MacBook with an SSD. Laptops with an HDD are a lot slower than those with an SSD. Your MacBook starts in a few seconds. On average, a laptop with an SSD is 5 to 6 times faster than one with an HDD. Make sure to also choose enough storage space, because full is full. Of course, you can also choose to use an external hard drive. For basic use like internet browsing, text processing, email, etc., 128GB of storage is enough. Do you game a lot and store music, series, and movies locally? If so, 256GB storage space is perfect for you.
Integrated video card for your daily tasks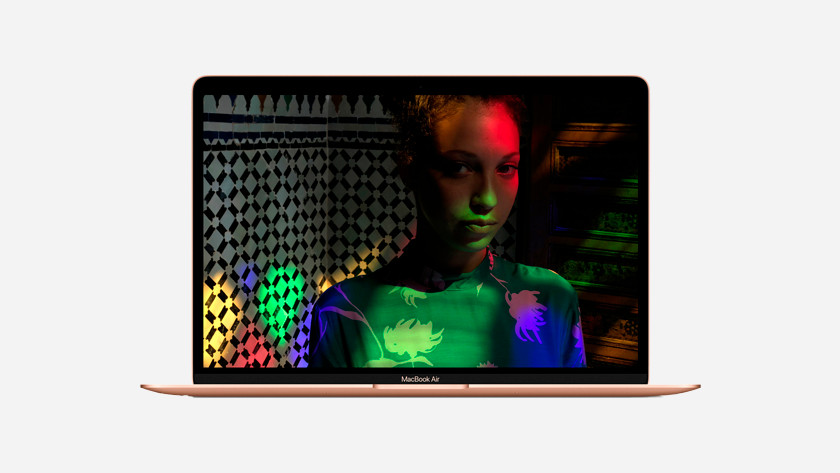 An integrated (shared) video card is, as the name suggests, integrated in the processor. A dedicated video card has its own memory, but a shared video card uses the MacBook's RAM. A shared video card doesn't have its own memory, but cleverly distributes the RAM among all the open programs. An integrated video card is suitable for everyday internet use, Office applications, school work, and playing low-end games.
A 13-inch screen, ideal for on the go
The size of your screen depends on what you're going to be using your MacBook for. Are you on the go a lot with your MacBook? If so, opt for a MacBook that's no larger than 13 inches. With a relatively small model, you don't need to carry a lot of unnecessary weight. In addition, it fits in your bag, making it easy to carry it from the lecture hall to the station.
Which MacBook is suitable for students?
If you're a student looking for a MacBook, it has to have the following:
An i5 processor
At least 8GB RAM
A storage capacity of 128 or 256GB
Storage with SSD
An integrated video card
A screen size of 13 inches
Microsoft Office software package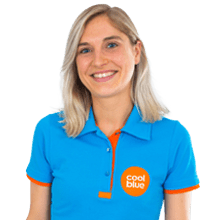 Article by: