What is Ambient Mode?
You can find the Ambient Mode on Samsung QLED televisions from 2018. This shows colors or images on the screen, so that there is no black square in the room. In this article, I'll tell you what possibilities Ambient Mode has and what the difference is with Art Mode.
---
The pattern of your wall on the screen
Maybe your wallpaper has a pattern with, for example, flowers. In this case the Ambient Mode offers a handy solution. Download the SmartThings app on your smartphone and take a picture of the television and wall. The app then automatically fills the screen with the photographed pattern. For a realistic effect, the app makes sure the patterns of the screen and the wall blend together.
Not as energy efficient as Art Mode
This function is comparable to the Art Mode of the Samsung The Frame. An important difference is that the Ambient Mode is less energy efficient. This function costs 40 to 50 percent of the normal energy consumption. This is around 30 percent for Art Mode. So I don't recommend that you leave the function on all day. The Ambient Mode is mainly a handy solution if you want to create more atmosphere during a party or when you have guests over.
Did this help you?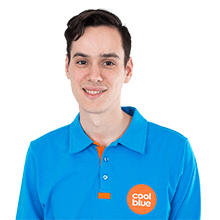 Article by:
Laurence
Television Expert.