Which processor do you need in your Apple MacBook?
So much terminology and all types of numbers are thrown at you when comparing processors. Intel Core i7, Dual-Core, Quad-Core, GHz. But what exactly do all those specifications mean? And which one do you need in your new Apple MacBook? We'll tell you what information to look out for here. That way, you can choose the best processor for you.
---
What do the specifications mean?
Bij het vergelijken van processoren kom je verschillende termen tegen. Over het algemeen geldt: hoe hoger het getal, hoe beter. Hieronder lees je wat de belangrijkste specificaties betekenen voor de snelheid van je processor.
Processortype: Welke processor je hebt. In je MacBook vind je een Intel Core i5, i7 of i9 processor. Een hoger getal betekent over het algemeen ook een snellere processor.
Kernen: Ook wel cores genoemd. Het aantal kernen bepaalt hoe goed je processor verschillende taken naast elkaar kan uitvoeren. Hoe meer kernen, hoe sneller zware programma's draaien. De verschillende modellen hebben 2 tot wel 8 kernen.
Kloksnelheid: De kloksnelheid wordt gemeten in GHz. Een hogere kloksnelheid zorgt voor een snellere processor. De kloksnelheden van de verschillende modellen variëren van 1.4 GHz tot 2.8 Ghz.
Turbo snelheid: Bij zware programma's geeft je processor wat extra gas, als het ware. Hoe hoger de turbo snelheid, hoe harder je processor gas kan bijgeven. De turbo snelheid varieert van 2.9 GHz tot 5.0 Ghz.
Cachegeheugen: Het tijdelijk geheugen van de processor. Je processor slaat hier tijdelijk gegevens op. Als je meer cachegeheugen hebt, kun je de processor zwaarder belasten. De minst snelle processor in MacBook heeft slechts 3 MB, terwijl de snelste 16 MB cachegeheugen heeft.
Which specifications are most important?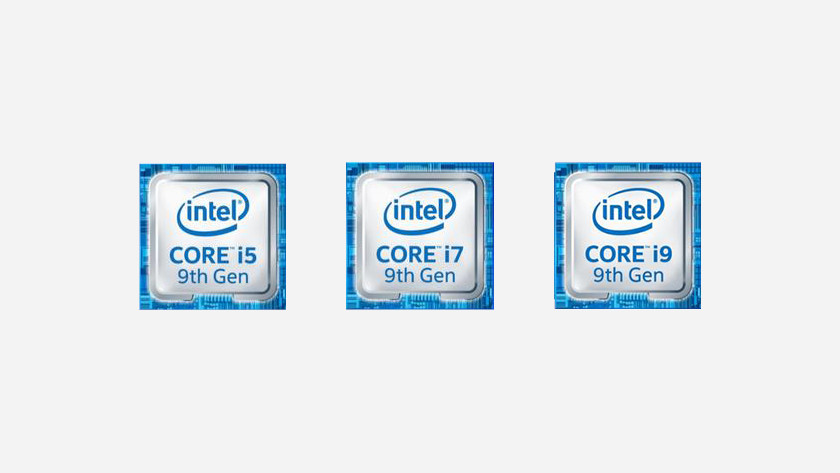 All these specifications are interrelated. They're all important for the speed of the processor. For example, if you only looked at the clock speed, you would have a distorted view. Faster processors often have a lower clock speed. This usually has to do with a larger number of cores or a higher turbo speed. In addition, some programs use the different cores more effectively. Do you want some help? Look at the processor type. Below, we'll explain them for you.
i5: suitable for daily use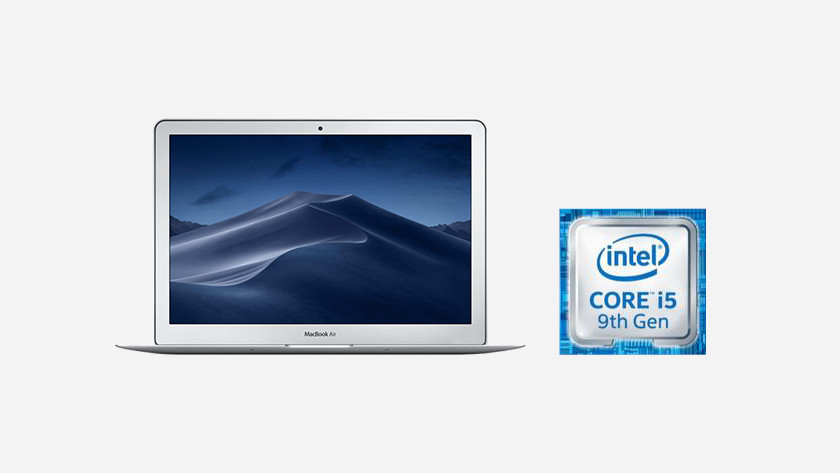 If you mainly use the Apple MacBook for daily tasks, choose an Intel Core i5 processor. This includes surfing the internet, typing reports, and editing your vacation photos. The Intel Core i5 processor is powerful enough for most daily tasks. You can find it in the Apple MacBook Air and Apple MacBook Pro 13 inches. Do you regularly edit photos and do you also want to be able to edit videos? Choose an Intel Core i7 processor.
i7: suitable for demanding software
With an Intel Core i7 in your Apple MacBook, you can edit photos and videos and make 3D models. Demanding software like Adobe After Effects and AutoCAD require a lot of computing power. With an Intel Core i7 on board, it won't take a lot of effort. This processor is powerful enough for most demanding programs. Choose an Intel Core i7 processor if you often run graphics programs.
i9: suitable for the demanding user
Do you work in large 3D projects every day? Or do you only settle for the best of the best? Choose an Intel Core i9 processor. These processors have more cores, so demanding programs run smoother and faster. This means you won't have to wait long. In addition, an Intel Core i9 processor is future-proof. Software is getting more demanding over the years. This means that software won't run very well on a slower or older processor. You can use an Intel Core i9 for years to come for the most demanding software.
Conclusion
The processor is the brain of your Apple MacBook. This means it's good to find out which processor you need. No matter which processor you choose, you can perform all your daily tasks smoothly. Choose an Intel Core i7 for more demanding programs or choose the Intel Core i9 if you only want the best. Can't decide? We've selected the best models for you. They're marked Coolblue's Choice on the website.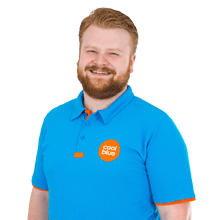 Article by: