How do I watch digital television?
More and more providers stop offering analogue TV. So this is a good time to switch to digital television. In this article, we'll explain in what ways this is possible.
---
The air
Most TVs have a built-in DVB-T tuner. This antenna receives a signal from the air and sends this to the TV. Thanks to the wireless reception, you don't need any connectors. This way, you can also watch TV shows on the campsite or in the attic. Digital TV via the air is free, but the amount of available channels is limited. Think of national or regional stations.
Cable via CI+ module
A TV with a DVB-C tuner receives digital cable TV. It's useful if the TV has a built-in CI+ input. You can stick the smart card of your provider in this input, so you won't need a separate box. It's not guaranteed that a TV with CI+ input supports the card of your provider Check this with your provider first to prevent disappointments.
Cable via separate decoder
Doesn't your TV support the card of your provider, or doesn't it have a CI+ input at all? In that case, you can easily fix this with a separate digital decoder, or you can rent one from your provider. Often times, these decoders have an integrated card that contains personal information. This makes them unsuitable for second-hand buy or sale.
Satellite
With digital TV via a satellite, you receive channels from the whole world. For access to the free channel offering, you need a satellite dish and a TV with DVB-S tuner. If you want to watch pay television, you'll need to take out a subscription from a provider. The provider gives you a smart card, which you can put into your TV. Just like with cable, you'll need to make sure your TV is compatible with the provider.
Interactive TV
You receive interactive television via the internet. With this, you don't depend on the TV guide, but you decide what you watch at what time. Interactive TV isn't free. You'll need to take out a subscription with your provider, for example as part of an all-in-1 package. In most cases, the provider gives you a separate decoder which you can connect to the TV.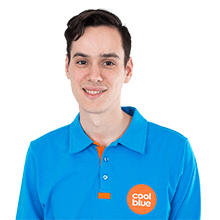 Article by:
Laurence
Television Expert.