Android for Work: what is it and what can I use it for?
Android for Work is a platform that exclusively caters to business users. This platform makes separating your work and private life on your Android smartphone a breeze. But how does it work, and what are the advantages? In this article, we'll take a closer look at the different functions included in Android for Work.
The basics: what is Android for Work?
Android for Work is a separate platform with the Android operating system, aimed at business users. Android for Work can be used on Android version 5.0 and up. In order to use it, your IT department needs to contact Google before installing Android for Work on different smartphones via an app. If you're running an older version of Android, you can still use Android for Work via this app. Android for Work consists of 4 components: Work Profiles, the previously mentioned app, Google Play for Work, and dedicated productivity apps. What's what and what can you use it for?
Work Profiles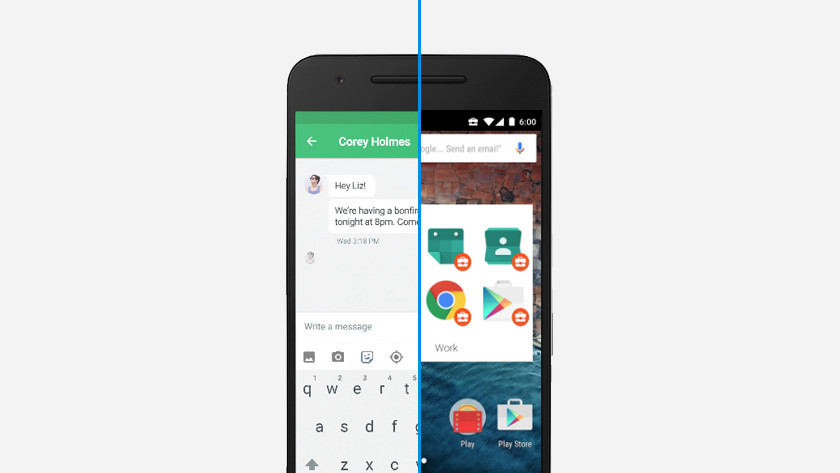 Keep your work and private life separated - As soon Android for Work is installed on your smartphone you can use Work Profiles. The premise is simple: you create both a work profile and a private profile. This allows for easy separation of business data and private date on your phone. Your IT Administrator manages the business side and can't access the private profile. You can always access both your business and private profiles, without them getting in each other's way. This also saves you from having to use 2 separate phones.
Android for Work app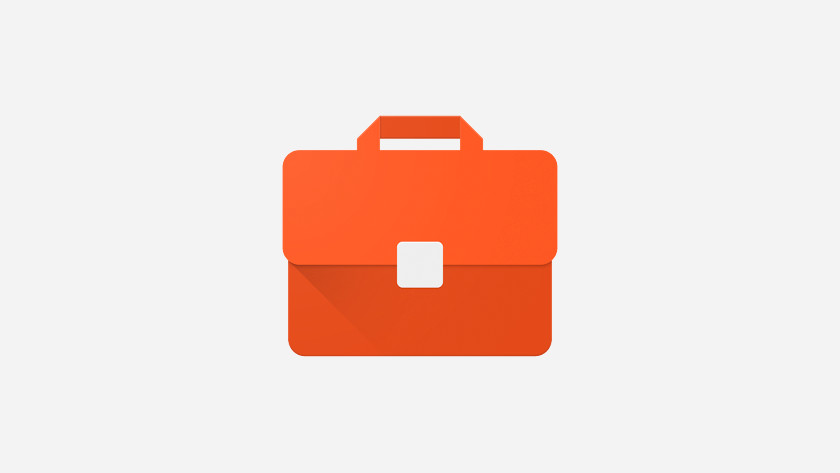 Do you own a smartphone with an Android version older than 5.0? If so, you can still use Android for Work via the special 'Android for Work' app. Although it's functionality is more limited compared to the full platform, you can still use the app create a work environment on your smartphone. The app allows you access to your email, calendar, contacts, documents, a browser, and any business apps approved by your IT administrator. Just like the complete version, the Android for Work app is completely managed by your company's IT administrator.
Google Play for Work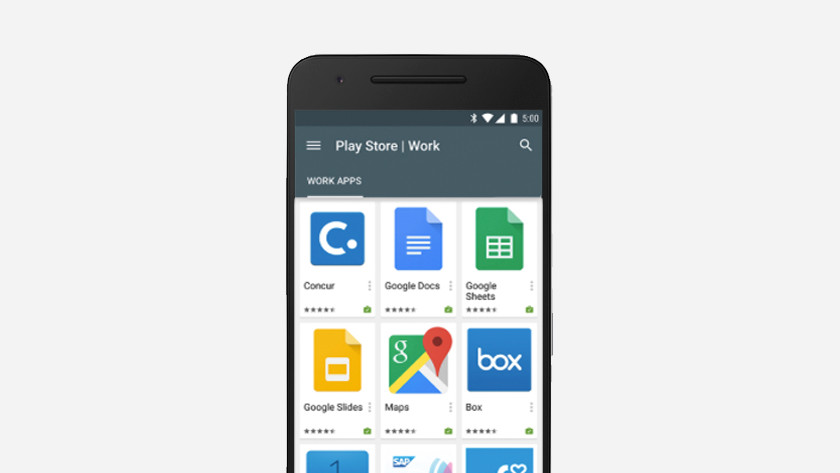 The business app store - Google Play for Work is the business version of the Google Play Store. All available apps have been approved by Google and are deemed safe for business use. Additionally, your IT administrator can manually allow or disallow apps in Google Play for Work. This allows for an easy distribution of apps among employees. Downloading apps in Google Play for Work works the same way is in the 'normal' version of Google Play. In short: when a specific app needs to be downloaded, the IT administrator can approve it in Google Play for Work, after which the employees can download it.
Productivity apps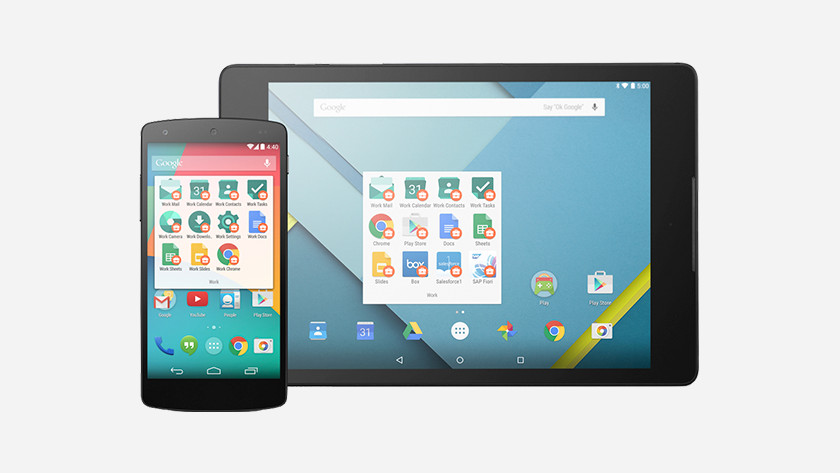 Stay productive, even on the go - As company, you want your employees to be productive: anytime, anywhere. Android for Work offers a collection of productivity apps that employees can use on the go. Think of apps like email, contacts, and a calendar with built-in support for Exchange and Notes. An option to edit documents has also been included. This way, employees aren't bound to their usual work spaces. All of these apps are pre-installed on the Android for Work platform.
Is my smartphone supported?
Is my smartphone of choice suitable for Android for Work? - If your phone is made by one of the manufacturers mentioned below and runs on Android, there's a high possibility that your phone is suitable. If you want to be sure, Google has compiled a handy list of devices on which Android for Work can be installed. On top of that, they've included which Android for Work options are available for each phone. Android for Work is available for different Android smartphones. Google has established partnerships with the following smartphone manufacturers that are available in Belgium:
Samsung
Blackberry
Sony
HTC
Huawei
LG
Sony
Motorola
Contact
Phone: 03-8085625
Email: zakelijkadvies@coolblue.be
Conclusion
Android for Work is a user-friendly platform for business users, incorporated in the standard Android operating system. It allows the user to separate work and private life on a single smartphone and makes sure you can access any business data anytime, anywhere. On top of that, it can easily be managed by 1 person or multiple people at the company. If you also want to use your Android smartphone for business purposes, then Android for Work is comes high recommended.