Help after purchase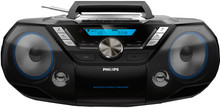 Philips AZB798T
DAB radio:
Type of radio:

Portable radio
Power supply type:

Battery, Battery, Grid current
Bluetooth:
Internet radio:
Alarm function:
---
Tips to improve the FM and DAB+ reception of my radio
In this article, we explain how you can improve the reception of your FM or DAB+ radio. You can do this by placing the radio in a different place and carefully checking the frequency. We've listed 4 tips for you for a better signal.
---
Didn't find your answer?
Find an answer to your question quickly and easily via our Customer Service.