Coolblue Business
Order via your purchasing system
Possibility to order on account
Coolblue Business
Taking care of business.
Order via your purchasing system
Possibility to order on account
How can we help you?
Business account
View prices including and excluding VAT
Easily order multiple items
Easily download your invoices
Highlighted
Suitable for business use
|
Intel Core i5 - 16GB - 512GB SSD
|
NVIDIA GeForce GTX 1650 Max-Q video card
This ThinkBook offers additional security options with the Windows 10 Pro operating system. Store your files encrypted and log in safely and quickly via the fingerprint scanner.
Log in to another computer within your domain via Remote Desktop
This laptop comes with a 2-year on-site warranty, so a technician will visit you in the event of technical defects.
Coolblue gift card as business gift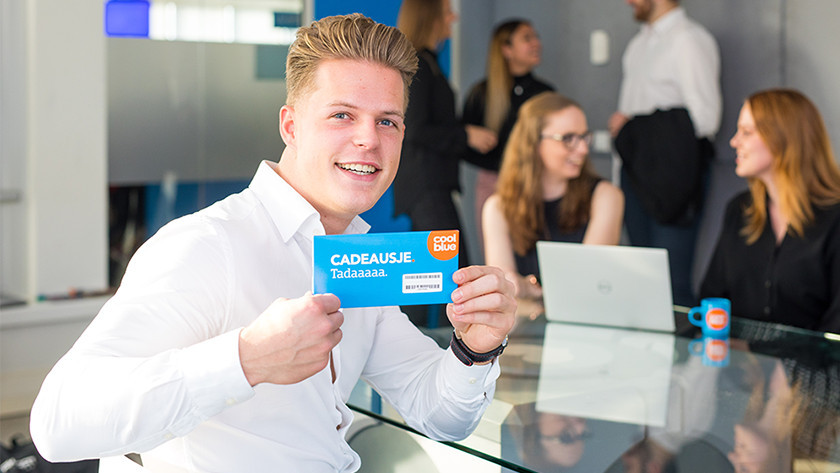 Do you want to put employees in the spotlight, make customers happy, or set up a marketing campaign? With a Coolblue gift card, you let the recipient choose from thousands of gifts.
Always 0% VAT.
The gift card can be exchanged on Coolblue.nl, Coolblue.be, and in all Coolblue stores in the Netherlands and Belgium.
The gift card is valid up to 3 years after issue.
Frequently asked questions
As a Business customer, you can place orders on account and pay afterwards. You have to be registered at the Chamber of Commerce for at least a year in order to qualify for that. Contact Coolblue Business for a credit application. A credit application takes 3 to 5 working days.
Contact us for a personalized quote. We'll send you a one as soon as possible.
No. Coolblue always invoices with Dutch VAT. When your company is liable for VAT, this VAT can be reclaimed via the VAT return. In a few select cases, we don't charge VAT or transfer the VAT to you. For example, if you're in possession of a valid Dutch VAT number and place an order for more than € 10,000 per type of goods (mobile phones, computer chips, laptops, tablets, or gaming consoles).
Send an email to zakelijk@coolblue.nl and state your order number and what you want to change in your invoice. This is possible up to 30 days after the date on your invoice. You'll receive an adjusted credit invoice in your mailbox from us within 3 working days. As a result, your current invoice will expire.
You can register your return within 30 days after you've received the product. You'll have another 14 days to return your product for free. You have 2 options. Option one is to exchange your product for another product for free. Option two is to return your product for free and have your money refunded. To get the full purchase price back, it's important to return your product in its original condition and undamaged. Feel free to view the product as you would in the store. You can indicate your decision on the online return form. After 30 days, we'll repair your product and the above options no longer apply.
Contact
We're available Monday through Friday, from 08:00 until 17:30.
Call us on 010 79 88 969

Email us via zakelijk@coolblue.nl
Do you want to call us outside our opening hours? You can reach our customer service until 23:59.
Call me back
Do you have a question about a product, our solutions, or your order? Get in direct contact with an expert from Coolblue Business.
Make a phone appointment with Coolblue Business
Get a call from an expert from Coolblue Business

Get personal advice based on your wishes

You'll get a call right away.

Did this help you?