Advice on choosing a monitor
Looking for a monitor for playing your favorite games, making the best graphic designs, or for working days? There's a suitable monitor for everyone. But how do you find one that suits you, and what should you pay attention to? It can be difficult to make the right choice, so we're here to help. Think about what you're planning on using your new monitor for, and we'll give you some advice to find the best one for you.
---
Choose a monitor
There are many different types of monitors for different usage situations. For example, a monitor for the office, image editing, or gaming. To find the best monitor for you, we want to ask the following questions:
Do you want a monitor for everyday use? If yes, 24 or 27 inches?
Do you want a monitor to game with?
Do you want a monitor with a high (4K) resolution?
Do you want a monitor for image editing and/or design?
Do you want a monitor to connect your Macbook to?
Do you want a monitor for the office or study?
Do you want a curved and/or ultrawide monitor?
Do you want a large format display?
Everyday use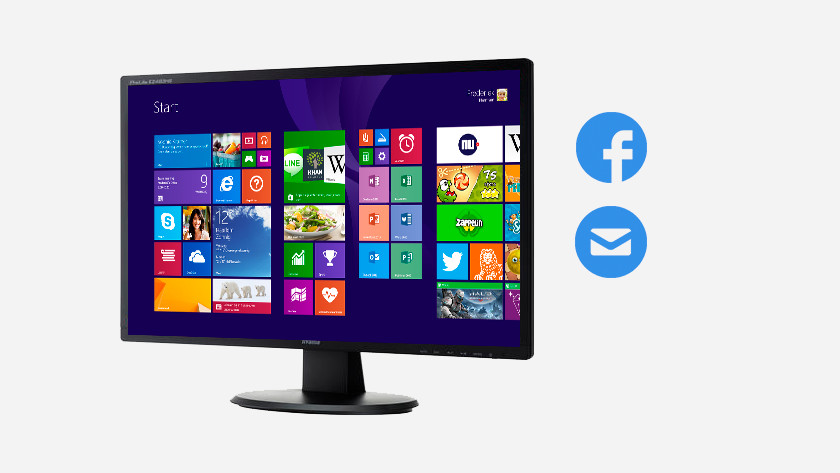 24-inch monitor for everyday use
Are you looking for a monitor for simple tasks like text processing, reading blogs, or Netflix? We recommend a monitor with a resolution up to Full HD, so you watch your favorite movies and series in high quality. If you're close to your monitor, we recommend a 24-inch screen.
*Full HD resolution for high-quality movies and series
24-inch screen
All screen types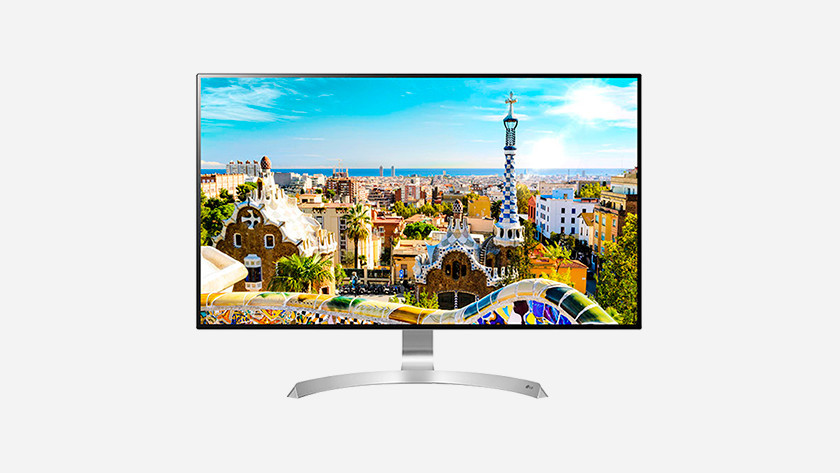 27-inch monitor for everyday use
Are you looking for a monitor for general use, but would you like a somewhat bigger screen? Choose a 27-inch monitor so you'll have plenty of space to edit your holiday photos or watch your favorite vlogs. We recommend a monitor up to 27-inch, since you don't need a minimum screen size for browsing and updating your email.
Full HD resolution for high-quality movies and series
27-inch screen
All screen types
Gaming & 4K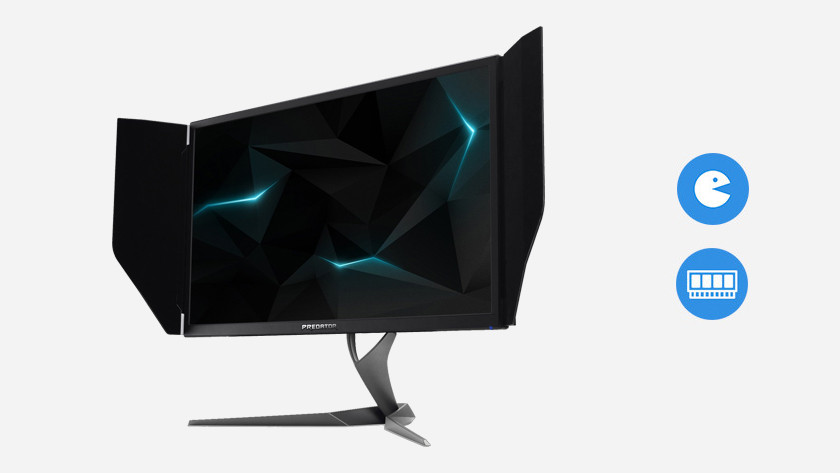 Gaming monitor
Want to get more out of your games? Choose a monitor with a 1 or 2 millisecond response time and a refresh rate starting from 75Hz. The higher this value, the more fluent the moving images will be displayed. Consider a monitor with G-Sync or FreeSync to prevent interruptions during gaming.
1 or 2 ms response time to prevent ghosting
Refresh rate at 75Hz or higher
24-inch screen or larger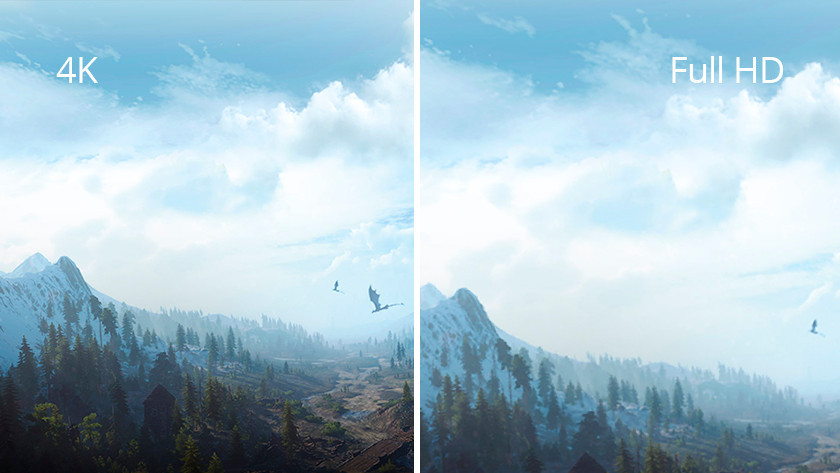 4K monitors
A 4K monitor allows you to watch Ultra HD video's, movies and series in a razor-sharp way. You'll also have a lot of room for all your windows. The image is clear in every situation, even if you're editing 4K videos. Prefer gaming in 4K? You'll see characters and landscapes in great detail. Make sure your computer has a good video card and at least a DisplayPort 1.2, HDMI 2.0, or Thunderbolt 3 port.
High resolution
Razor-sharp image
Plenty of room for all your windows
Photo and video editing and (3D) design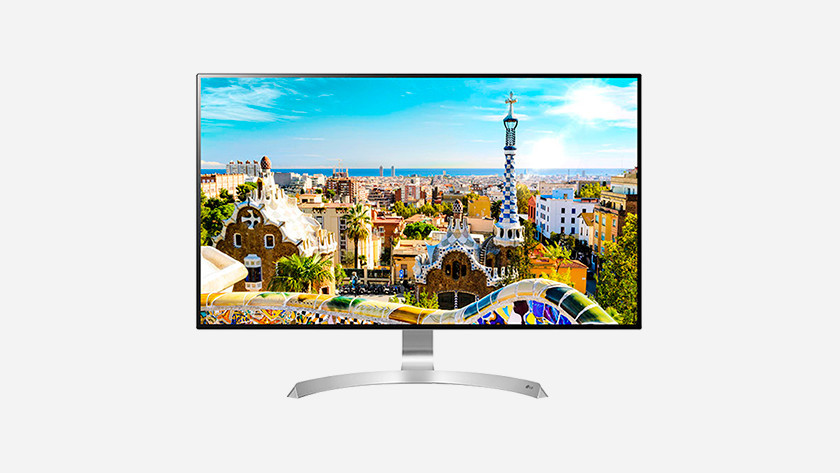 Monitor for photo and video editing
We recommend 27-inch monitors with a resolution starting at 2560 x 1440 for graphic designers, photographers and filmmakers. A QHD or 4K screen allows you to work precisely and edit all details of your creations. We recommend a monitor with an IPS panel and sRGB, or Adobe RGB coverage of 99% for an optimal color representation and a large viewing angle.
QHD resolution or higher for a detailed image
IPS or PLS panel for realistic color representation
27-inch screen or larger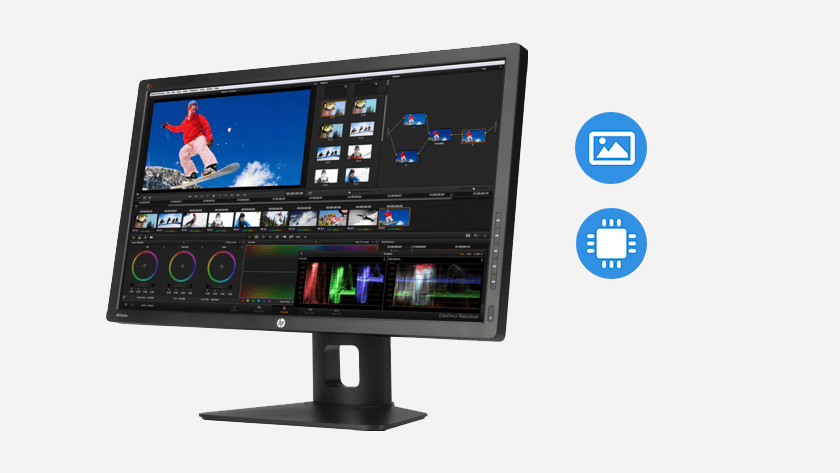 Monitors for (3D) design and CAD designs
Choose a monitor with the best business monitor or image processing properties if you often make CAD designs or construction drawings. These monitors have a high resolution, high brightness levels, and a comprehensive color coverage. You can also adjust your screen in various ways.
High resolution for sharp overview of your designs
Brightness can be adjusted so you can work in brightly lit rooms.
Extensive color coverage for an accurate representation of your design.
Macbook and USB C connector and office use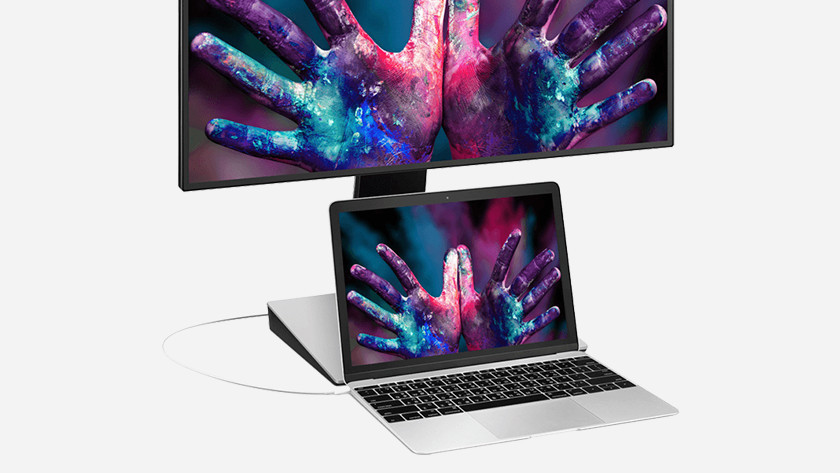 Monitor for Macbook laptop with USB C connector
Do you want to connect to your Apple MacBook or laptop with USB C connector? Choose a monitor that has a USB C port. Connect your monitor with 1 cable that transfers audio and video and charges your laptop at the same time. The Thunderbolt 3 ports of a MacBook 12inch or MacBook Pro are suitable for USB C. A converter is no longer necessary, so get started with your future-proof monitor.
*Connect your USB C laptop or MacBook without converter
Charge devices
Supports high resolution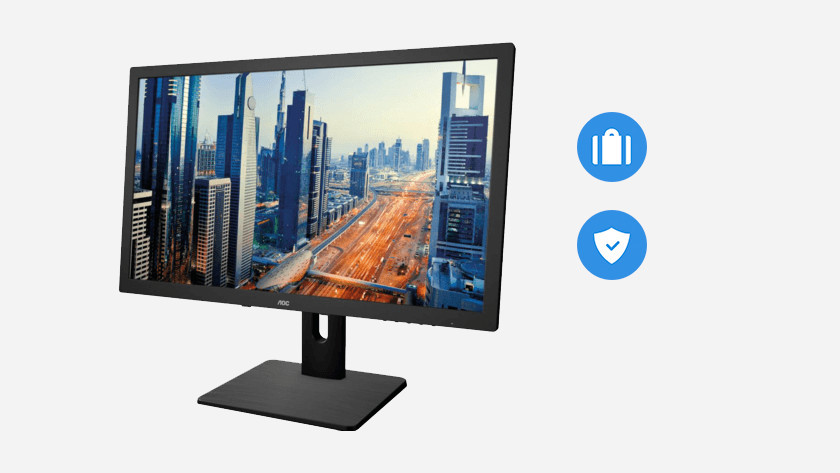 Monitor for office use
A good working posture is of great importance if you use a monitor at the office. An adjustable monitor contributes to an ergonomic workplace. Some monitors have a blue light filter, that prevents strained eyes. An anti-glare screen is useful if you don't want to be bothered by reflecting light.
Adjustable
Blue light filter to prevent strained eyes
Anti-glare screen
A monitor for your studies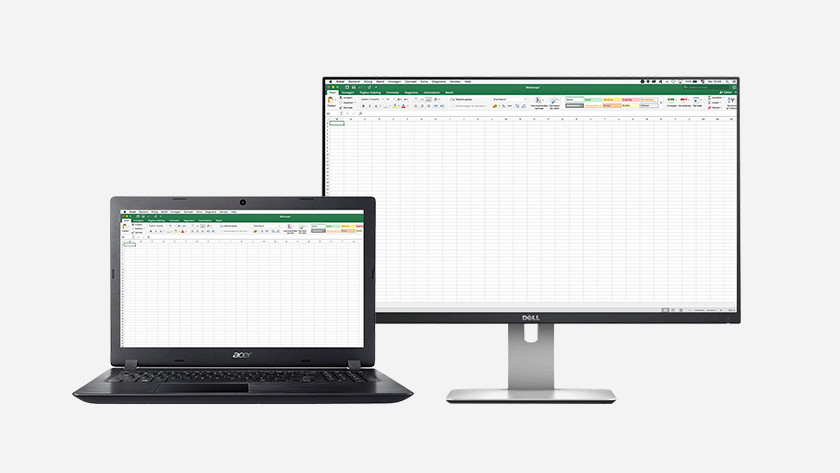 Use a monitor that is suitable for your studies if you want to work on reports, essays, and presentations from home. This 24-inch monitor gives you a better overview of your projects than the screen of your laptop. This monitor also has a blue light filter, that reduces strained eyes in case you'll have to pull an all nighter during your exam period.
Curved & ultrawide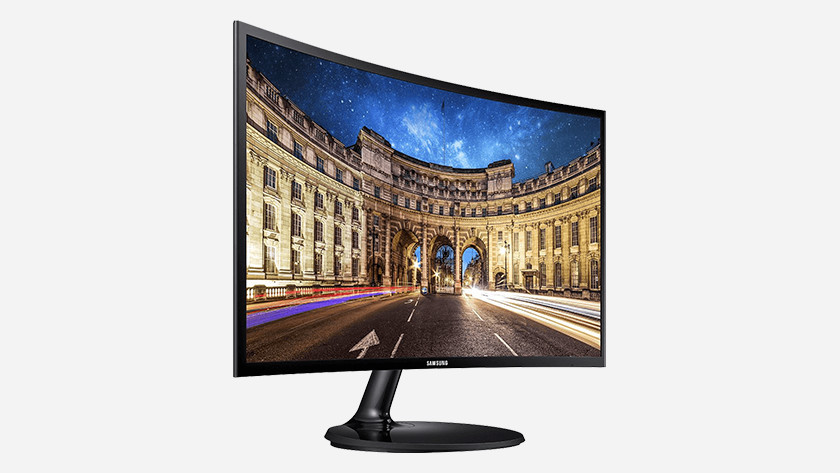 Curved monitors
Do you want to experience a panoramic effect? A curved monitor kind of shapes itself around you, so the color representation stays the same over the entire screen. You don't have to move your eyes that much to watch the whole screen. So you don't get tired that fast.
Panoramix effect
Better color representation *Ergonomically sound
The screen looks bigger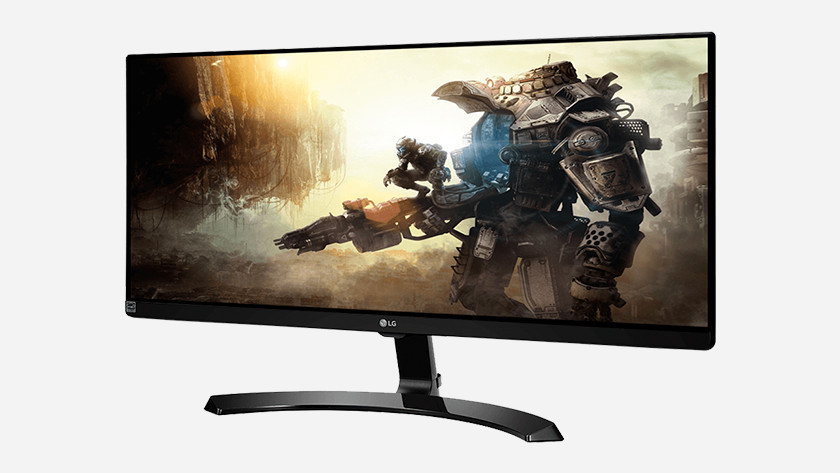 Ultrawide monitors
Do you want a screen with more room on it? Choose an ultrawide monitor so you can work in 4 windows at the same time. You'll have a larger field of view when you're gaming, so you see opponents approaching faster. Watch widescreen movies and series without black bars.
Bigger screen surface
Multitasking in multiple windows
See more of your games
Minimal black bars
Large Format Display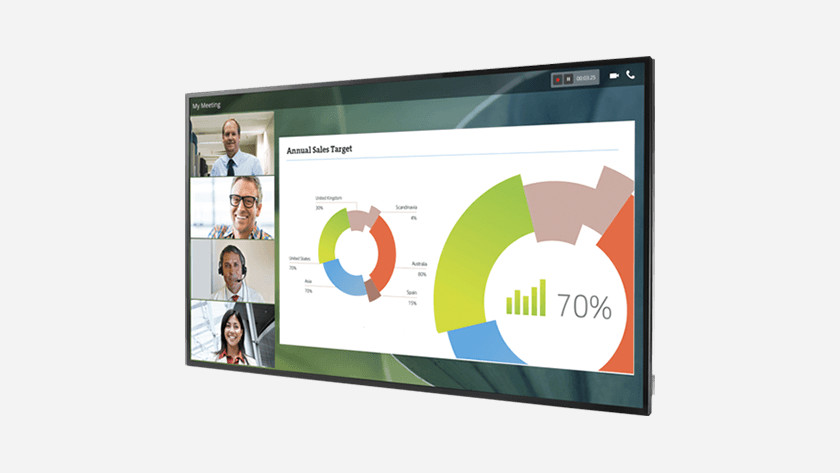 Choose a Large Format Display to show commercials and information in public spaces, like your store or waiting room. An LFD with a touchscreen is easy to use for brainstorm sessions at the office and you can use it as a whiteboard in the classroom.
Advertising for your company
Suitable for persentation rooms and classrooms
42-inch and more
Time to choose
Big monitor assortment
Hopefully you now have enough information to pick out a monitor. Time to choose from our big assortment. Good luck!
Don't forget: accessories for your monitor
There are plenty of accessories to turn your monitor into the ideal one and make it work just a bit smoother. You can choose for a mount or stand to adjust your monitor to your position. You'll need a cable to connect your monitor to a laptop or PC. Like to keep your new purchase clean? Go for a cleaning set.
Did this help you?
Article by: