Help after purchase
Your product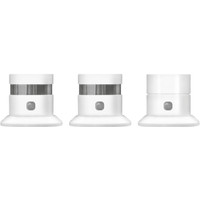 Let the 2 smoke detectors and carbon monoxide detectors of this package work together by connecting them to a Z1 Zigbee Bridge or ICS-2000. This allows you to hear if a fire or dangerous gas is developing in several places in the house. After you connect the detectors, you'll receive notifications via the app on your smartphone when smoke or carbon monoxide is detected. You'll also receive a notification via the app when the battery needs to be replaced or if the sensor no longer fully functions. If something is detected, you'll hear a noise of 85dB inside. Make sure to test if the detectors still work via the test switch once a month.
---
---
Contents of this package


Didn't find your answer?
Find an answer to your question quickly and easily via our Customer Service.