How do I use my new Samsung washing machine?
With a Samsung washing machine, you can quickly and efficiently clean your laundry. After calibrating your Samsung washing machine, you can start doing the laundry. On this page, you can read about how to get the best washing results and how to use techniques such as EcoBubble, QuickDrive, and AddWash. If you have a malfunction, you can read about how to resolve it best.
Wash clothes
When doing laundry, it's important that you sort your clothes by color. That way you don't have to worry that your white shirt will come out pink. By paying attention to the washing instructions, your clothing won't shrink and will stay beautiful longer. For a good washing result, you have to choose the right washing cycle, for example for cotton, wool, or silk.
Samsung EcoBubble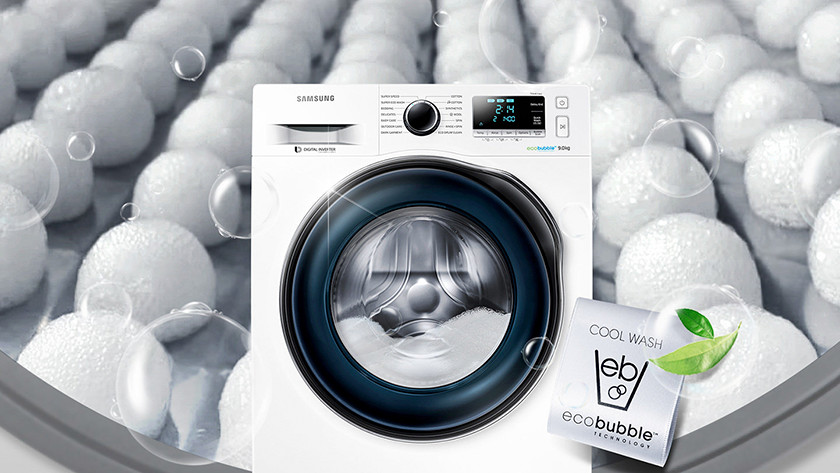 Samsung washing machines with EcoBubble save energy by spreading foam over your laundry before the washing cycle starts. This makes the soap penetrate your clothing better and make stains disappear at a low temperature. You can use EcoBubble with detergent, powder detergent, and tablets.
Samsung QuickDrive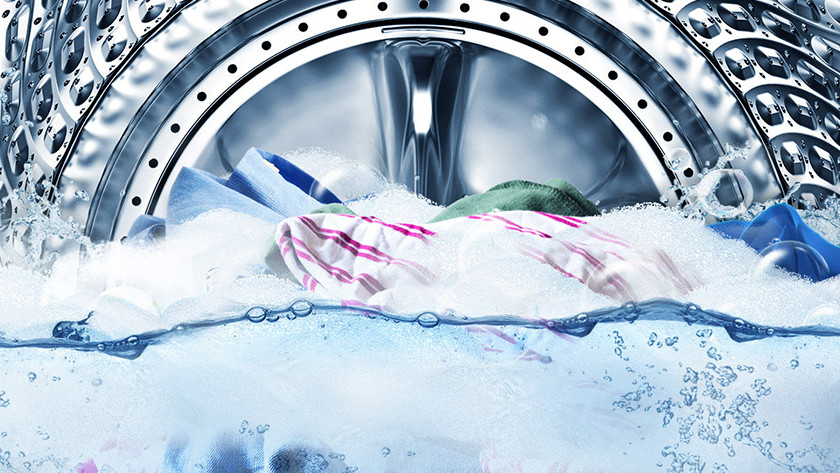 If you have a Samsung QuickDrive washing machine, you can wash twice as fast and use up to 20% less energy. With the SuperSpeed option, you can wash half a load in 39 minutes, thanks to the Q-Drum with rotating plate. This rotates in the opposite direction of the drum.
Samsung AddWash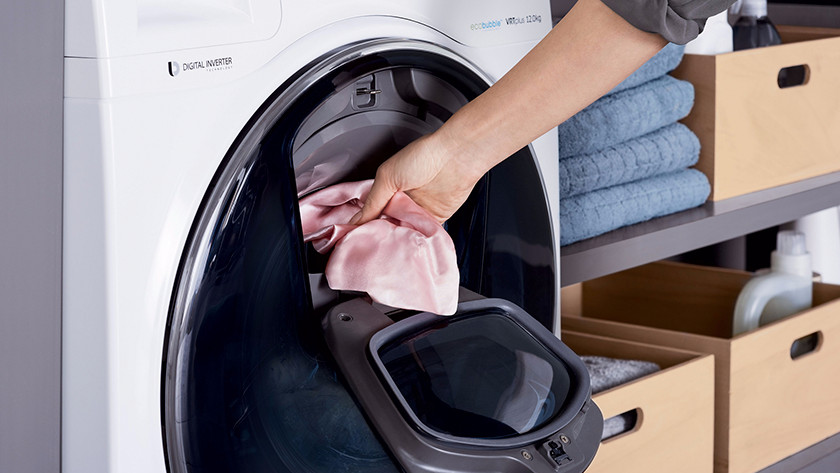 A Samsung washing machine with AddWash has a special hatch through which you can insert your forgotten laundry, even when the washing program is already running. If you only want to rinse your delicate laundry, you can add it at the end of the program. AddWash only works at a temperature of up to 50℃.
Samsung Auto Optimal Wash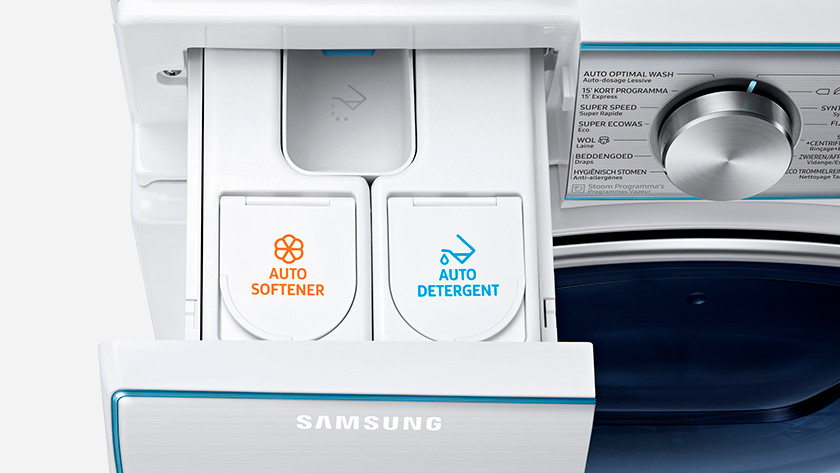 A Samsung washing machine with Auto Optimal Wash doses the right amount of detergent based on your dirty laundry. The washing program is adjusted by the washing machine and very dirty clothes receive an extra dose or rinse. This means that you no longer have to determine how much detergent you use for every wash cycle.
Placing it level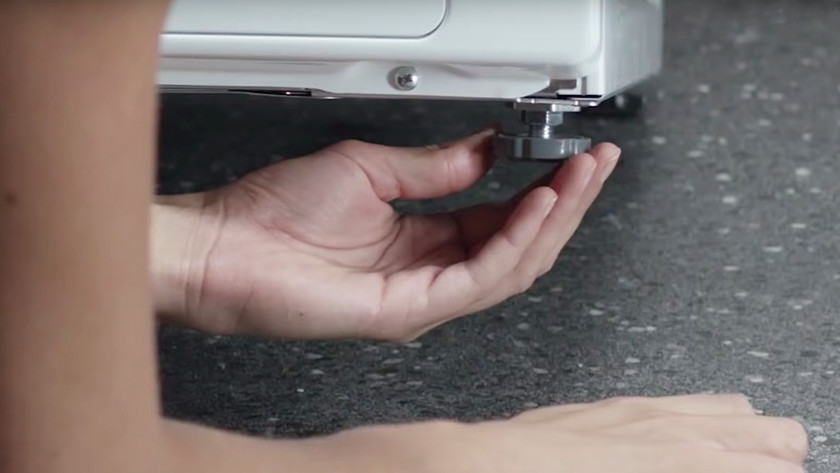 To ensure that your Samsung washing machine is firmly in place and doesn't create any noise, you should place it level. You can do this by adjusting the 4 adjustable legs until the washing machine is straight. You can check this with a spirit level. After leveling it, it's important that you tighten each nut firmly with a open-end wrench. This prevents the washing machine from wobbling. The spin cycle can loosen the nuts. Make sure to tighten them twice a year to prevent vibrations and noise.
Samsung calibration
After tightening each nut with an open-end wrench, you calibrate your Samsung washing machine. This also prevents your washing machine from making noise. Calibration of the washing machine is not done by default in the factory and takes a maximum of 3 minutes. You can perform the calibration via the display. It's only a small effort to do this, so don't skip this step.
Samsung errors
If your Samsung washing machine has a malfunction, you'll see an error code on the display. Of course, you want to know what is going on and what the solution can be. In the article below, you'll find an overview of the 6 most common malfunctions. This way, you'll know that there's something wrong with the water supply or drainage, for example. You can also find other tips here.